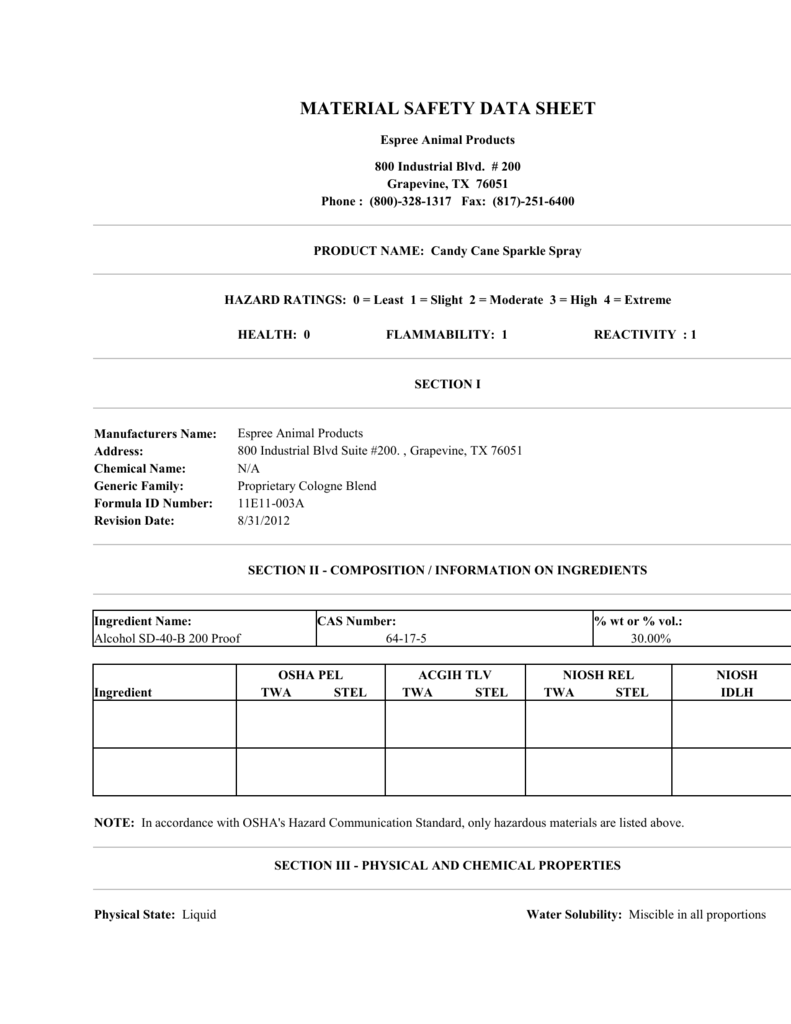 MATERIAL SAFETY DATA SHEET
Espree Animal Products
800 Industrial Blvd. # 200
Grapevine, TX 76051
Phone : (800)-328-1317 Fax: (817)-251-6400
PRODUCT NAME: Candy Cane Sparkle Spray
HAZARD RATINGS: 0 = Least 1 = Slight 2 = Moderate 3 = High 4 = Extreme
HEALTH: 0
FLAMMABILITY: 1
REACTIVITY : 1
SECTION I
Manufacturers Name:
Address:
Chemical Name:
Generic Family:
Formula ID Number:
Revision Date:
Espree Animal Products
800 Industrial Blvd Suite #200. , Grapevine, TX 76051
N/A
Proprietary Cologne Blend
11E11-003A
8/31/2012
SECTION II - COMPOSITION / INFORMATION ON INGREDIENTS
Ingredient Name:
Alcohol SD-40-B 200 Proof
Ingredient
CAS Number:
64-17-5
OSHA PEL
TWA
STEL
ACGIH TLV
TWA
STEL
% wt or % vol.:
30.00%
NIOSH REL
TWA
STEL
NIOSH
IDLH
NOTE: In accordance with OSHA's Hazard Communication Standard, only hazardous materials are listed above.
SECTION III - PHYSICAL AND CHEMICAL PROPERTIES
Physical State: Liquid
Water Solubility: Miscible in all proportions
Appearance and Odor: clear, red liquid; "Candy Cane" Scent
Vapor Pressure: Not Determined
Vapor Density (Air = 1): Not Determined
Specific Gravity (H2O - 1, at 4 degrees C): 0.90
Boiling Point: 190 degrees F
Freezing / Melting Point: N/A
% Volatile: Not Determined
Evaporation Rate: Not Determined
SECTION IV - FIRE AND EXPLOSION HAZARD
Flash Point (Deg. F) / Method Used: None
LEL: N/A
UEL: N/A
Extinguishing Media: Water, Carbon Dioxide, Dry Chemical or Foam
Unusual Fire or Explosion Hazards: None
Hazardous Combustion Products: Unknown for mixture
Fire-Fighting Instructions: Do not release run-off from fire control methods to sewers or waterways.
SECTION V - STABILITY AND REACTIVITY
Stability: Stable at room temperature in closed containers under normal storage and handling conditions.
Polymerization: Hazardous polymerization cannot occur.
Chemical Incompatibilities: Unknown for mixture.
Hazardous Decomposition Products: Unknown for mixture.
SECTION VI - HEALTH HAZARD INFORMATION
POTENTIAL HEALTH EFFECTS
Inhalation: No known effects.
Eye: Possible irritation to mucous membranes with prolonged contact.
Skin: No known effects.
Ingestion: No known effects.
Carcinogenicity: IARC, NTP, and OSHA do not list any ingredient in this product as a carcinogen.
Chronic Effects: May aggravate chronic dermal, eye, and /or pre-existing respiratory disorders.
EMERGENCY AND FIRST AID PROCEDURES
Inhalation: Remove affected person to fresh air
Eye Contact: Flush eyes with clean running water for 15 minutes. See physician if irritation persists.
Skin Contact: Wash with soap and water.
Ingestion: Give plenty of water. Do not induce vomiting. Contact a physician.
**After first aid is administered, get appropriate medical treatment as necessary.
SECTION VII - SPILL, LEAK, AND DISPOSAL PROCEDURES
SPILL AND LEAK PROCEDURES:
Small Spills: Take up with absorbent material and dispose in trash.
Large Spills Containment: Dike far ahead of liquid spill for later disposal. Do not release into sewers or waterways.
Regulatory Requirements: Follow applicable OSHA regulations (29CFR 1910.120).
Disposal: Contact your supplier or a licensed contractor for detailed recommendations. Follow applicable Federal, State, and Local
regulations.
EPA Regulations RCRA Hazardous Waste Number (40 CFR 261.33): Not Listed
RCRA Hazardous Waste Classification (40 CFR 261.??): Not classified
CERCLA Hazardous Substance (40 CFR 302.4): listed / unlisted specific per RCRA - Sec 3001; CWA - Sec. 311 (b)(4);
CWA - Sec. 307 (a), CAA - Sec. 112
SARA 311/312 Codes:
SARA Toxic Chemical (40 CFR 372.65): Not Listed
SARA EHS (Extremely Hazardous Substance) (40 CFR 355): Not listed, Threshold Planning Quantity (TPQ)
OSHA Regulations Air Contaminant (29 CFR 1910.1000, Table Z-1,Z-1-A): Not listed
State Regulations:
SECTION VIII - EXPOSURE CONTROLS AND PERSONAL PROTECTION
Ventilation: Provide general or local exhaust ventilation systems to maintain airborne concentrations below OSHA PELs
(Section 2). Local exhaust ventilation is preferred because it prevents contaminant dispersion into the work area by
controlling it at its source. ** Practice good personal hygiene after using the material.
SECTION IX - SPECIAL PRECAUTIONS AND COMMENTS
Biodegradability: Yes
Storage Requirements: Store in original, closed container.
Disclaimer: All statements, technical information and recommendations contained herein are based on available scientific tests or
data, which we believe to be reliable. The accuracy and completeness of such data are not warranted or guaranteed. We cannot
anticipate all conditions under which this this information and our products, or the products of other manufactures in combination
with our products, may be used. Espree assumes no liability or responsibility for loss or damage resulting from the improper
use or handling of our products, from incompatible product combinations, or from the failure to follow instructions, warning, and
advisories in the product's label and Material Safety Data Sheet.