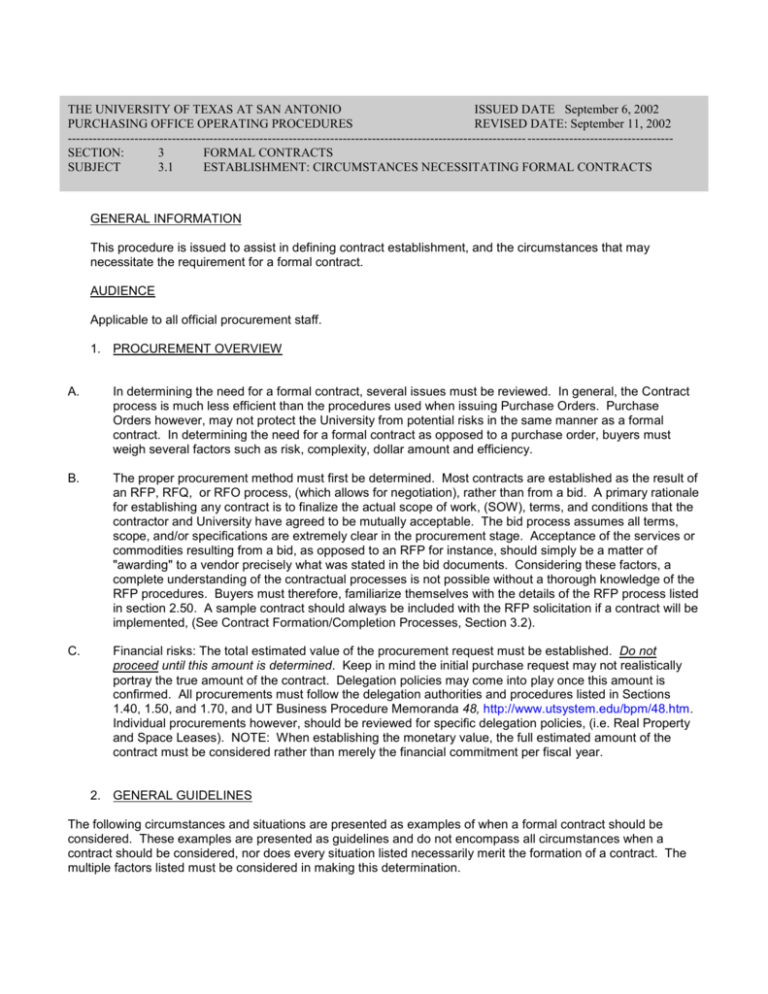 THE UNIVERSITY OF TEXAS AT SAN ANTONIO
ISSUED DATE September 6, 2002
PURCHASING OFFICE OPERATING PROCEDURES
REVISED DATE: September 11, 2002
-------------------------------------------------------------------------------------------------------------- ----------------------------------SECTION:
3
FORMAL CONTRACTS
SUBJECT
3.1
ESTABLISHMENT: CIRCUMSTANCES NECESSITATING FORMAL CONTRACTS
GENERAL INFORMATION
This procedure is issued to assist in defining contract establishment, and the circumstances that may
necessitate the requirement for a formal contract.
AUDIENCE
Applicable to all official procurement staff.
1. PROCUREMENT OVERVIEW
A.
In determining the need for a formal contract, several issues must be reviewed. In general, the Contract
process is much less efficient than the procedures used when issuing Purchase Orders. Purchase
Orders however, may not protect the University from potential risks in the same manner as a formal
contract. In determining the need for a formal contract as opposed to a purchase order, buyers must
weigh several factors such as risk, complexity, dollar amount and efficiency.
B.
The proper procurement method must first be determined. Most contracts are established as the result of
an RFP, RFQ, or RFO process, (which allows for negotiation), rather than from a bid. A primary rationale
for establishing any contract is to finalize the actual scope of work, (SOW), terms, and conditions that the
contractor and University have agreed to be mutually acceptable. The bid process assumes all terms,
scope, and/or specifications are extremely clear in the procurement stage. Acceptance of the services or
commodities resulting from a bid, as opposed to an RFP for instance, should simply be a matter of
"awarding" to a vendor precisely what was stated in the bid documents. Considering these factors, a
complete understanding of the contractual processes is not possible without a thorough knowledge of the
RFP procedures. Buyers must therefore, familiarize themselves with the details of the RFP process listed
in section 2.50. A sample contract should always be included with the RFP solicitation if a contract will be
implemented, (See Contract Formation/Completion Processes, Section 3.2).
C.
Financial risks: The total estimated value of the procurement request must be established. Do not
proceed until this amount is determined. Keep in mind the initial purchase request may not realistically
portray the true amount of the contract. Delegation policies may come into play once this amount is
confirmed. All procurements must follow the delegation authorities and procedures listed in Sections
1.40, 1.50, and 1.70, and UT Business Procedure Memoranda 48, http://www.utsystem.edu/bpm/48.htm.
Individual procurements however, should be reviewed for specific delegation policies, (i.e. Real Property
and Space Leases). NOTE: When establishing the monetary value, the full estimated amount of the
contract must be considered rather than merely the financial commitment per fiscal year.
2. GENERAL GUIDELINES
The following circumstances and situations are presented as examples of when a formal contract should be
considered. These examples are presented as guidelines and do not encompass all circumstances when a
contract should be considered, nor does every situation listed necessarily merit the formation of a contract. The
multiple factors listed must be considered in making this determination.
Buyers must weigh the complexity, risk, monetary value and efficiency in these situations. For instance, if an RFP
is issued in which the same service will routinely be requested, the SOW remains relatively constant, and all
relevant terms have been established within the RFP, a notice of award may be sufficient, (i.e. the on-line contract
for basic printing services).
SITUATIONAL EXAMPLES/GUIDELINES NECESSITATING POSSIBLE CONTRACTS:
A.
If the procurement is of the "Job-Order" variety in which multiple purchase orders or contracts will be
issued over a period of time resulting from the same solicitation.
B.
If the complexity of the procurement is such that a purchase order will not sufficiently protect the
University from the potential risks involved, (i.e. orders involving direct student interaction, contract
workforce term contracts, procurements involving safety and security, etc.).
C.
Procurements involving extensive and prolonged use of campus facilities by the contractor, (i.e.
training-style contracts).
D.
Solicitations in which the specifics of the SOW still require clarification even upon the issuance of a
BAFO. Job-Order style contracts usually fit this example.
E.
Procurements exceeding the delegated authority of the Purchasing Office and/or the University.
F.
Revenue-Generating contracts.
G.
Auxiliary Services, (i.e. Bookstore, Food Services).
H.
Space Leases.
3. PROCESS PROCEDURES
A.
If it is deemed that a purchase order, Notice of Award and/or Notice to Proceed is sufficient, and a
contract is not necessary, the award must reference the terms and SOW in the RFP solicitation.
B.
See Contract Formation/Completion Processes, Section 3.2.