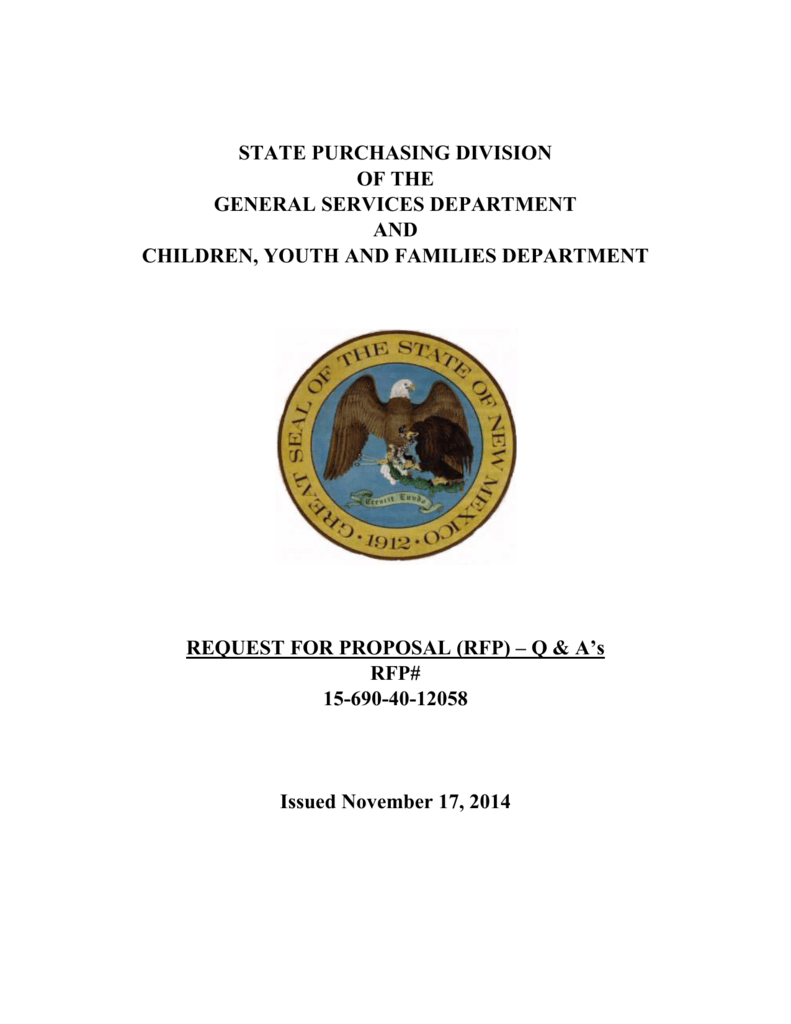 STATE PURCHASING DIVISION
OF THE
GENERAL SERVICES DEPARTMENT
AND
CHILDREN, YOUTH AND FAMILIES DEPARTMENT
REQUEST FOR PROPOSAL (RFP) – Q & A's
RFP#
15-690-40-12058
Issued November 17, 2014
COMMUNITY-SPECIFIC MODEL DEMONSTRATION
EARLY CHILDHOOD PROGRAMS
QUESTIONS AND ANSWERS FOR RFP 15-690-40-12058
QUESTION
1. You state a contract but want it 501c3 which comes through a different department.
2. In regards to the announced RFP: COMMUNITY-SPECIFIC MODEL DEMONSTRATION EARLY CHILDHOOD
PROGRAMS Number: 15-690-40-12058 is there an option for agencies to phone-in via teleconference for
the pre-proposal conference scheduled for tomorrow, or is "in-person" attendance mandatory?
ANSWER
1. For clarification, there is nothing in the RFP stating "who is eligible to apply". There are no restrictions
as to what type of entities can apply.
Refer to the Definition of Terminology, the word "Contract" means any agreement for the
procurement of items of professional services, services, tangible personal property, or construction.
2. NO, teleconferences are not allowed. Per CYFD – Procurement Contract Development Policies and
Procedures #3.79, Section: 79.8 In regard to RFPs, no telephone pre-proposal conference is permitted
with potential offeror(s).