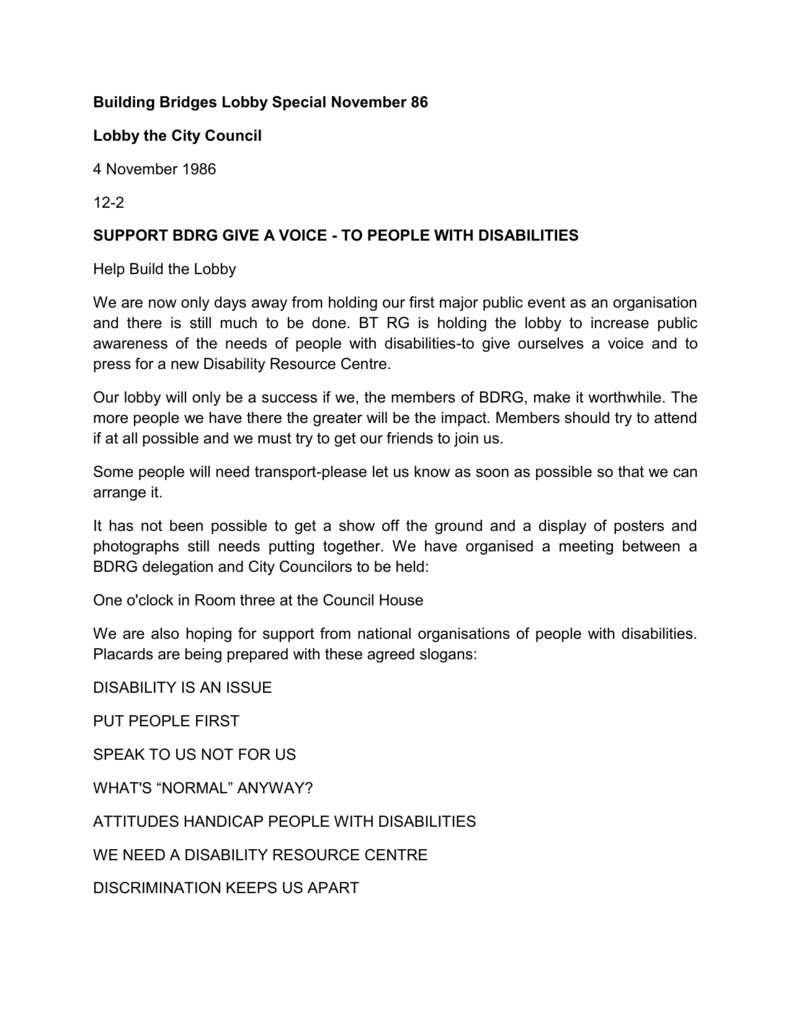 Building Bridges Lobby Special November 86
Lobby the City Council
4 November 1986
12-2
SUPPORT BDRG GIVE A VOICE - TO PEOPLE WITH DISABILITIES
Help Build the Lobby
We are now only days away from holding our first major public event as an organisation
and there is still much to be done. BT RG is holding the lobby to increase public
awareness of the needs of people with disabilities-to give ourselves a voice and to
press for a new Disability Resource Centre.
Our lobby will only be a success if we, the members of BDRG, make it worthwhile. The
more people we have there the greater will be the impact. Members should try to attend
if at all possible and we must try to get our friends to join us.
Some people will need transport-please let us know as soon as possible so that we can
arrange it.
It has not been possible to get a show off the ground and a display of posters and
photographs still needs putting together. We have organised a meeting between a
BDRG delegation and City Councilors to be held:
One o'clock in Room three at the Council House
We are also hoping for support from national organisations of people with disabilities.
Placards are being prepared with these agreed slogans:
DISABILITY IS AN ISSUE
PUT PEOPLE FIRST
SPEAK TO US NOT FOR US
WHAT'S "NORMAL" ANYWAY?
ATTITUDES HANDICAP PEOPLE WITH DISABILITIES
WE NEED A DISABILITY RESOURCE CENTRE
DISCRIMINATION KEEPS US APART
Maria and I are keen to know who among our members are able to attend the lobby so
we can finalise our plans. Please let us know if you are coming.
The time has come to stand up and be counted-can we count on you?
November Meeting
There may be some confusion over the date of the next meeting. It is 19 November not
the 12th. The venue is Room 45 in Doctor Johnson House, Bull Street, Birmingham.
The Management Committee may call an EGM prior to the meeting to change the Con
situation but if we do you will be told beforehand!
If there's any objections to this-the reasons were given in the last issue of Bridges
please let us know.
BDRG Social
We are holding a fundraising for social members and friends on Friday, 28th of
November, 1986 at Harris House, St Agnes Road, Mosley at 8 PM.
Tickets will be available on the fourth priced at £1 for those waged or with an income
and 50p for unwaged people.
People can offer us more than £1 if they desire given that it is a fundraising social!
Contact us about transport for either event
Link Programme
Members of BDRG have been asked to join a discussion on language and disability for
the LINK programme.
It will be an interesting debate and members should try to watch it on 9 November at 1
PM on Central.
Ann and Clive Bevan
The October meeting was read a letter from Anne and Clive to a Committee member
who made serious criticisms of the work and attitude of the Development Worker. The
Management Committee and the meeting both rejected the claim and heard the reply
sent from the Committee about the couple's own conduct. Following this a vote of
confidence was given to Bob and we have been asked by Anne and Clive to refund their
membership. The Committee will make a recommendation on what further action, if any,
we take.
BCODP
Maria and Alun recently attended as delegates a conference on Centres for Integrated
Living organised by the British Council of Organisations of Disabled People. Brenda and
Bob also spent a day there.
We hope to report back on the event as we feel it has serious implications for us.
BCODP see themselves as the main focus for disability politics in Britain are keen to
bring us into their ranks.
This raises all kinds of issues which we need to discuss and have a policy on. At
present we have said "no" until we, as a Group, make up our own minds.
Messages from Bob
We will collect tin cans after the fourth-sorry for the delay
Would Chris James contact us as soon as possible-a lack of transport has prevented
me visiting you, Chris.
Hope to see you all on the lobby!