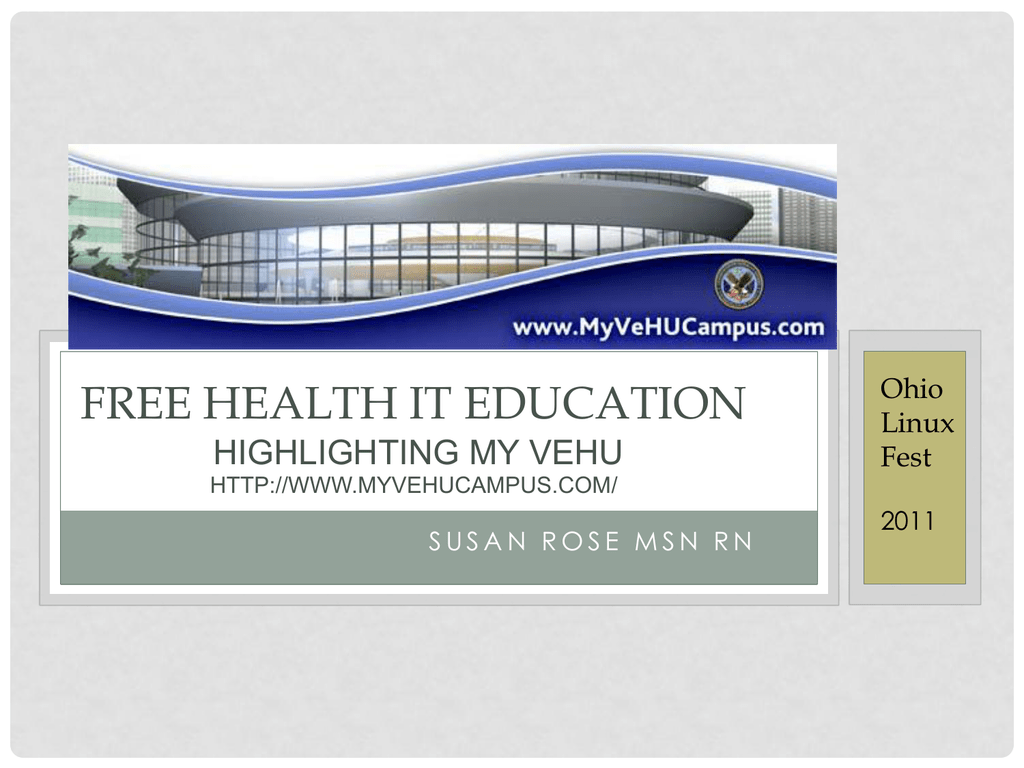 FREE HEALTH IT EDUCATION
HIGHLIGHTING MY VEHU
Ohio
Linux
Fest
HTTP://WWW.MYVEHUCAMPUS.COM/
SUSAN ROSE MSN RN
2011
WHERE IT BEGAN…. VISTA
SCHEDULING
CPRS COVER SHEET
NAME
THE TABS ACROSS THE BOTTOM
REVEAL THE IN DEPTH INFORMATION
YOU CAN CLICK ON EACH ONE
JUST LIKE AN EXCEL PROGRAM
HAS MORE THAN ONE BOOK TAB
DETAILED PROBLEM LIST
name
DETAILED PROGRESS NOTES
name
2010 PRESENTATIONS
www.vehu.va.gov/vehu2010Presentations.cfm
YOUR ENTRY
http://www.myvehucampus.com/live
WELCOME TO THE LOBBY
MAP OF THE CAMPUS
POP THE POPCORN, AND WATCH THE MOVIES
IN THE AUDITORIUM
LEARNING CENTER –
SIT DOWN AND SEARCH
MEDIA RESOURCE CENTER
ME SPACE
SOCIAL MEDIA APPROVED
IN CONCLUSION
The VA has been a consistent leader in
the electronic medical
Record as well as health IT.
It would be wise to not recreate the
wheel. Investigate VA's initiates before
planning your health IT venture.
Taking advantage of My VEHU training
and open source collaboration will
benefit everyone!