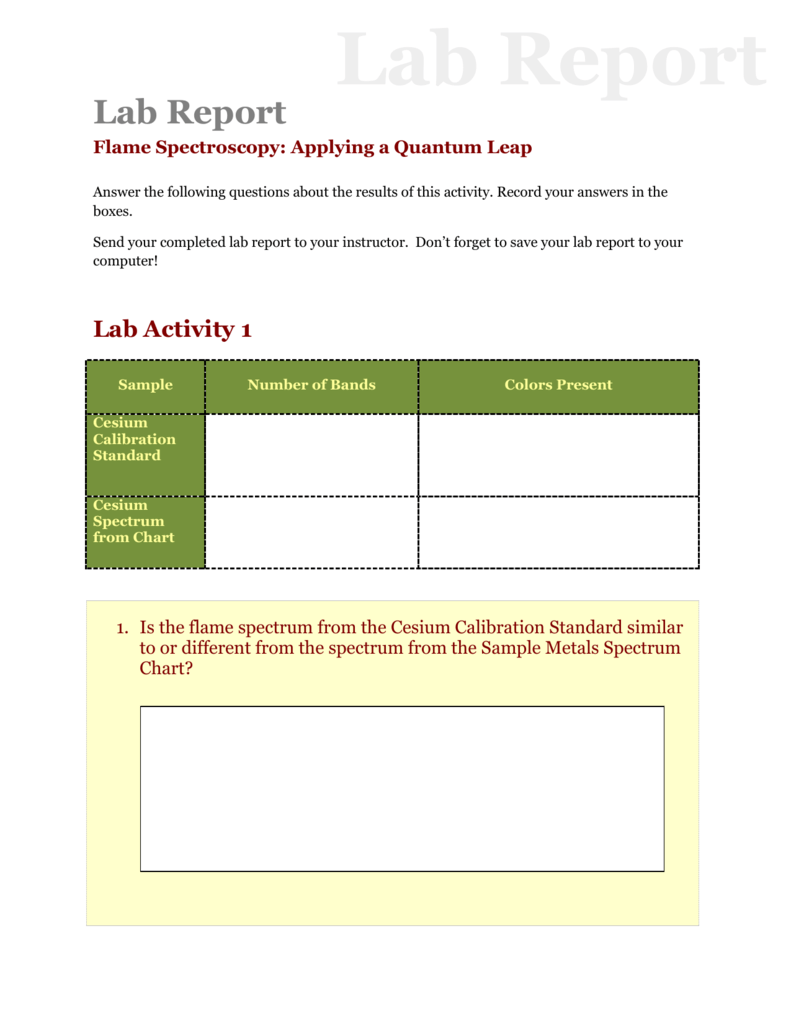 Lab Report
Lab Report
Flame Spectroscopy: Applying a Quantum Leap
Answer the following questions about the results of this activity. Record your answers in the
boxes.
Send your completed lab report to your instructor. Don't forget to save your lab report to your
computer!
Lab Activity 1
Sample
Number of Bands
Colors Present
Cesium
Calibration
Standard
Cesium
Spectrum
from Chart
1. Is the flame spectrum from the Cesium Calibration Standard similar
to or different from the spectrum from the Sample Metals Spectrum
Chart?
2. What color would you expect cesium to be, based on the spectral
data? What would you have to know to determine this?
Lab Activity 2
Record the number and color of the flame spectra bands for each water sample. Use the Flame
Spectra Chart and Symbol table below to identify the elements (metals) in the different water
samples.
Symbol
Name
Cd
Cadmium
Li
Lithium
Na
Sodium
K
Potassium
Rb
Rubidium
Cs
Cesium
Hg
Mercury
Ne
Neon
Sample
Number of
Bands
Colors Present in
Spectrum
Probable Elements
In Sample
Spring Water
Sample
Bottled Water
Sample
Mineral
Water Sample
Pure or
Distilled
Water
Sample
3. List the probable metals in each of the water samples.
4. Use the web to determine the safety of the spring water sample.
Explain if a particular component of the water could be hazardous
for consumption.
5. Compare the bottled water sample to the pure or distilled water
sample. What would explain any differences in the metal content?
6. Explain if the mineral water sample likely meets its claim as a source
of necessary elements for humans.