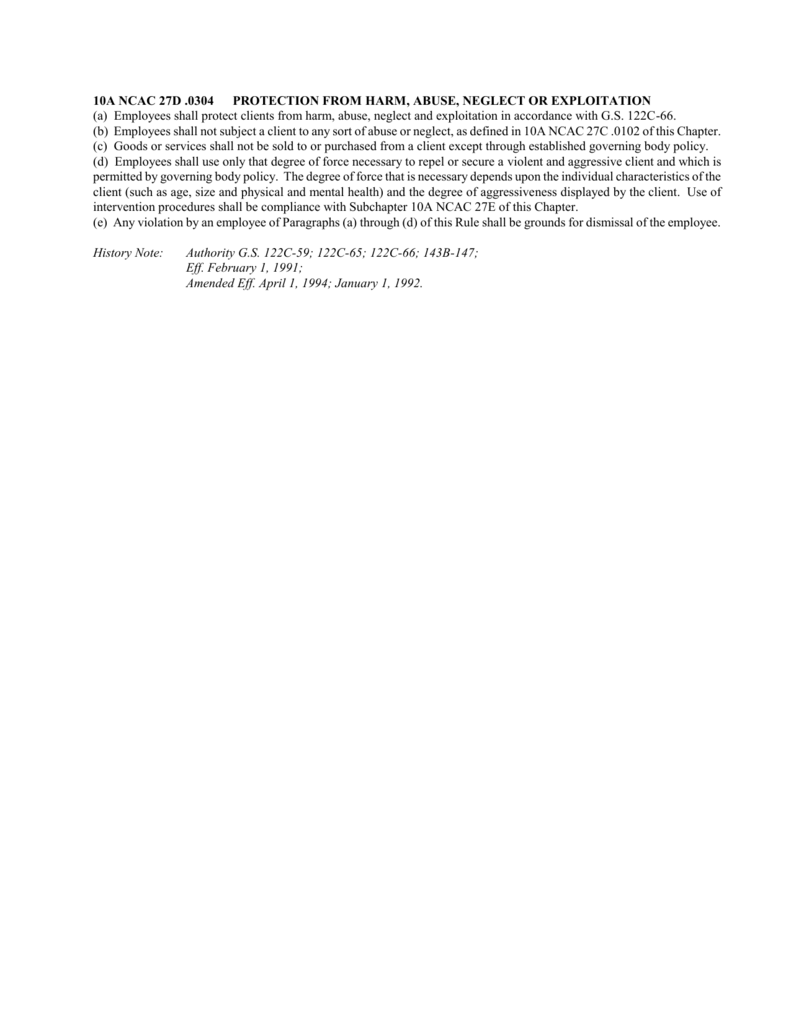 10A NCAC 27D .0304 PROTECTION FROM HARM, ABUSE, NEGLECT OR EXPLOITATION
(a) Employees shall protect clients from harm, abuse, neglect and exploitation in accordance with G.S. 122C-66.
(b) Employees shall not subject a client to any sort of abuse or neglect, as defined in 10A NCAC 27C .0102 of this Chapter.
(c) Goods or services shall not be sold to or purchased from a client except through established governing body policy.
(d) Employees shall use only that degree of force necessary to repel or secure a violent and aggressive client and which is
permitted by governing body policy. The degree of force that is necessary depends upon the individual characteristics of the
client (such as age, size and physical and mental health) and the degree of aggressiveness displayed by the client. Use of
intervention procedures shall be compliance with Subchapter 10A NCAC 27E of this Chapter.
(e) Any violation by an employee of Paragraphs (a) through (d) of this Rule shall be grounds for dismissal of the employee.
History Note:
Authority G.S. 122C-59; 122C-65; 122C-66; 143B-147;
Eff. February 1, 1991;
Amended Eff. April 1, 1994; January 1, 1992.