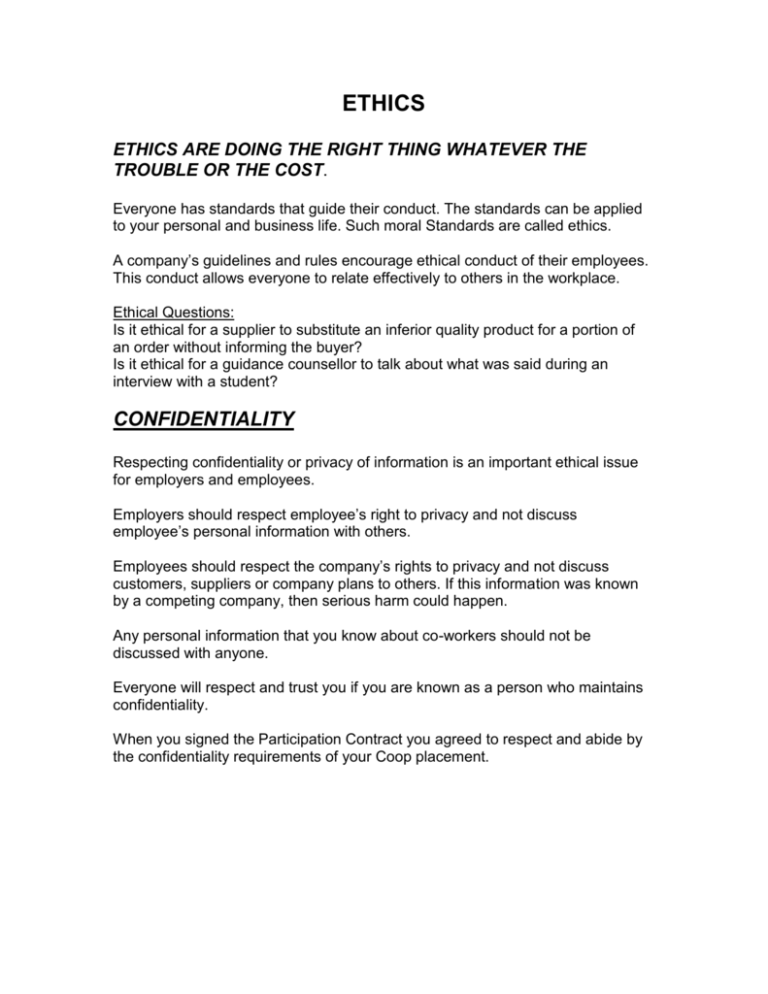 ETHICS
ETHICS ARE DOING THE RIGHT THING WHATEVER THE
TROUBLE OR THE COST.
Everyone has standards that guide their conduct. The standards can be applied
to your personal and business life. Such moral Standards are called ethics.
A company's guidelines and rules encourage ethical conduct of their employees.
This conduct allows everyone to relate effectively to others in the workplace.
Ethical Questions:
Is it ethical for a supplier to substitute an inferior quality product for a portion of
an order without informing the buyer?
Is it ethical for a guidance counsellor to talk about what was said during an
interview with a student?
CONFIDENTIALITY
Respecting confidentiality or privacy of information is an important ethical issue
for employers and employees.
Employers should respect employee's right to privacy and not discuss
employee's personal information with others.
Employees should respect the company's rights to privacy and not discuss
customers, suppliers or company plans to others. If this information was known
by a competing company, then serious harm could happen.
Any personal information that you know about co-workers should not be
discussed with anyone.
Everyone will respect and trust you if you are known as a person who maintains
confidentiality.
When you signed the Participation Contract you agreed to respect and abide by
the confidentiality requirements of your Coop placement.
What is Harassment?
Harassment is behaviour that is unwelcome, one-sided, and makes the receiver
feel uncomfortable, embarrassed, offended, coerced, or intimidated. It may be
derogatory comments, condescension, or patronizing behaviour that underlines
self-confidence. It may be unwelcome invitations or requests.
At its worst, harassment may be threats, intimidation or assault.
For the most part, harassment is characterized by its repetitive nature. However,
it need to occur only once by a person in authority able to affect your career.
Conduct becomes "harassment" when the person knows or ought to know that
his/her action is unwelcome.
Harassment is NOT…
…chit-chat or good natured jesting when both parties find the conduct acceptable
… An occasional compliment or remark
…office flirtation when it is a voluntary relationship
… Normal exercise of supervisory responsibility including training, counselling,
discipline when warranted
HARASSMENT IS NO JOKE!





It may cause humiliation, intimidation, anger or frustration to the person
receiving the harassment
It may cause a loss of self-esteem and self-confidence
Health may suffer and job performance may be altered
It may threaten the victim's working conditions and career opportunities
It may create an unhealthy working environment
HARASSMENT IS AGAINST THE LAW
There are many types of harassment. Here are a few examples:
Racial/Ethnic/Religious harassment can be:
 Unwelcome remarks, jokes, taunts or insults about your colour, ancestry,
religious beliefs or your racial/ethnic or cultural background
 Displaying racist or other insulting graffiti, pictures, or material
 Displaying racist or other insulting gestures which cause embarrassment
SEXUAL HARASSMENT CAN BE:



Unnecessary physical contact
Unwelcome remarks, jokes, leering or other gestures of a sexual nature or
other sexually aggressive remarks
Displaying or distributing pornographic or other material
WHAT DO I DO IF I'M HARASSED?
1. DON'T FEEL GUILTY
Some people who are being harassed are told they "lack a sense of humour" or
are "inviting" such conduct. Harassment is not funny. It is not harmless. It is not
justified. It is the harasser who is wrong, not the victim.
2. TAKE ACTION!
If you feel you are being harassed, speak up! Your lack of action may be
interpreted as acceptance and the harasser may continue.
3. SPEAK TO THE HARASSER
State clearly that the action is offensive, unwelcome and unacceptable to you.
Many incidents can be handled in this manner.
POLICY:
In adherence with the Ontario Human Rights Code, It is the policy of this board
that every employee, volunteer and student has a right to freedom from
harassment in the workplace and school system because of sex, sexual
orientation, race, ancestry, place of origin, colour, ethic origin, citizenship, creed,
age, record of offenses, marital status, family status, employment status, or
disability.