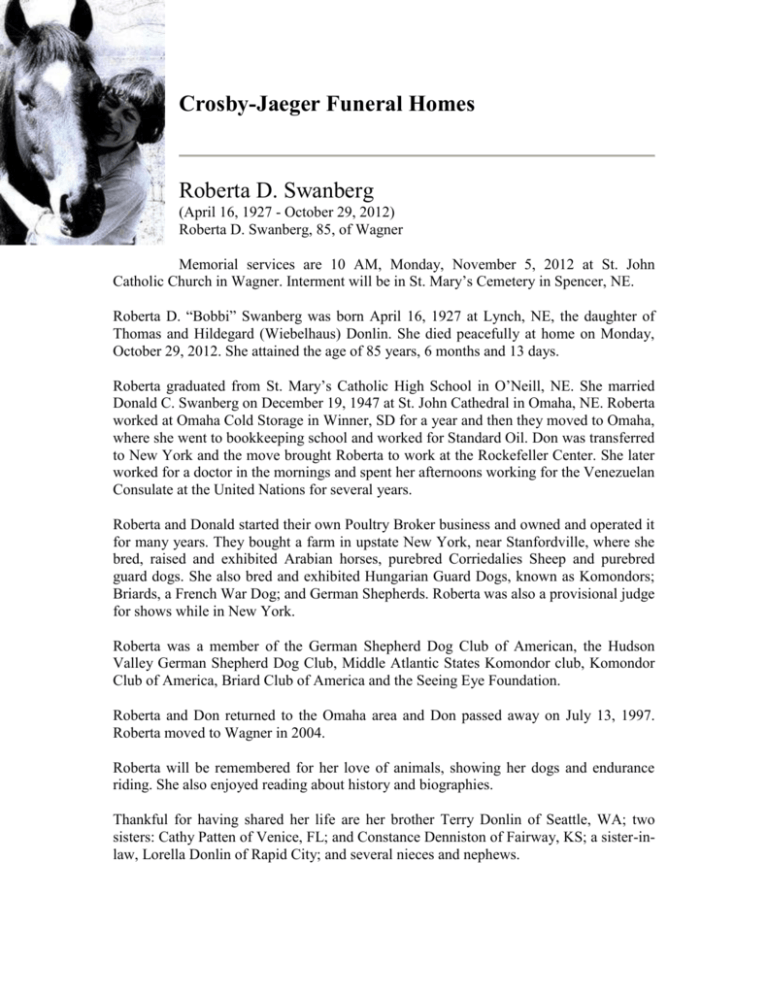 Crosby-Jaeger Funeral Homes
Roberta D. Swanberg
(April 16, 1927 - October 29, 2012)
Roberta D. Swanberg, 85, of Wagner
Memorial services are 10 AM, Monday, November 5, 2012 at St. John
Catholic Church in Wagner. Interment will be in St. Mary's Cemetery in Spencer, NE.
Roberta D. "Bobbi" Swanberg was born April 16, 1927 at Lynch, NE, the daughter of
Thomas and Hildegard (Wiebelhaus) Donlin. She died peacefully at home on Monday,
October 29, 2012. She attained the age of 85 years, 6 months and 13 days.
Roberta graduated from St. Mary's Catholic High School in O'Neill, NE. She married
Donald C. Swanberg on December 19, 1947 at St. John Cathedral in Omaha, NE. Roberta
worked at Omaha Cold Storage in Winner, SD for a year and then they moved to Omaha,
where she went to bookkeeping school and worked for Standard Oil. Don was transferred
to New York and the move brought Roberta to work at the Rockefeller Center. She later
worked for a doctor in the mornings and spent her afternoons working for the Venezuelan
Consulate at the United Nations for several years.
Roberta and Donald started their own Poultry Broker business and owned and operated it
for many years. They bought a farm in upstate New York, near Stanfordville, where she
bred, raised and exhibited Arabian horses, purebred Corriedalies Sheep and purebred
guard dogs. She also bred and exhibited Hungarian Guard Dogs, known as Komondors;
Briards, a French War Dog; and German Shepherds. Roberta was also a provisional judge
for shows while in New York.
Roberta was a member of the German Shepherd Dog Club of American, the Hudson
Valley German Shepherd Dog Club, Middle Atlantic States Komondor club, Komondor
Club of America, Briard Club of America and the Seeing Eye Foundation.
Roberta and Don returned to the Omaha area and Don passed away on July 13, 1997.
Roberta moved to Wagner in 2004.
Roberta will be remembered for her love of animals, showing her dogs and endurance
riding. She also enjoyed reading about history and biographies.
Thankful for having shared her life are her brother Terry Donlin of Seattle, WA; two
sisters: Cathy Patten of Venice, FL; and Constance Denniston of Fairway, KS; a sister-inlaw, Lorella Donlin of Rapid City; and several nieces and nephews.
Roberta was preceded in death by her husband Don; a brother Tom; a sister Bernadette
Donlin; sister-in-law Darlene Donlin; and two brothers-in-law: Keith Denniston and Jim
Patten.