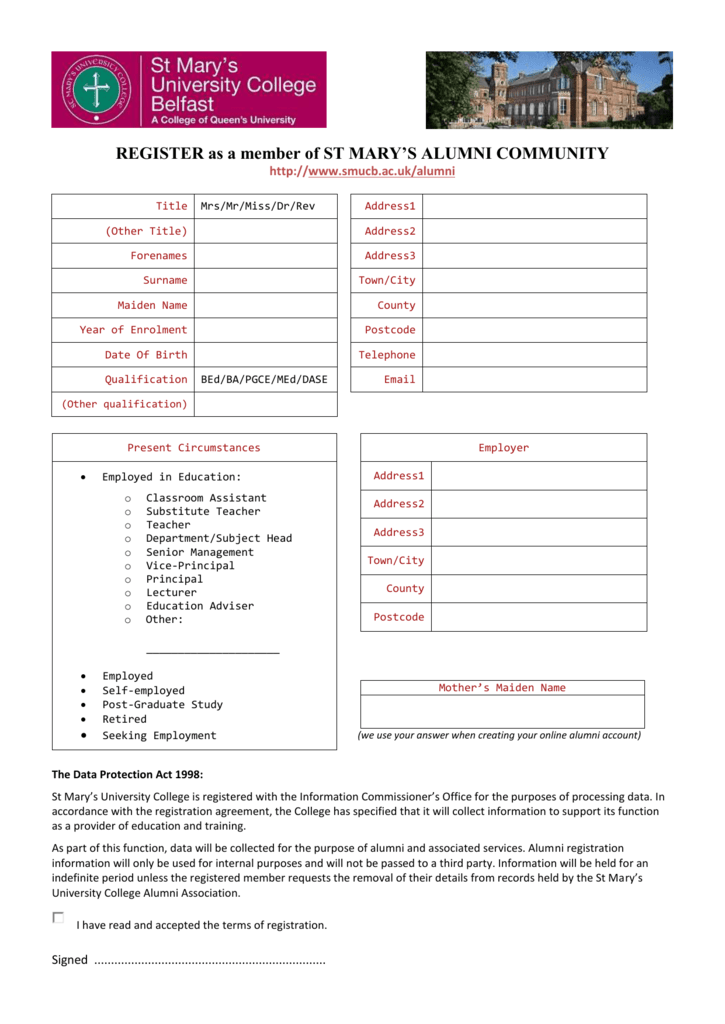 REGISTER as a member of ST MARY'S ALUMNI COMMUNITY
http://www.smucb.ac.uk/alumni
Title
Mrs/Mr/Miss/Dr/Rev
Address1
(Other Title)
Address2
Forenames
Address3
Surname
Town/City
Maiden Name
County
Year of Enrolment
Postcode
Date Of Birth
Telephone
Qualification
BEd/BA/PGCE/MEd/DASE
Email
(Other qualification)
Present Circumstances

Employed in Education:
o
o
o
o
o
o
o
o
o
o
Classroom Assistant
Substitute Teacher
Teacher
Department/Subject Head
Senior Management
Vice-Principal
Principal
Lecturer
Education Adviser
Other:
Employer
Address1
Address2
Address3
Town/City
County
Postcode
_____________________





Employed
Self-employed
Post-Graduate Study
Retired
Seeking Employment
Mother's Maiden Name
(we use your answer when creating your online alumni account)
The Data Protection Act 1998:
St Mary's University College is registered with the Information Commissioner's Office for the purposes of processing data. In
accordance with the registration agreement, the College has specified that it will collect information to support its function
as a provider of education and training.
As part of this function, data will be collected for the purpose of alumni and associated services. Alumni registration
information will only be used for internal purposes and will not be passed to a third party. Information will be held for an
indefinite period unless the registered member requests the removal of their details from records held by the St Mary's
University College Alumni Association.
I have read and accepted the terms of registration.
Signed .....................................................................