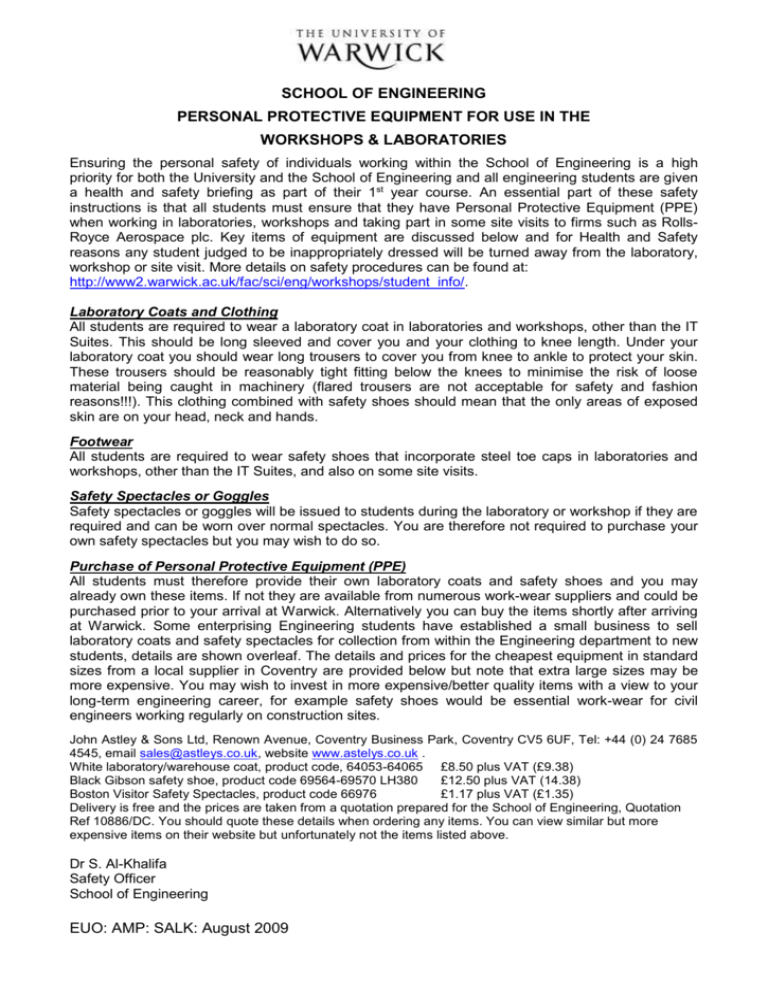 SCHOOL OF ENGINEERING
PERSONAL PROTECTIVE EQUIPMENT FOR USE IN THE
WORKSHOPS & LABORATORIES
Ensuring the personal safety of individuals working within the School of Engineering is a high
priority for both the University and the School of Engineering and all engineering students are given
a health and safety briefing as part of their 1st year course. An essential part of these safety
instructions is that all students must ensure that they have Personal Protective Equipment (PPE)
when working in laboratories, workshops and taking part in some site visits to firms such as RollsRoyce Aerospace plc. Key items of equipment are discussed below and for Health and Safety
reasons any student judged to be inappropriately dressed will be turned away from the laboratory,
workshop or site visit. More details on safety procedures can be found at:
http://www2.warwick.ac.uk/fac/sci/eng/workshops/student_info/.
Laboratory Coats and Clothing
All students are required to wear a laboratory coat in laboratories and workshops, other than the IT
Suites. This should be long sleeved and cover you and your clothing to knee length. Under your
laboratory coat you should wear long trousers to cover you from knee to ankle to protect your skin.
These trousers should be reasonably tight fitting below the knees to minimise the risk of loose
material being caught in machinery (flared trousers are not acceptable for safety and fashion
reasons!!!). This clothing combined with safety shoes should mean that the only areas of exposed
skin are on your head, neck and hands.
Footwear
All students are required to wear safety shoes that incorporate steel toe caps in laboratories and
workshops, other than the IT Suites, and also on some site visits.
Safety Spectacles or Goggles
Safety spectacles or goggles will be issued to students during the laboratory or workshop if they are
required and can be worn over normal spectacles. You are therefore not required to purchase your
own safety spectacles but you may wish to do so.
Purchase of Personal Protective Equipment (PPE)
All students must therefore provide their own laboratory coats and safety shoes and you may
already own these items. If not they are available from numerous work-wear suppliers and could be
purchased prior to your arrival at Warwick. Alternatively you can buy the items shortly after arriving
at Warwick. Some enterprising Engineering students have established a small business to sell
laboratory coats and safety spectacles for collection from within the Engineering department to new
students, details are shown overleaf. The details and prices for the cheapest equipment in standard
sizes from a local supplier in Coventry are provided below but note that extra large sizes may be
more expensive. You may wish to invest in more expensive/better quality items with a view to your
long-term engineering career, for example safety shoes would be essential work-wear for civil
engineers working regularly on construction sites.
John Astley & Sons Ltd, Renown Avenue, Coventry Business Park, Coventry CV5 6UF, Tel: +44 (0) 24 7685
4545, email sales@astleys.co.uk, website www.astelys.co.uk .
White laboratory/warehouse coat, product code, 64053-64065 £8.50 plus VAT (£9.38)
Black Gibson safety shoe, product code 69564-69570 LH380
£12.50 plus VAT (14.38)
Boston Visitor Safety Spectacles, product code 66976
£1.17 plus VAT (£1.35)
Delivery is free and the prices are taken from a quotation prepared for the School of Engineering, Quotation
Ref 10886/DC. You should quote these details when ordering any items. You can view similar but more
expensive items on their website but unfortunately not the items listed above.
Dr S. Al-Khalifa
Safety Officer
School of Engineering
EUO: AMP: SALK: August 2009
Lab Coats
Welcome to Warwick! As engineering students, we found it a hassle and time consuming to find and
purchase lab coats required for practical work at Warwick. It was for these reasons that we decided to
take orders for lab coats and deliver them direct to students here, on campus, in the Engineering
Department.
- We have supplied guaranteed quality lab coats for three years to first year students at competitive
prices
- Never lose your lab coat, make sure you keep your lab coat for life and get your coat
embroidered with your name in the University's blue colour!
- Fast, easy collection within the engineering department!
- Your first few weeks will be busy! - Avoid the hassle. Order now.
What do we offer?
[1] Lab Coat: £12
[2] Embroidered Lab Coat: £14.50
(Lab Coat Sizes: Chest 34", 36", 38", 40", 42", 44", 46", 48" or 50")
Safety Package 1 (Items 1 & 3): £15.50
[3] Nevada Safety Specs: £5
Safety Package 2 (Items 2 and 3): £18
What do you need to do now?
We will be in your introductory lecture but you can order now by making a payment and sending an
email with your name, department, required products (including coat size), the card holder's name and
the date on which you paid to: warwick.labcoats@gmail.com
How to pay?
UK: Please make your payment via bank transfer to: HALIFAX
Mr. L. HART
Sort code: 11-18-11
Account number: 16128092
Outside of UK: Please email us so you can pay via PayPal
See you in October!