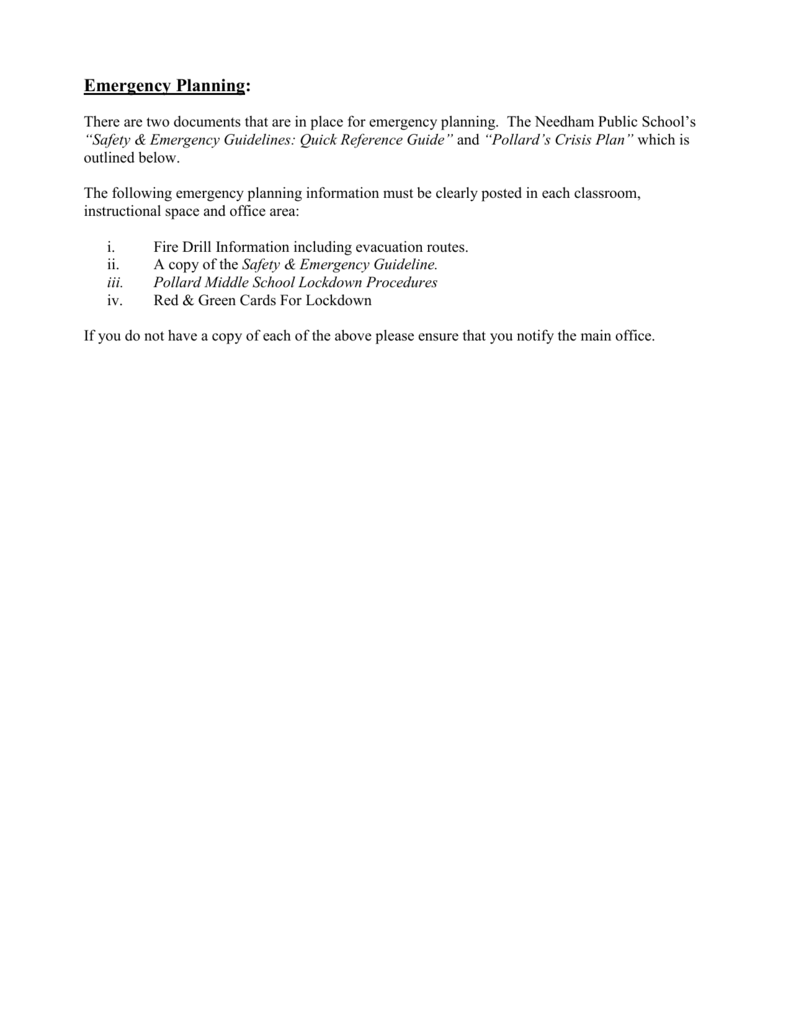 Emergency Planning:
There are two documents that are in place for emergency planning. The Needham Public School's
"Safety & Emergency Guidelines: Quick Reference Guide" and "Pollard's Crisis Plan" which is
outlined below.
The following emergency planning information must be clearly posted in each classroom,
instructional space and office area:
i.
ii.
iii.
iv.
Fire Drill Information including evacuation routes.
A copy of the Safety & Emergency Guideline.
Pollard Middle School Lockdown Procedures
Red & Green Cards For Lockdown
If you do not have a copy of each of the above please ensure that you notify the main office.
Classroom Egress Routes & Assembly Areas:
ROOMS
PRIMARY FIRE EXIT
ALTERNATE EXIT
ASSEMBLY AREA
200, 201, 202,
203, 204, 205, 206, 207
Lecture Hall Lobby
Main Lobby
Tennis Courts
207, 208, 209, 210
211, 212, 213
Main Lobby
Door of 218
Island Across
Front Driveway
214
Door in 218
Main Lobby
Island Across
Front Driveway
215-Media Center
217, 219, 221, 223
Main Lobby
Door of 218
Island Across
Front Driveway
216, 218
Door in 218
Main Lobby
Island Across
Front Driveway
220, 222, 224
Main Lobby Side Door
Auditorium Door
Island Across
Front Driveway
Auditorium
Auditorium Door
Main Lobby
Island Across Front
225, 227
Main Lobby
Main Office Door
Parking Lot
Gr. Level Offices
231, 233, 235, Main Office
232, 234, 236, Health Suite
Main Office Door
Main Lobby
Parking Lot
226, 228, 230
Room 230
Main Lobby
Parking Lot
240, 241, 242, 244
246, 248
Room 242
Main Lobby
Parking Lot
250, 251, 252,
253, 254, 255
Room 252
Main Lobby
Baseball Infield
258, 260, 262, 266
Room 262
Room 274
Baseball Infield
268, 270, 272,
274, 276
Room 274
Hallway Behind 276
Baseball Outfield
278, 280, 281,
282, 283, 284, 285
Room 280
Room 272
Baseball Outfield
286, 287, 288
289, 290, 291, 293
Stairway by 293
Lecture Hall Lobby
Baseball Outfield
94-98
Exit Back Door
Lecture Hall Exit
Tennis Courts
Lecture Hall
Exit Door at Front of Room
Lecture Hall Lobby
Tennis Courts
100, 101, 102
103, 104, 105,
106, 107
Lecture Hall Lobby
Exit by Gym Lobby
Tennis Courts
108, 109, 122
132, 134
Gym Lobby Doors
Gym Doors
Tennis Courts
Gyms/Offices
Exit Doors in Gym
Exit Doors in Gym Lobby Area Tennis Courts
Cafeteria/ Gym
Offices
Lobby Doors
Cafeteria Doors & Past
the Bridge
Tennis Courts
Pollard's Crisis Plan:
For this plan "crisis" refers to conditions that jeopardize the health, safety and well being of
students and staff. There are five (5) basic options for Pollard in the event of a crisis:
i.
ii.
iii.
iv.
v.
Assemble Crisis Team (s)
Evacuation On-Site
Evacuation Off-Site
Shelter-In-Place
Lockdown
Crisis Teams:
Pollard has three specific Crisis Teams:
1. Incident Crisis Team
- Composed of Guidance Counselors, Nursing staff and school administration
- Respond in the after-math of crisis situation from inside or outside of the school.
2. AED Emergencies
- Two teams (Upper Level and Lower Level staff) are dispatched when there is a cardiac arrest
in the building.
- An announcement over the PA will indicate that the AED Team is needed to report to….
3. Student Crisis:
- Called to assist with a student whose behavior is unsafe to either him/herself or to others.
- Certain staff have been trained in Student Crisis Prevention & Intervention Training (C.P.I.)
- When there is an incident an announcement will be made that the CPI team is needed to
report to…
Building Evacuation:
There are two types of evacuation:
1. On-Site: such as fire alarms where students and staff exit to pre-determined locations but
remain on campus.
2. Off-Site: when students and staff are to exit the building and relocate off-campus. Pollard's
designated off-site location is the Needham High School. Transportation to the N.H.S. will
be either by foot or by bus.
Shelter In Place:
• Used when students and staff must move to a designated area in the school (i.e. because of
a flood; outdoor danger etc.)
• Will be decided upon by the principal or his/her designee.
• Notification will be delivered by an announcement and heard as "Shelter-In-Place" is in
effect.
• Directions will be delivered over the PA if possible or via the phone system or email.
If possible students will return to Advisory.
Lockdown Procedures:
-
Lockdown will be decided upon and communicated to the building by the principal or
his/her designee.
The school will go into lockdown when there is believed to be an immediate threat to the
safety and security of students and personnel within the building.
Lockdown will be in effect until the building is notified that it is all clear and lockdown has
ended.
If the fire alarm sounds while in lockdown do not exit the building unless smoke/fire is in
the immediate area or instructed to do so.
The Principal Will:
-
Issue Lockdown is in effect over the PA
Collaborate with the Superintendent and the EMS
Maintain communication and provide staff with information as possible.
The Staff Will:
-
Direct all students into a classroom
Do a sweep of the hallways and then close and lock the door
Close windows and draw shades
Move all persons away from doors and windows
Have students/staff gather on the floor
Allow no one outside of the room until ALL CLEAR is announced.
During An Emergency
-
Keep class phones free and use only as needed
Avoid cell phone use
Stay with students until incident has ended or relieved by EMS or administration
Fire Drill Procedures:
1.
Know the fire drill procedures for each room. (Fire drill procedures should be posted
throughout the building.)
2.
If the fire alarm bell rings, everyone should be instructed to leave the building immediately
by the nearest designated exit.
3.
Monitors should be appointed and instructed to hold doors open and close doors when
necessary to prevent the spread of smoke and fire.
4.
Each class should proceed to a known destination outside of the building, and teachers
should be responsible for taking attendance.
5.
When exiting the building, there should be no running or talking as directions need to be
heard from teachers and/or firefighters.
6.
The last person to exit the classroom should close the door.