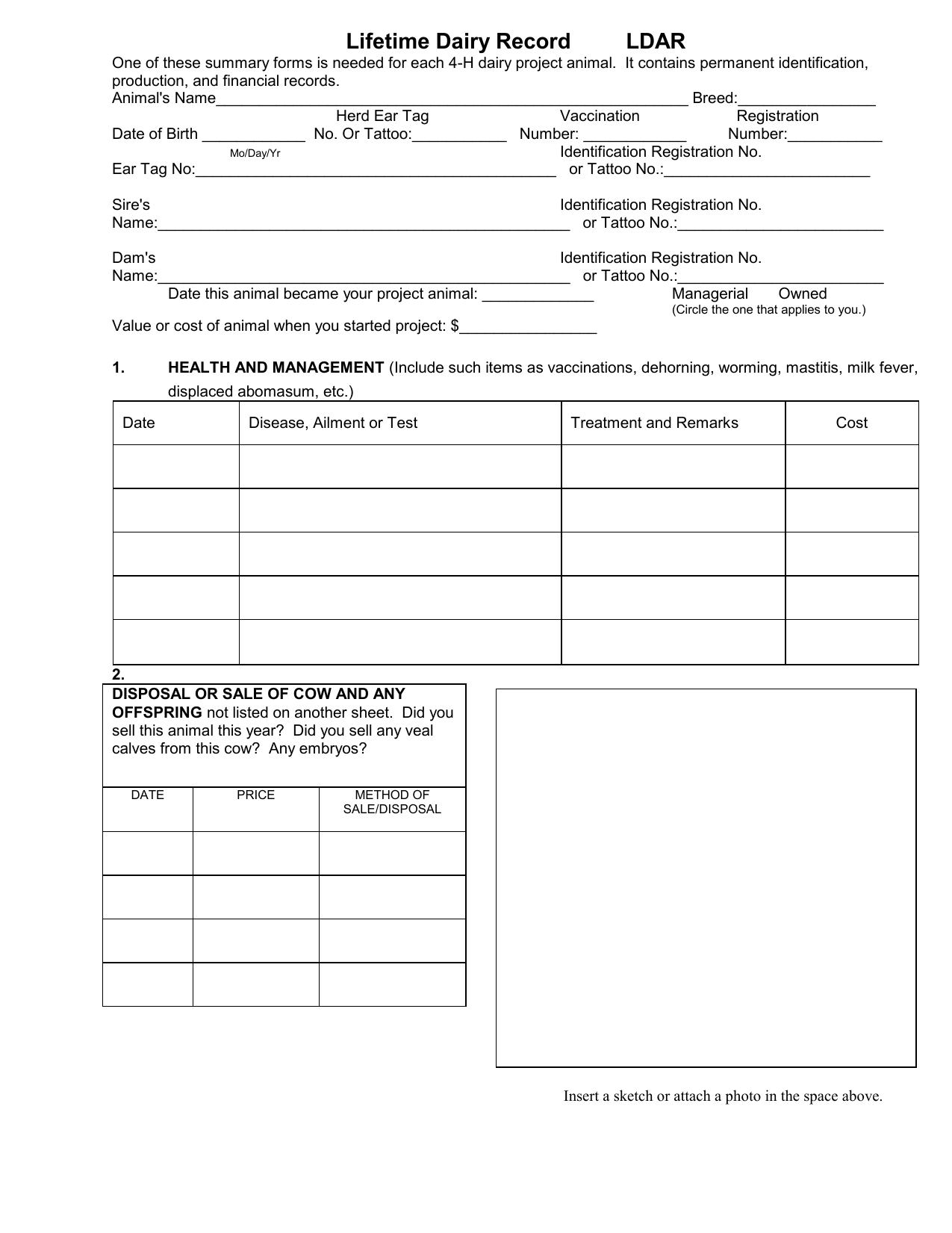 Lifetime Dairy Record LDAR
One of these summary forms is needed for each 4-H dairy project animal. It contains permanent identification, production, and financial records. Animal's Name_______________________________________________________ Breed:________________ Herd Ear Tag Vaccination Registration Date of Birth ____________ No. Or Tattoo:___________ Number: ____________ Number:___________ Mo/Day/Yr Identification Registration No. Ear Tag No:__________________________________________ or Tattoo No.:________________________ Sire's Identification Registration No. Name:________________________________________________ or Tattoo No.:________________________ Dam's Identification Registration No. Name:________________________________________________ or Tattoo No.:________________________ Date this animal became your project animal: _____________ Managerial Owned (Circle the one that applies to you.) Value or cost of animal when you started project: $________________
1. HEALTH AND MANAGEMENT
(Include such items as vaccinations, dehorning, worming, mastitis, milk fever, displaced abomasum, etc.) Date Disease, Ailment or Test Treatment and Remarks Cost
2. DISPOSAL OR SALE OF COW AND ANY OFFSPRING
not listed on another sheet. Did you sell this animal this year? Did you sell any veal calves from this cow? Any embryos? DATE PRICE METHOD OF SALE/DISPOSAL Insert a sketch or attach a photo in the space above.
LDAR
3.
Breeding Prior to
Lifetime Dairy Record
BREEDING RECORD
Date Bred Sire Bred To Date Bred Sire Used Date Bred First Calving Second Calving Third Calving Fourth Calving Fifth Calving Sixth Calving
4. PRODUCTION SUMMARY
Sire Used Total Semen Cost Calving Date Sex of Calf Calf Ear Tag # or Record of Disposal Date Calved
5.
Age X Milked Days in Milk Milk
CLASSIFICATION SUMMARY
Date Age Score Total Production %Fat #Fat %Prot #Prot Major Breakdowns DHI $ Value for Milk Produced Linear Score for SCC High Low Ranking in Herd or Deviation from Herd Average 2011