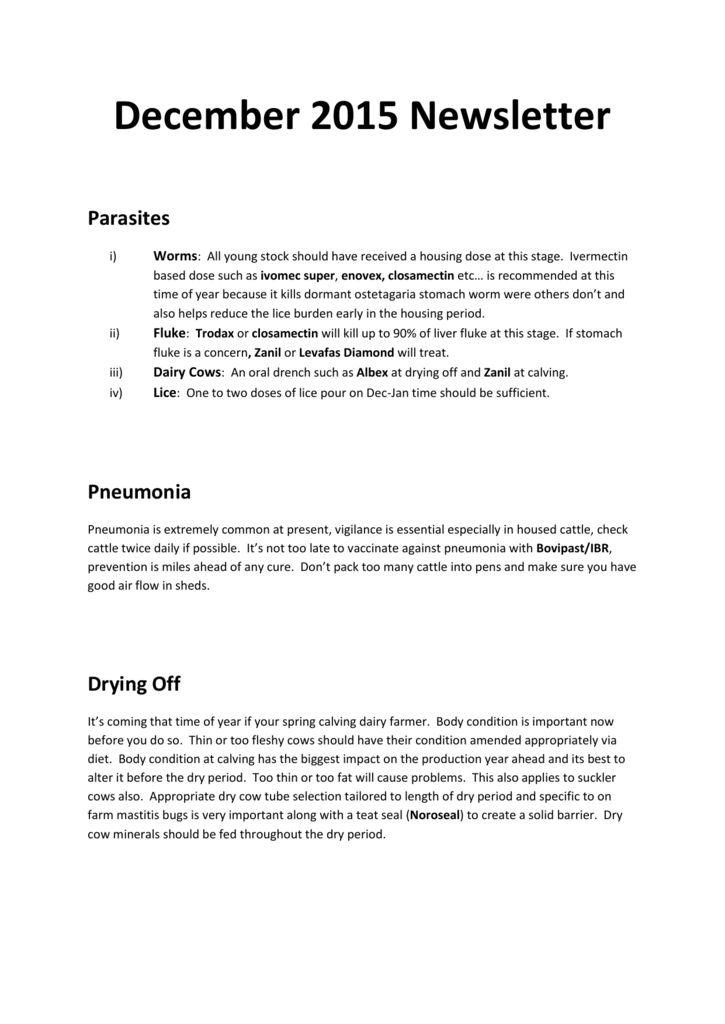 December 2015 Newsletter
Parasites
i)
Worms: All young stock should have received a housing dose at this stage. Ivermectin
based dose such as ivomec super, enovex, closamectin etc… is recommended at this
time of year because it kills dormant ostetagaria stomach worm were others don't and
also helps reduce the lice burden early in the housing period.
ii)
Fluke: Trodax or closamectin will kill up to 90% of liver fluke at this stage. If stomach
fluke is a concern, Zanil or Levafas Diamond will treat.
iii)
iv)
Dairy Cows: An oral drench such as Albex at drying off and Zanil at calving.
Lice: One to two doses of lice pour on Dec-Jan time should be sufficient.
Pneumonia
Pneumonia is extremely common at present, vigilance is essential especially in housed cattle, check
cattle twice daily if possible. It's not too late to vaccinate against pneumonia with Bovipast/IBR,
prevention is miles ahead of any cure. Don't pack too many cattle into pens and make sure you have
good air flow in sheds.
Drying Off
It's coming that time of year if your spring calving dairy farmer. Body condition is important now
before you do so. Thin or too fleshy cows should have their condition amended appropriately via
diet. Body condition at calving has the biggest impact on the production year ahead and its best to
alter it before the dry period. Too thin or too fat will cause problems. This also applies to suckler
cows also. Appropriate dry cow tube selection tailored to length of dry period and specific to on
farm mastitis bugs is very important along with a teat seal (Noroseal) to create a solid barrier. Dry
cow minerals should be fed throughout the dry period.
Scour Vaccine & Calving
Rotavec Corona is an essential vaccine against calf scour, cows need only one shot anywhere
between 3 – 12 weeks off calving. Clean, well bedded calving pens is important but most of all,
colostrum intake as soon as possible after birth (2-4 litres in first 6 hours) is absolutely essential, this
is their immune system for the next 3 months, and it doesn't cost you a penny. If you experience a
scour problem or did so last year, get in touch and we'll investigate and test a sample to determine
the cause of your problem.
Drugs
Farming is currently experiencing a difficult patch financially but as we all know it will bounce back.
It is our upmost priority to deliver you value for money. In the coming weeks all our products will be
priced at competitive euro equivalent prices and special discounts will be available on 'pay on the
day' transactions.
Discussion Groups
If you're unaware, DARD funding is currently available and open for application until December 14th
to join a discussion group. We highly recommend it and will be on hand to help out when it
commences. Discussion groups are a great way to learn, develop and grow your farm business,
making it more efficient and productive.
Office hours over Christmas
Thru 24th Christmas Eve
;
Closed 1pm
Fri 25th Christmas Day
;
Closed
Sat 26th Boxing Day
;
Closed
Sun 27th
;
Closed
Mon 28th – Thru31th
;
Open 9am – 4pm
Jan 1st New Year's Day
;
Closed
We thank you for your business once again and wish you all a happy Christmas and prosperous New
Year, from all in Cross Vets.