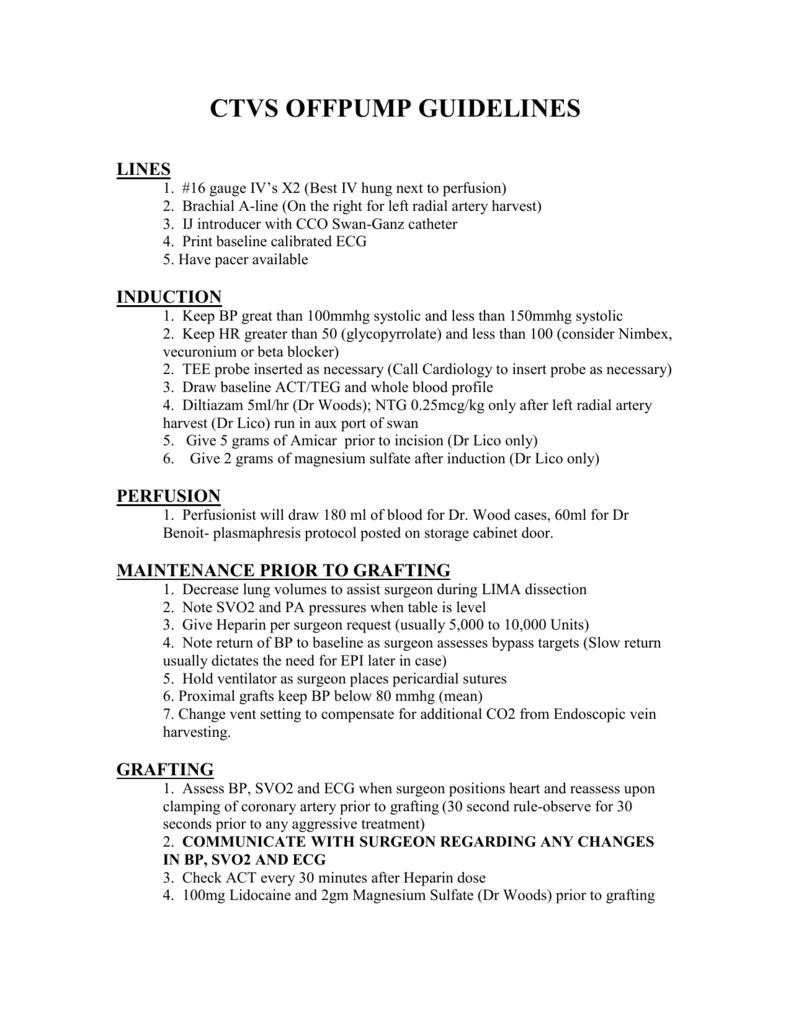 CTVS OFFPUMP GUIDELINES
LINES
1. #16 gauge IV's X2 (Best IV hung next to perfusion)
2. Brachial A-line (On the right for left radial artery harvest)
3. IJ introducer with CCO Swan-Ganz catheter
4. Print baseline calibrated ECG
5. Have pacer available
INDUCTION
1. Keep BP great than 100mmhg systolic and less than 150mmhg systolic
2. Keep HR greater than 50 (glycopyrrolate) and less than 100 (consider Nimbex,
vecuronium or beta blocker)
2. TEE probe inserted as necessary (Call Cardiology to insert probe as necessary)
3. Draw baseline ACT/TEG and whole blood profile
4. Diltiazam 5ml/hr (Dr Woods); NTG 0.25mcg/kg only after left radial artery
harvest (Dr Lico) run in aux port of swan
5. Give 5 grams of Amicar prior to incision (Dr Lico only)
6. Give 2 grams of magnesium sulfate after induction (Dr Lico only)
PERFUSION
1. Perfusionist will draw 180 ml of blood for Dr. Wood cases, 60ml for Dr
Benoit- plasmaphresis protocol posted on storage cabinet door.
MAINTENANCE PRIOR TO GRAFTING
1. Decrease lung volumes to assist surgeon during LIMA dissection
2. Note SVO2 and PA pressures when table is level
3. Give Heparin per surgeon request (usually 5,000 to 10,000 Units)
4. Note return of BP to baseline as surgeon assesses bypass targets (Slow return
usually dictates the need for EPI later in case)
5. Hold ventilator as surgeon places pericardial sutures
6. Proximal grafts keep BP below 80 mmhg (mean)
7. Change vent setting to compensate for additional CO2 from Endoscopic vein
harvesting.
GRAFTING
1. Assess BP, SVO2 and ECG when surgeon positions heart and reassess upon
clamping of coronary artery prior to grafting (30 second rule-observe for 30
seconds prior to any aggressive treatment)
2. COMMUNICATE WITH SURGEON REGARDING ANY CHANGES
IN BP, SVO2 AND ECG
3. Check ACT every 30 minutes after Heparin dose
4. 100mg Lidocaine and 2gm Magnesium Sulfate (Dr Woods) prior to grafting
TIPS
1. Trendelenburg position for lateral and posterior grafts.
2. Always maintain PA's at baseline established prior to grafting (Albumin and
fluid as needed)
3. Surgeon can assist by repositioning heart
4. Surgeon may insert stent in artery being grafted.
5. Use neosynephrine, ephedrine, and epinephrine as needed (inform the surgeon
of the need for drugs) - all vasopressors to run in aux port of swan
6. COMMUNICATION IS THE BEST ANSWER FOR EVERYTHING
DRUGS
1.
2.
3.
4.
5.
Fentanyl (10 to 15 mcg/kg)
Versed (5 to 12 mg)
Ativan 2 mg
Isoflurane 0.6 to 2.0 %
Fluids usually less than 3,000 ml
PROTAMINE
1.
2.
3.
4.
10 mg for every 1,000 Units of Heparin (give when surgeon requests)
Give protamine slowly in burette attached to side port, dilute up to 100ml.
Flush side port with additional 30ml
Draw ACT/TEG and post op whole blood profile
CLOSING
1. Call report x16434.
a.
Procedure
b.
Lines
c.
Vent settings per CCU weaning protocol
d.
Rhythm
e.
Height and Weight and BSA
f.
Patient History
g.
Problems
2. Interrupt ventilation as surgeon closes sternum.
3. Organize pumps and drugs - align pumps facing anesthesia
4. Transport to unit.