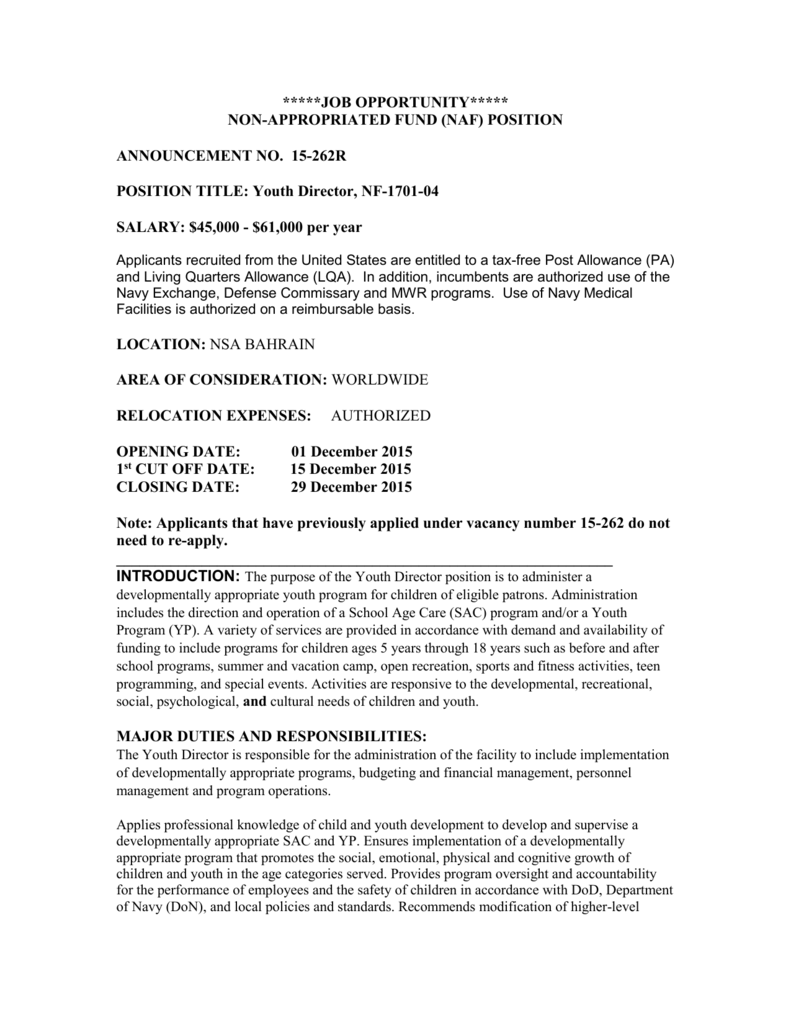 *****JOB OPPORTUNITY*****
NON-APPROPRIATED FUND (NAF) POSITION
ANNOUNCEMENT NO. 15-262R
POSITION TITLE: Youth Director, NF-1701-04
SALARY: $45,000 - $61,000 per year
Applicants recruited from the United States are entitled to a tax-free Post Allowance (PA)
and Living Quarters Allowance (LQA). In addition, incumbents are authorized use of the
Navy Exchange, Defense Commissary and MWR programs. Use of Navy Medical
Facilities is authorized on a reimbursable basis.
LOCATION: NSA BAHRAIN
AREA OF CONSIDERATION: WORLDWIDE
RELOCATION EXPENSES:
OPENING DATE:
1st CUT OFF DATE:
CLOSING DATE:
AUTHORIZED
01 December 2015
15 December 2015
29 December 2015
Note: Applicants that have previously applied under vacancy number 15-262 do not
need to re-apply.
________________________________________________________________
INTRODUCTION: The purpose of the Youth Director position is to administer a
developmentally appropriate youth program for children of eligible patrons. Administration
includes the direction and operation of a School Age Care (SAC) program and/or a Youth
Program (YP). A variety of services are provided in accordance with demand and availability of
funding to include programs for children ages 5 years through 18 years such as before and after
school programs, summer and vacation camp, open recreation, sports and fitness activities, teen
programming, and special events. Activities are responsive to the developmental, recreational,
social, psychological, and cultural needs of children and youth.
MAJOR DUTIES AND RESPONSIBILITIES:
The Youth Director is responsible for the administration of the facility to include implementation
of developmentally appropriate programs, budgeting and financial management, personnel
management and program operations.
Applies professional knowledge of child and youth development to develop and supervise a
developmentally appropriate SAC and YP. Ensures implementation of a developmentally
appropriate program that promotes the social, emotional, physical and cognitive growth of
children and youth in the age categories served. Provides program oversight and accountability
for the performance of employees and the safety of children in accordance with DoD, Department
of Navy (DoN), and local policies and standards. Recommends modification of higher-level
program goals and interprets and applies child and youth development philosophy/principles and
DoN policies based on patron needs and program evaluation and assessment.
Encourages and facilitates the pursuit of continuing higher education, including the Military
School-Age (MSA) credential or college-level classes. Gives input into the development of CYP
standard operating procedures (SOPs) as required for the efficient operation and management of
facility and programs. Ensures implementation of these SOPs.
Works collaboratively with other CYP Directors to establish and implement a combined Parent
Involvement Board (PIB) that includes parents and representatives from the Child Development
Center (CDC), Child Development Home (CDH), SAC, and YP (as applicable to each
installation).
Responsible for compliance with child abuse and neglect reporting requirements.
Ensures compliance with the US Department of Agriculture (USDA) Child and Adult Care Food
Program (CACFP). Ensures food service operations provide nutritionally balanced meals and
snacks in accordance with USDA guidelines.
QUALIFICATIONS REQUIREMENTS:
A 4-year degree in a field related to youth programs, such as youth recreation, recreation,
physical education, elementary education, secondary education, home economics with an
emphasis in human development, youth development, psychology, or social work, or other degree
appropriate to the position being filled AND 3 years of full time experience working with
children and/or youth OR
A Master's degree in a related field of study as stated above AND 1 year of full time experience
working with children. OR
A combination of education and experience (e.g. courses equivalent to a major in a field (24
higher level semester hours) appropriate to the position (see above)) plus appropriate experience
or additional course work that that provided knowledge comparable to that normally acquired
through the successful completion of the 4-year course of study described above AND 3 years of
full time experience working with children and/or youth.
Knowledge, Skills and Abilities listed below:
Ability to communicate effectively both orally and in writing in English and possess strong
interpersonal communication skills.
Knowledge of the principles of child and youth development and in designing and managing an
exceptionally complex program that includes, but is not limited to safety, security, disease
prevention, employee training, developmentally appropriate activities, parent involvement, and
facility management.
Knowledge of and skill in applying both Federal and State laws governing the detection and
prevention of child abuse and/or neglect.
Possess necessary skills in program planning, organizing and coordinating to devise and carry out
a variety of program components.
Experience working with military families and an understanding of military lifestyles is preferred.
Knowledge of financial management, budgeting, and purchasing as it pertains to a child and
youth program.
Ability to identify and respond properly to emergency situations, including evacuations, child and
youth illness, and physical and emotional disorders.
Knowledge of facility design, functional use, and maintenance concepts; DoN, local and state
child and youth regulations and procedures as well as other regulations and instructions
pertaining to military child care.
Strong supervisory and business skills and ability to provide positive personnel management.
Possess a driver's license.
Ability to favorably pass a pre-employment physical, provide evidence of immunization and be
free from communicable disease.
Ability to satisfactorily complete all background checks.
HOW TO APPLY: Applicants must submit employment application/resume with a copy
of a PAR/SF-50 showing current or previous job title and grade, along with any
supporting documentation and OF 306 Declaration for Federal Employment for receipt
by the cutoff date. The resume may be faxed to 011-39-081-568-8014 or emailed to
[email protected] Please ensure that your application/resume contains all
the information requested in the vacancy announcement. If your resume or application
does not provide all the information requested in the job vacancy announcement, you
may lose consideration for the position.
This is an 18 month unaccompanied tour or 24 Months accompanied tour located in
Manama Bahrain. The Kingdom of Bahrain (is comprised of a number of Islands totaling
253 square miles) occupies a central location in the Arabian Gulf. To learn more about
the kingdom of Bahrain please go to http://www.nsa.bahrain.navy.mil
Special Requirements: This is a Key/Emergency-Essential position. In the event of a
crisis situation or war, you must continue to perform assigned duties to support mission
requirements until relieved by proper authority.
Special Benefits: Relocation bonus may be authorized. In addition to Living Quarters
Allowance, you will receive Post Allowance and Post Differential. The current workweek
is Sunday through Thursday. Employees hired from continental U.S. receive Sunday
Premium Pay (computed at 25% of Basic Hourly Rate, eight hours per week).
Additional information will be provided upon selection. (Information on
allowances can also be obtained via internet at
http://www.state.gov/travelandbusiness then click on foreign per diem rates)
Some positions have special requirements. In these cases selection is tentative pending
satisfactory completion of these requirements. Applicants may be required to provide
proof of education, etc. All selections are contingent upon the obtaining satisfactory
employment reference checks.
As a condition of employment, the selectee will be required to participate in the Direct
Deposit/Electronic Fund Transfer within the first 30 days of employment.
Occupants of this position must maintain the privacy of official work information and data
and demonstrate the highest level of ethical conduct.
The Department of Navy is an Equal Employment Opportunity Employer. All qualified
candidates will receive consideration without regard to race, color, religion, sex, national
origin, age, disability, marital status, political affiliation, sexual orientation, or any other
non-merit factor.
The department of the Navy provides reasonable accommodation to applicants with
disabilities. Applicants with disabilities who believe they require reasonable
accommodation should call 011-39-081-568-5612 or e-mail them to:
[email protected] to ensure that the department of the Navy can consider
such requests. The decision to grant an accommodation will be made on a case-by-case
basis.