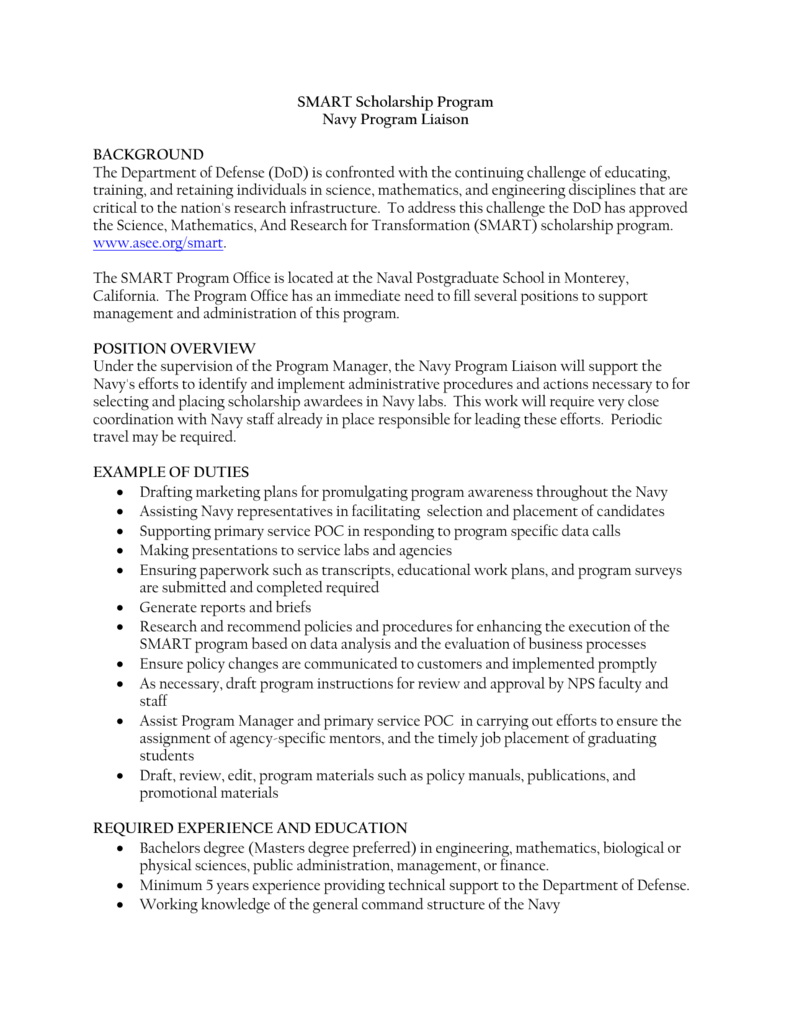 SMART Scholarship Program
Navy Program Liaison
BACKGROUND
The Department of Defense (DoD) is confronted with the continuing challenge of educating,
training, and retaining individuals in science, mathematics, and engineering disciplines that are
critical to the nation's research infrastructure. To address this challenge the DoD has approved
the Science, Mathematics, And Research for Transformation (SMART) scholarship program.
www.asee.org/smart.
The SMART Program Office is located at the Naval Postgraduate School in Monterey,
California. The Program Office has an immediate need to fill several positions to support
management and administration of this program.
POSITION OVERVIEW
Under the supervision of the Program Manager, the Navy Program Liaison will support the
Navy's efforts to identify and implement administrative procedures and actions necessary to for
selecting and placing scholarship awardees in Navy labs. This work will require very close
coordination with Navy staff already in place responsible for leading these efforts. Periodic
travel may be required.
EXAMPLE OF DUTIES
 Drafting marketing plans for promulgating program awareness throughout the Navy
 Assisting Navy representatives in facilitating selection and placement of candidates
 Supporting primary service POC in responding to program specific data calls
 Making presentations to service labs and agencies
 Ensuring paperwork such as transcripts, educational work plans, and program surveys
are submitted and completed required
 Generate reports and briefs
 Research and recommend policies and procedures for enhancing the execution of the
SMART program based on data analysis and the evaluation of business processes
 Ensure policy changes are communicated to customers and implemented promptly
 As necessary, draft program instructions for review and approval by NPS faculty and
staff
 Assist Program Manager and primary service POC in carrying out efforts to ensure the
assignment of agency-specific mentors, and the timely job placement of graduating
students
 Draft, review, edit, program materials such as policy manuals, publications, and
promotional materials
REQUIRED EXPERIENCE AND EDUCATION
 Bachelors degree (Masters degree preferred) in engineering, mathematics, biological or
physical sciences, public administration, management, or finance.
 Minimum 5 years experience providing technical support to the Department of Defense.
 Working knowledge of the general command structure of the Navy

General knowledge of DoD civilian science and technology workforce issues
DESIERED QUALIFICATIONS
 Familiarity with undergraduate and graduate technical scientific education
 Experience working in or with universities
 Excellent written and oral communication skills
 Excellent organization skills
 High level proficiency using the Microsoft Office suite of applications
 Familiarity with elementary statistical analysis such as mean, variance, z-scores
 Ability to prepare draft documents including forms, letters, memos, graphs
 Principles, methods, and practices of marketing
 Familiarity with university administration and practices
 Understanding of science, technology, and engineering career fields
 Knowledge of elementary statistical analysis such as mean, variance, z-scores
 Ability to build relationships and work with government staff, appointed officials, and
the public
LOCATION
Naval Postgraduate School, Monterey, California
HOURS
Typical business hours, M-F.
SALARY RANGE
70K - 100K annually. Actual salary offered will be dependant on experience and qualifications.