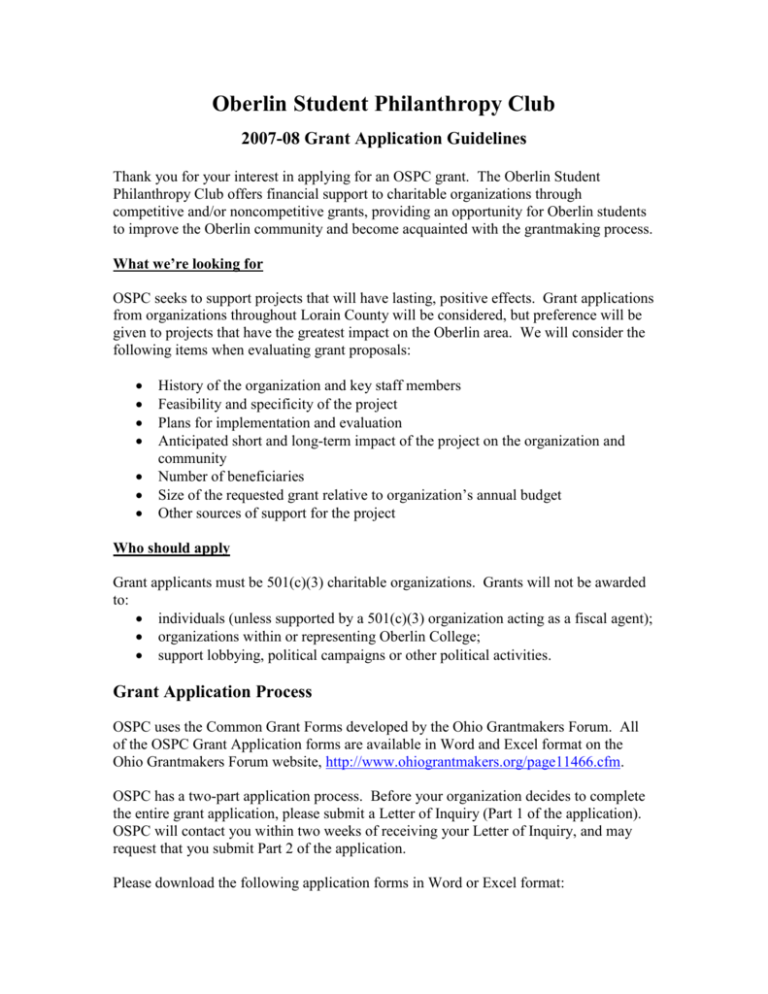 Oberlin Student Philanthropy Club
2007-08 Grant Application Guidelines
Thank you for your interest in applying for an OSPC grant. The Oberlin Student
Philanthropy Club offers financial support to charitable organizations through
competitive and/or noncompetitive grants, providing an opportunity for Oberlin students
to improve the Oberlin community and become acquainted with the grantmaking process.
What we're looking for
OSPC seeks to support projects that will have lasting, positive effects. Grant applications
from organizations throughout Lorain County will be considered, but preference will be
given to projects that have the greatest impact on the Oberlin area. We will consider the
following items when evaluating grant proposals:







History of the organization and key staff members
Feasibility and specificity of the project
Plans for implementation and evaluation
Anticipated short and long-term impact of the project on the organization and
community
Number of beneficiaries
Size of the requested grant relative to organization's annual budget
Other sources of support for the project
Who should apply
Grant applicants must be 501(c)(3) charitable organizations. Grants will not be awarded
to:
 individuals (unless supported by a 501(c)(3) organization acting as a fiscal agent);
 organizations within or representing Oberlin College;
 support lobbying, political campaigns or other political activities.
Grant Application Process
OSPC uses the Common Grant Forms developed by the Ohio Grantmakers Forum. All
of the OSPC Grant Application forms are available in Word and Excel format on the
Ohio Grantmakers Forum website, http://www.ohiograntmakers.org/page11466.cfm.
OSPC has a two-part application process. Before your organization decides to complete
the entire grant application, please submit a Letter of Inquiry (Part 1 of the application).
OSPC will contact you within two weeks of receiving your Letter of Inquiry, and may
request that you submit Part 2 of the application.
Please download the following application forms in Word or Excel format:
Part 1
1) Letter of Inquiry
Part 2
2) Budget Form for Fiscal Year (for your organization's current fiscal year)
3) Program Request Budget or Capital Budget Form (the budget for the proposed
project)
4) Statement of Revenue/Support and Expense (same as the Budget Form for Fiscal
Year, but for your organization's previous fiscal year)
5) Common Grant Form (Attachments (2), (3) and (6b) listed in Section Seven are the
same as items (2), (3) and (4) above, respectively, and should be submitted only
once.)
For the 2007-08 academic year, Letters of Inquiry will be accepted Tuesday, September
4, 2007 through Friday, November 9, 2007 (postmark). Part 2 of the grant application
will be accepted Tuesday, September 18, 2007 through Friday, December 7, 2007
(postmark).
All forms, attachments, and any supplemental materials may be either emailed to
ospc@oberlin.edu or mailed to OSPC, Wilder Box 49, 135 West Lorain Street, Oberlin,
OH 44074. If submitting hard copies, please submit one copy of each form and
attachment.
Grant Awards and Evaluation
Grants will be awarded no later than Friday, March 21, 2008. A total of $10,000 in
grants will be awarded, each no larger than $2,000. Grant funds must be spent in full by
grantees during 2008.
OSPC requests that each grantee submit two progress reports. These reports allow OSPC
to evaluate its role in the community. Progress reports should address the following
items:



Adherence to the original project budget, timeline and evaluation plan
Measurable impact of the project on the organization and Oberlin community so
far
Ongoing impact of the project on the organization and Oberlin community
The first progress report for each project funded by OSPC must be submitted two months
after receipt of the grant. A second Progress Report must be submitted to OSPC by
Friday, February 1, 2009. (postmark)
Timeline for 2007-2008 Grant Cycle
September 4 - November 9, 2007
Part 1 of application (Letter of Inquiry) accepted
Two weeks after OSPC receives
Part 1 of application
Applicants notified
December 7, 2007
Last day to submit Part 2 of application
March 21, 2008
Grant decisions completed
Two months after receipt of grant
Progress Report 1 due
February 1, 2009
Progress Report 2 due
Contact OSPC
If you have questions or are unable to submit all of the forms and attachments requested,
please contact us at ospc@oberlin.edu. We may modify our application process to better
suit your organization's grant proposal.