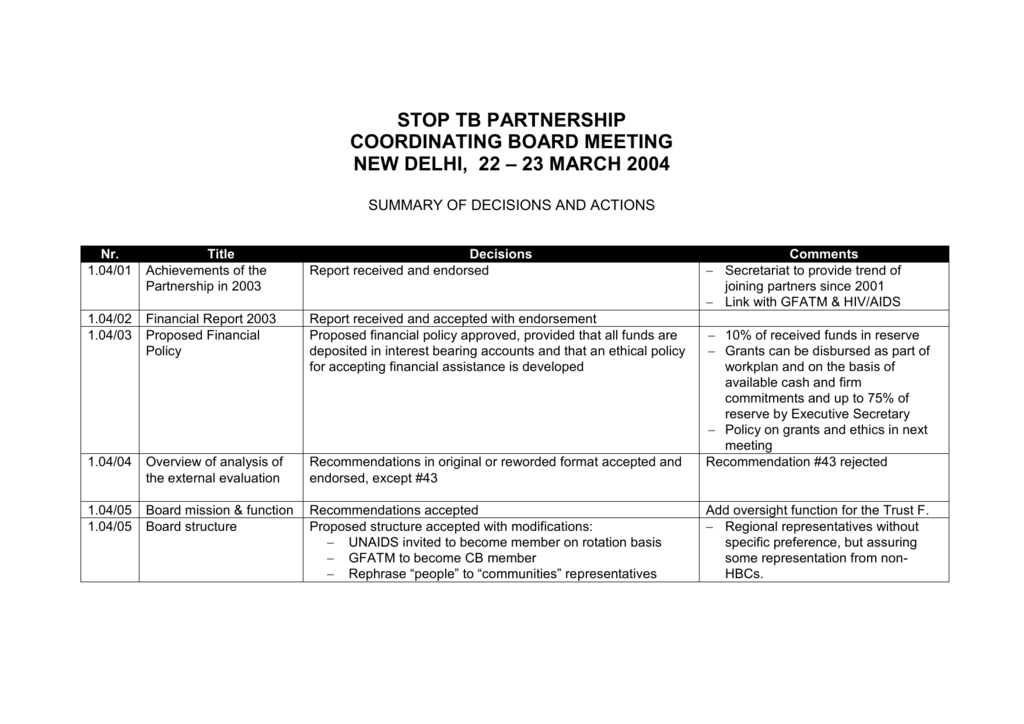 STOP TB PARTNERSHIP
COORDINATING BOARD MEETING
NEW DELHI, 22 – 23 MARCH 2004
SUMMARY OF DECISIONS AND ACTIONS
Nr.
1.04/01
Title
Achievements of the
Partnership in 2003
Decisions
Report received and endorsed
1.04/02
1.04/03
Financial Report 2003
Proposed Financial
Policy
Report received and accepted with endorsement
Proposed financial policy approved, provided that all funds are
deposited in interest bearing accounts and that an ethical policy
for accepting financial assistance is developed
1.04/04
Overview of analysis of
the external evaluation
Recommendations in original or reworded format accepted and
endorsed, except #43
1.04/05
1.04/05
Board mission & function
Board structure
Recommendations accepted
Proposed structure accepted with modifications:
 UNAIDS invited to become member on rotation basis
 GFATM to become CB member
 Rephrase "people" to "communities" representatives
Comments
 Secretariat to provide trend of
joining partners since 2001
 Link with GFATM & HIV/AIDS
 10% of received funds in reserve
 Grants can be disbursed as part of
workplan and on the basis of
available cash and firm
commitments and up to 75% of
reserve by Executive Secretary
 Policy on grants and ethics in next
meeting
Recommendation #43 rejected
Add oversight function for the Trust F.
 Regional representatives without
specific preference, but assuring
some representation from nonHBCs.
Nr.
1.04/05
Title
Executive Committee
Decisions
Establishment and functions of Executive Committee (EC)
endorsed with following additional point:
Emergency decisions can be made by the EC, subject to final
ratification by full CB during first next meeting afterwards.
Delegation of authority
1.04/05
1.04/06
Working group
processes
Outstanding issues of
the external evaluation
Selection of EC members to be done by nominations and
election (if needed). Process for accepting nominations to be
led by Takeshi Kasai
Executive Secretary can decide on funding recommendations
from the TRC, cases with significant policy issues must be
brought to the EC
Recommendations endorsed
#34 determine criteria for constituency representation,
guidelines to be developed by the STB Partnership secretariat
#56 endorsed (further growth of national partnerships with
involvement of NGOs and civil society)
#63 Spirit of proposed statement regarding reporting structure to
be included in MOU with WHO (2004)
#64 Request to WHO to apply parity of treatment for partnership
secretariats of STB and RBM regarding position and rank of
STB Partnership Executive Secretary. CB to write a letter to
WHO requesting D grade for Exe Secretary, without need for
new selection.
Comments
 Chair of CB = chair of EC
 EC must be fair representation of
CB
 If needed, decision making by email,
(if issued under "no response =no
objection": follow up by telephone
notification or confirmation of
receipt) EC reporting duty of
minutes by email to all CB members
 Decisions are guided by the new
financial policy
 Disbursement from unearmarked
donations are guided by workplan
priorities
The timeframe for the Second Global
Plan should be deleted from text
 Transparency in selection of
representative based on
comparative advantage and added
value to the partnership
 Constituency representation
assured by input from and feed back
to constituents and by asking
constituency CB representatives to
establish a system for informing and
involving other members
 Performance review of Executive
Secretary by CB on agenda of next
CB meeting, for input to WHO
Nr.
1.04/07
Title
Decisions
Proposed action and monitoring response to the evaluation,
Procedural
Proposed actions endorsed
Structural
Proposed actions endorsed
GDF
TB control
Proposed actions endorsed
Proposed actions endorsed
Regional/ national
partnerships
Global co-ordination
Proposed actions endorsed
1.04/08
Update Resource
Mobilisation
Update appreciated
1.04/13
Scaling up quality
Decision deferred to decisions regarding ISAC
Proposed actions endorsed
Comments
 (Action 9)Alternative to "post
mortem" needed as partnership is
alive and kicking
 (Action 14) Alternative term for "ad
hoc" will appeal better to outsiders
(Montreux Committee?)
(Action 16) Replace Local Fiduciary
Agent (LFA) by Principal Recipient (PR)
TB Poverty included as Network for
Action part of DOTS Expansion WG
(Action 19) Liaison-RBM at the moment
premature, liaison-3X5 via GFATM
 Need for ethical policy on donations
 WGs financial needs included in
priority setting process (based on
Global Plan) for allocation of funds
 Add Recipient country
representative to Task Force
Use focal group discussion as a means
for identifying donor needs/priorities
 Quality programmes have good TA
 Use GFATM funding for TA (also
retrofitting previous grants)
 TA from recipient countries can be
valuable and is cost effective
Nr.
1.04/09
Title
Advocacy and
Communication
Decisions
Establishment of Working Group on Advocacy and
Communications endorsed.
Develop and approve necessary TOR (incl. governance
procedures) within the WG
chair
What are our messages?
Expert Group to draft unified core messages with input from all
WGs (proposed chair Nina Schwalbe)
1.04/10
Evolution of Global Drug
Facility
1.04/10
Guidelines on donations
chair
Announcements
USAID
Life Extending Treatment
(LET)
Proposed expansion as part of the evolution of the GDF is
approved under caution:
 Diagnostics on pilot basis
 Consultants services on a limited basis to be further
defined
Drug donations guidelines approved but must include a review
of potential discouraging medium and long term impacts on local
investors and drug manufacturers
DFID funds 1 million £ for STB Partnership secretariat for 2004
WB will issue soon RFP for Poverty Analysis
The concept of this LET initiative was recognized as a desirable
and exciting approach to establish more holistic care for PLWA,
provided that technical details and intervention modalities are
based on best practices and broad technical consensus.
Comments
 Need for advocacy skills must be
more prominent than TB technical
skills development
 Representatives from other WGs
must participate in A&C WG and
Resource Mobilisation Task F.
 Need for more special events
 Train journalists in TB
 Include other non-TB partners in
countries
 Ask for larger amounts of $$
 Talk AIDS = Talk TB (link with
Bangkok Meeting June 2004)
Call for ambitious and aggressive fund
raising campaign to sustain GDF's
commendable contribution to the
achievement of the target of the Global
Plan to Stop TB
Longer term DFID funding for STB is to
be decided later
Take note of unintended side-effects
 Make clear that LET does not
replace ARV
 TB component in line with DOTS
Do extensive pre-launch consultations
with broad spectrum of the public health
interests involved
Nr.
chair
Title
CB Governance
1.04.11
Intensified Support for
Action in Countries
(ISAC)
1.04/12
Global Fund to Fight
AIDS TB and Malaria
1.04/14
Trust Fund
Decisions
Vice chair election October 2004,Chair election October 2005
STB participation in Bangkok Meeting (AIDS) will be prepared by
sub group of CB
Appreciation for provided support by leaving members as per
rotation schedule for CB members
DFID (Bilaterals), OSI (NGO/Foundations), Nigeria & Philippines
(HBC), P.R. Narayanan (SEAR), E. Raheem (EMR)
The endorsement for ISAC was reconfirmed as vital catalytic
action to accelerate DOTS expansion. Country plans are
channelled through the DEWG to the STB Secretariat for
resource mobilization
MOU is appreciated as an important step towards more
structured collaboration between the STB Partnership and the
GFATM.
The principles of the proposed trust fund arrangements based
upon the so called APOC model ( a trust fund at the World Bank
which would be called upon by WHO to fund expenditure
incurred by WHO through a separate trust fund in WHO books)
was endorsed. The administrative charges for services would
have to be negotiated by the STB Executive Committee and the
WHO Administration.
This new arrangement with WHO allows for full transparency of
all transactions undertaken by WHO in accordance with the work
plan and budget approved by the Co-ordinating Board.
Comments
 Prof. Omaswa is available to
continue as Vice Chair until October
2004
 Netherlands will replace DFID
 OSI will be replaced by an
representative selected by
constituents
 ISAC = partnership product
 ISAC Involves more than just TA
 Country plans were accepted by
DEWG with minor adjustments
Careful scrutiny on the actual wording
of the current MOU will enhance easy
processing towards conclusion and
signature
Two options were discussed:
1. a sub-account of the Voluntary
Fund for Health Promotion, that
normally pools earmarked
contributions (no charges in setting
up of such sub-account).
2. A completely separate fund within
the WHO accounting system. (initial
costs are USD. 10,000 + USD.
20,000 for annual external audit
services). Fee for service charges
are based on actual costs.
The CB approved the second option
that is in line with the Task Force
recommendation.