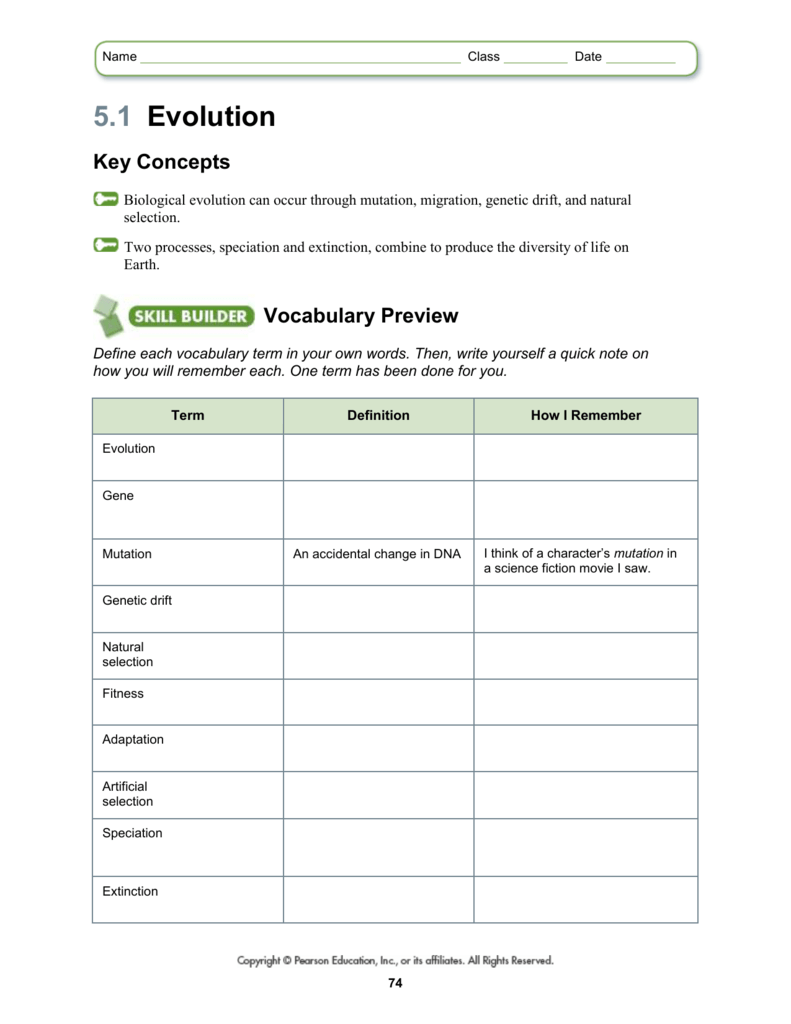 Name
Class
Date
5.1 Evolution
Key Concepts
Biological evolution can occur through mutation, migration, genetic drift, and natural
selection.
Two processes, speciation and extinction, combine to produce the diversity of life on
Earth.
Vocabulary Preview
Define each vocabulary term in your own words. Then, write yourself a quick note on
how you will remember each. One term has been done for you.
Term
Definition
How I Remember
Evolution
Gene
Mutation
An accidental change in DNA
Genetic drift
Natural
selection
Fitness
Adaptation
Artificial
selection
Speciation
Extinction
74
I think of a character's mutation in
a science fiction movie I saw.
Name
Class
Date
Evolution and Natural Selection
1. Explain how a gene pool and biological evolution are related.
2. How could a natural disaster result in genetic drift?
3. Explain what survival of the fittest means.
4. How does artificial selection provide evidence for evolution by natural selection?
Speciation and Extinction
5.
Model the process of speciation by filling in the flowchart with
terms from the word bank.
geographical isolation
mutations
two species
Single population
6. What are mass extinctions?
7. In general, when does extinction occur?
8. What is the average length of time a species spends on Earth? How have paleontologists
calculated this figure?
9.
Compare and contrast artificial selection with natural selection.
10. What is an adaptation?
11. What has happened to almost all species that have ever lived on Earth?