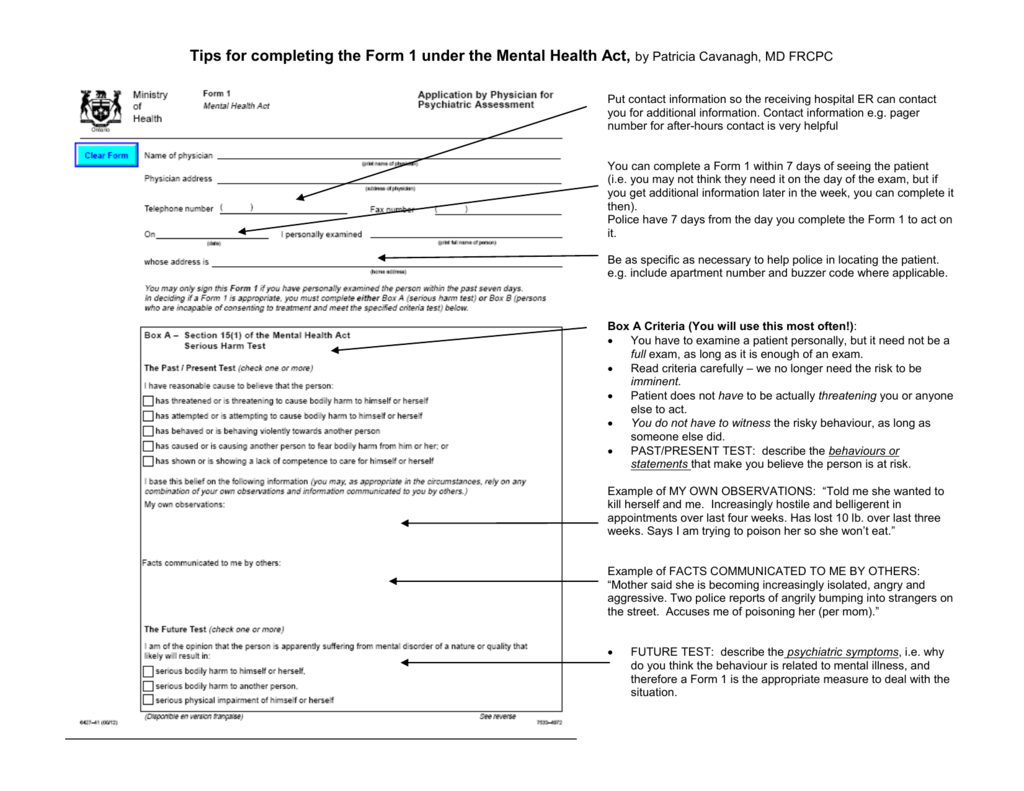 Tips for completing the Form 1 under the Mental Health Act, by Patricia Cavanagh, MD FRCPC
Put contact information so the receiving hospital ER can contact
you for additional information. Contact information e.g. pager
number for after-hours contact is very helpful
You can complete a Form 1 within 7 days of seeing the patient
(i.e. you may not think they need it on the day of the exam, but if
you get additional information later in the week, you can complete it
then).
Police have 7 days from the day you complete the Form 1 to act on
it.
Be as specific as necessary to help police in locating the patient.
e.g. include apartment number and buzzer code where applicable.
Box A Criteria (You will use this most often!):

You have to examine a patient personally, but it need not be a
full exam, as long as it is enough of an exam.

Read criteria carefully – we no longer need the risk to be
imminent.

Patient does not have to be actually threatening you or anyone
else to act.

You do not have to witness the risky behaviour, as long as
someone else did.

PAST/PRESENT TEST: describe the behaviours or
statements that make you believe the person is at risk.
Example of MY OWN OBSERVATIONS: "Told me she wanted to
kill herself and me. Increasingly hostile and belligerent in
appointments over last four weeks. Has lost 10 lb. over last three
weeks. Says I am trying to poison her so she won't eat."
Example of FACTS COMMUNICATED TO ME BY OTHERS:
"Mother said she is becoming increasingly isolated, angry and
aggressive. Two police reports of angrily bumping into strangers on
the street. Accuses me of poisoning her (per mom)."

FUTURE TEST: describe the psychiatric symptoms, i.e. why
do you think the behaviour is related to mental illness, and
therefore a Form 1 is the appropriate measure to deal with the
situation.
Tips for completing the Form 1 under the Mental Health Act, by Patricia Cavanagh, MD FRCPC
USE DETAILS AND EXAMPLES. BE SPECIFIC!
Example of MY OWN OBSERVATIONS:
"Poorly groomed, bizarre behavior, muttering to self, paranoid about
me poisoning her, appears to be distracted by internal stimuli
(auditory hallucinations); easily angered; refusing medication or
hospitalization"
Example of FACTS COMMUNICATED TO ME BY OTHERS:
"Long history of psychiatric illness with many admissions in a similar
state. Has assaulted people in the past due to paranoid delusions
about being poisoned."
Box B is sometimes useful if you know the patient well.
It can be used for early intervention, i.e. when people are
noncompliant with treatment but BEFORE they decompensate,
BUT it can only be used when:

The patient has previously been certifiable when not treated;

They have and can be successfully treated

They are not capable of making treatment decisions (always
document that in your notes), and they have a substitute
decision-maker who is now consenting to the treatment;

They are suffering from the same illness that caused them to
be at risk and that was successfully treated before

They are likely to become at risk as per tick-boxes.
"MY OWN OBSERVATIONS" and "FACTS COMMUNICATED TO
ME BY OTHERS" should address the above issues and describe
how they meet these criteria.
Fill out EITHER Box A OR Box B.
Do NOT fill out BOTH!
h
Tips for completing the Form 1 under the Mental Health Act, by Patricia Cavanagh, MD FRCPC
This allows us to act on the basis of mental suffering, not just risk,
IF all other conditions are met.
Example of MY OWN OBSERVATIONS:
"Recently refused injection and denied illness; incapable to consent
x years and mom acting as substitute decision-maker. Responds
well to Fluanxol IM in the past. Has decompensated severely, lost
housing, experiences extreme disorganization and paranoia."
Example of FACTS COMMUNICATED TO ME BY OTHERS:
"Long history of decompensation without medications. When
untreated becomes unable to care for self, pay rent, gets taken
advantage of by drug dealers, severe paranoia and formal thought
disorder. Responds well to treatment."
"Today's date" is the day you fill out the form. It can be
different from the date of the exam.
The HOSPITAL completes this section and gives the patient the
Form 42.
Tips for completing the Form 1 under the Mental Health Act, by Patricia Cavanagh, MD FRCPC
Additional Tips for completing the Form 1 under the Mental Health Act
by Patricia Cavanagh, MD FRCPC

If you know where the patient will be taken, call the ER and leave information, or ask them to call you later to discuss. This is
EXTREMELY helpful to the assessment (and can make the difference between the patient being admitted or discharged).

The Form 1 should NEVER be given to the client (but could go with the family if they are able to take the patient to ER)

Take the completed Form 1 to the police, or call them and they will pick it up. They usually need the ORIGINAL Form 1 (not a faxed
version) to apprehend the patient and deliver them to the ER

You can recommend where you want the patient taken, but the police are obligated only to take them to the closest Schedule 1 facility.

Form 1 gives you no authority to treat. It only gives police the power to "apprehend the patient under the Mental Health Act" (not the
same as "arresting the patient") and taken them to a Schedule 1 facility for an assessment to see if they need involuntary admission.
The Schedule 1 facility has up to 72 hours to complete that assessment.

Police also have the authority to arrest the patient under the Mental Health Act if they observe or are made aware of a patient similarly
at risk, WITHOUT A FORM 1! Sometimes they need to be reminded of this. They will usually only do this in an acute emergency.

If you are unable to examine the patient, and police arrest under the MHA is not appropriate, family, friends, landlords, strangers (even
doctors) can ask a Justice of the Peace to complete a Form 2. The same argument (either A or B criteria) must be made. Emphasize
that voluntary efforts have not worked. The JP will complete and give you a Form 2, which you give to police, and they will again
apprehend a person and deliver them to the ER for assessment. At that point the patient may or may not be placed on a Form 1.
Additional info from the family and doctor in the ER will be helpful.

If the Form 1 is filled out incorrectly, subsequent involuntary hospitalization (if indicated) could be cancelled (because the initial
apprehension and confinement in hospital is ruled illegal). This is immensely disruptive to treatment.