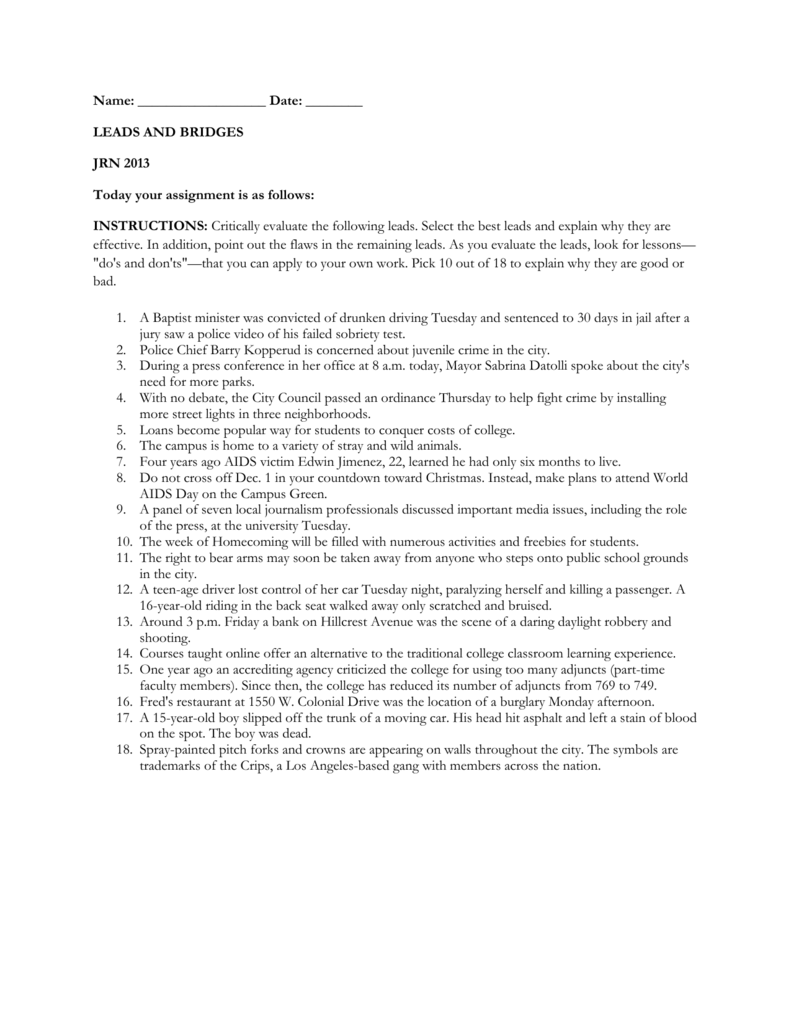 Name: __________________ Date: ________
LEADS AND BRIDGES
JRN 2013
Today your assignment is as follows:
INSTRUCTIONS: Critically evaluate the following leads. Select the best leads and explain why they are
effective. In addition, point out the flaws in the remaining leads. As you evaluate the leads, look for lessons—
"do's and don'ts"—that you can apply to your own work. Pick 10 out of 18 to explain why they are good or
bad.
1. A Baptist minister was convicted of drunken driving Tuesday and sentenced to 30 days in jail after a
jury saw a police video of his failed sobriety test.
2. Police Chief Barry Kopperud is concerned about juvenile crime in the city.
3. During a press conference in her office at 8 a.m. today, Mayor Sabrina Datolli spoke about the city's
need for more parks.
4. With no debate, the City Council passed an ordinance Thursday to help fight crime by installing
more street lights in three neighborhoods.
5. Loans become popular way for students to conquer costs of college.
6. The campus is home to a variety of stray and wild animals.
7. Four years ago AIDS victim Edwin Jimenez, 22, learned he had only six months to live.
8. Do not cross off Dec. 1 in your countdown toward Christmas. Instead, make plans to attend World
AIDS Day on the Campus Green.
9. A panel of seven local journalism professionals discussed important media issues, including the role
of the press, at the university Tuesday.
10. The week of Homecoming will be filled with numerous activities and freebies for students.
11. The right to bear arms may soon be taken away from anyone who steps onto public school grounds
in the city.
12. A teen-age driver lost control of her car Tuesday night, paralyzing herself and killing a passenger. A
16-year-old riding in the back seat walked away only scratched and bruised.
13. Around 3 p.m. Friday a bank on Hillcrest Avenue was the scene of a daring daylight robbery and
shooting.
14. Courses taught online offer an alternative to the traditional college classroom learning experience.
15. One year ago an accrediting agency criticized the college for using too many adjuncts (part-time
faculty members). Since then, the college has reduced its number of adjuncts from 769 to 749.
16. Fred's restaurant at 1550 W. Colonial Drive was the location of a burglary Monday afternoon.
17. A 15-year-old boy slipped off the trunk of a moving car. His head hit asphalt and left a stain of blood
on the spot. The boy was dead.
18. Spray-painted pitch forks and crowns are appearing on walls throughout the city. The symbols are
trademarks of the Crips, a Los Angeles-based gang with members across the nation.
Reasoning:
# ___:
# ___:
# ___:
# ___:
# ___:
# ___:
# ___:
# ___:
# ___:
# ___:
Below there are 2 example leads (one also has a bridge). How might you rewrite them to better serve
the purpose of a lead?
a.
HADLEY – The Hampshire Mall was evacuated just before 10 p.m. Friday due to a natural gas leak from
a rooftop heating unit. Hadley police and firefighters responded to a call about 9:40 p.m. about a strong
smell of natural gas at the Cinemark theaters, and assisted mall security in evacuating the building, a
Hadley police dispatcher said.
b. The next has a lead and a bridge. What could you move to the lead and what might your keep in the
bridge. Rewrite the lead and the bridge so they are done more effectively.
SUNDERLAND – A Sunderland police officer's fast action is being credited with helping to save a
woman from a house fire Friday night.
According to police, at about 7:30, an unidentified female locked herself in a bedroom at 238 North
Main St., and refused to come out. Shortly after, there was a report of smoke coming from underneath
the door.
**Lastly, bring in a news article tomorrow you think does a good job of being a news article, interesting or
not.