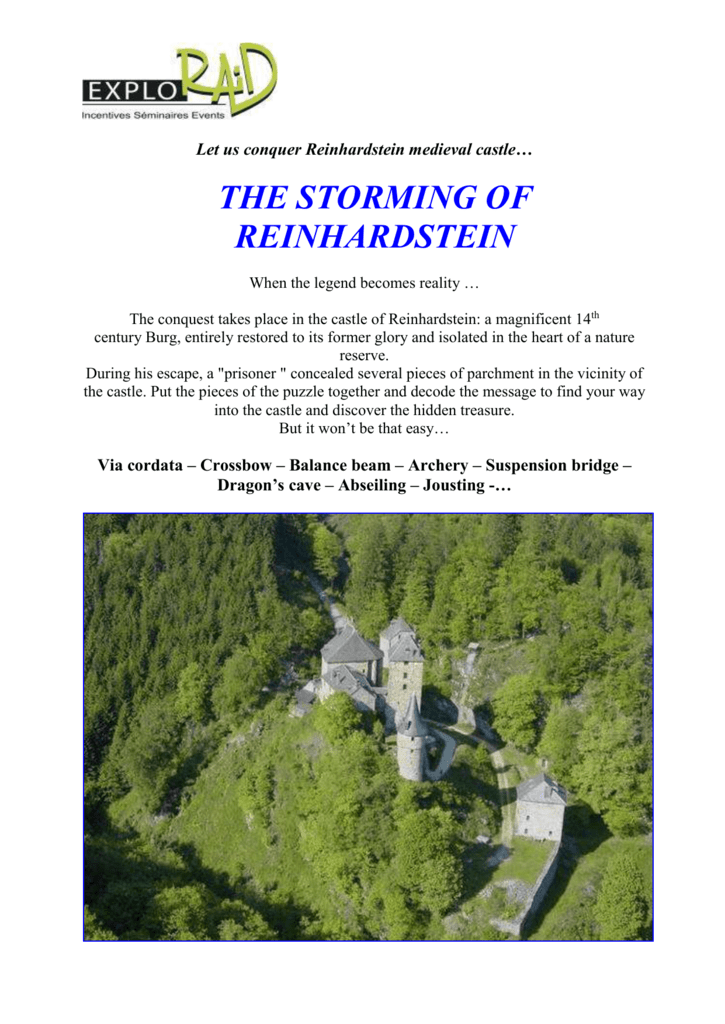 Let us conquer Reinhardstein medieval castle…
THE STORMING OF
REINHARDSTEIN
When the legend becomes reality …
The conquest takes place in the castle of Reinhardstein: a magnificent 14th
century Burg, entirely restored to its former glory and isolated in the heart of a nature
reserve.
During his escape, a "prisoner " concealed several pieces of parchment in the vicinity of
the castle. Put the pieces of the puzzle together and decode the message to find your way
into the castle and discover the hidden treasure.
But it won't be that easy…
Via cordata – Crossbow – Balance beam – Archery – Suspension bridge –
Dragon's cave – Abseiling – Jousting -…
CHALLENGES
 VIA CORDATA
Pieces of parchment have been concealed near a waterfall. A climbing path, especially
built to facilitate access to the hiding place, makes this ascent easy, safe and accessible
to all.
 CROSSBOW
An enemy knight (represented by a coat of arms) is keeping guard. In order to acquire as
many pieces of parchment as possible, you need to hit the knight as often as possible.
 BALANCE BEAM
Pieces of parchment are hidden at the bottom of the "old well". Walk on the beam,
assisted by a handrail, to bring up the bucket containing the clues.
 ARCHERY
A shelter of fortune kept by a bear also conceals many parchments. Once the animal is
neutralized, the team reach the documents.
 SUSPENSION BRIDGE
You need to cross a cable bridge – one cable for your hands, one for your feet and a
safety harness – in order to reach the giant bird's nest.
 THE DRAGON'S CAVE
This little cave is home to a "dragon" which fears the light. So as not to disturb him,
each participant will try to find a piece of parchment in the dark within a determined
time frame.
 ABSEILING
This time, the precious pieces of parchment are hanging from a rock over the castle's
courtyard. The team leader will control your abseiling speed.
 JOUSTING
The executioner invites the bravest participants to a friendly duel with medieval lances.
Who will fall first? A piece of parchment will be delivered every time the executioner
"surrenders".
INDICATIVE TIMINGS
14.00 :
14.30 :
15.00 :
18.00 :
18.30 :
The « invaders» arrive.
Briefing of the participants and division of the group into teams.
Convoy departure towards the castle.
Arrival at the castle and preparation of the participants (safety harness and
leads).
Search for the parchments.
The team who has collected the most parchments is rewarded.
The parchments are pieced together to reveal the clue to the puzzle.
The key is found and the castle is « invaded ».
End of the event.
REMARKS
Programme available throughout the year.
MEETING POINT
Ovifat.