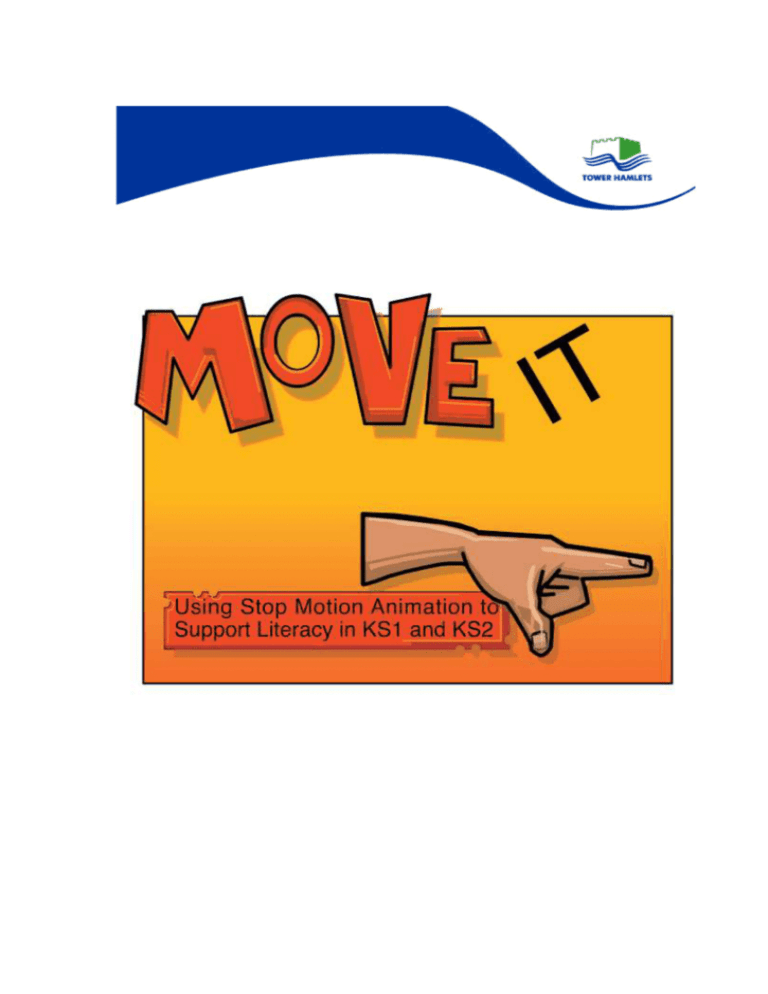 Using stop motion animation to support Literacy in KS1 and 2
During the Spring and Summer of 2003, a number of schools worked with the
CLC staff and the literacy team to produce animated films, linked to their
literacy work on narrative.
The teachers planned the literacy input across a two or three week unit, with
the work culminating in an animated presentation.
Some groups produced a range of different films, whilst others worked
together as a class, using the same animation models but with each group
working on a different sequence.
This approach provided the children with an opportunity to present the
outcomes of a unit of work in a more purposeful and exciting way. We hope
you enjoy watching our films as much as we enjoyed making them!
Although this project looked at opportunities to use stop motion animation for
narrative, this technique could equally support non-fiction and cross-curricular
work. Consider animating the water cycle as an explanation text, or the
making of a Christmas decoration when working on instructions.
Key findings from the project:
Choose a unit of work that is best suited to this medium.
Ensure children know their chosen story well before beginning to plan
their video sequence.
Plan the sequence in detail before filming, especially if ICT time or
computer access is limited. Ensure that backdrops, models, etc. are
prepared. Each group should have their own backgrounds and
characters.
Practise the sequence before filming, particularly if you want to add
dialogue or sound.
Keep it simple! Limit to 2 settings, (e.g. indoors/outdoors,
upstairs/downstairs). Size for background is A4 or slightly larger in
colour.
Explore a range of animation tools – plasticine, paper cut outs, objects.
With younger children, working with paper seems to be the most
successful method.
About this guide
There are three sections in this guide.
The first has been designed to help with the planning of an
animation project to fit in with the Literacy Framework. It includes
a list of the narrative units within the framework that could be
used as a starting point for a project. It also includes an exemplar
scheme of work.
The second section explains all of the pupil worksheets with
additional notes and advice added for the planning and
implementation of the animation activities.
The final section includes a series of resources for the pupils to
use. The blank pro formas can also be downloaded from the CLC
website at www.thclc.org.uk
Planning an Animation project within the context of the Literacy
framework
Effective unit plans for literacy using animation:
• are led by literacy objectives
• will indicate where ICT will be deployed to support teaching and learning of
literacy objectives
• will specify text(s) for reading and outcome(s) for writing, identifying
animation presentations where appropriate
• work through the teaching sequence from reading to writing
A teaching sequence for shared reading and writing through a unit.
Reading and responding
• Introduction to reading (activating prior knowledge)
• Teach reading strategies
• Response (e.g. likes and dislikes, questions for the author)
• Specific focus of reading objective(s)
Analysing texts (reading for writing)
• Analysis of texts for structural and language features
• Deriving principles of effective writing from these text models
Planning for writing
• Gather/transfer content, stimulate
• Discuss audience, purpose, form
• Plan, draft, revise, edit
Using animation software is most effectively deployed in the last stage of this
teaching sequence.
Adapted from the Literacy Co-ordinator's handbook DfES 0284/2002
Narrative units in the Literacy Framework for Teaching
Y1 T1
Y1 T2
Y1 T3
Y2 T1
Y2 T2
Y2 T3
Y3 T1
Y3 T2
Y3 T3
Y4 T1
Y4 T2
Y4 T3 S
Y5 T3
Stories with familiar settings
Stories with predictable and repetitive patterns
Traditional stories
Fairy stories
Stories from a range of cultures
Plays
Stories about fantasy worlds
Stories with familiar settings
Traditional stories
Stories from other cultures
Stories with predictable and patterned language
Extended stories
Stories by the same author
Stories by significant children's authors
Stories with familiar settings
Myths, legends, fables, parables
Traditional stories
Stories with related themes
Adventure and mystery stories
Stories by the same author
Historical stories and short novels
Stories/novels about imagined worlds
Stories in series
Stories that raise issues
Stories by the same author
Stories in series
Y5 T1 Stories by significant children's writers
Y5 T2 Traditional stories, myths, legends, fables from a
range of cultures
Narrative poetry
Stories from a variety of cultures and traditions
Using the resources supplied with this pack
This project works best when the pupils
work in groups three or four. Any larger
numbers can cause problems during the
filming stage.
There are a variety of ways of approaching
the actual story telling. (see the literacy
planning notes for more details) You may
decide that each group is going to animate
a complete story or you may prefer to split
the story into scenes with each group
animating one scene.
Whatever the approach it is important to get
the pupils to start visualising what their
animation is going to look like.
At this stage it is important to stress that
simple bold drawings or models will
probably produce the best animations.
These planning sheets do not need to be
works of art but should help the pupils get
a good idea of what their animation will
eventually look like.
At this stage the pupils should not be
concerned with characters or props but
should be concentrating on the background
scenery.
This sheet has been designed to help
the pupils think about their main
character.
They should "mind map" in groups how
best to portray the character at the
centre of their story.
They should aim to build a word picture
of their character that they should then
refer back to when drawing or
modelling the character for the
animated sequence.
The two worksheets above have been designed to help the pupils develop their story
in a structured way. Once the pupils have completed all of their planning the next
stage is to create all of the resources that will be needed for the filming (characters
and backgrounds as to instructions given previously in pack).