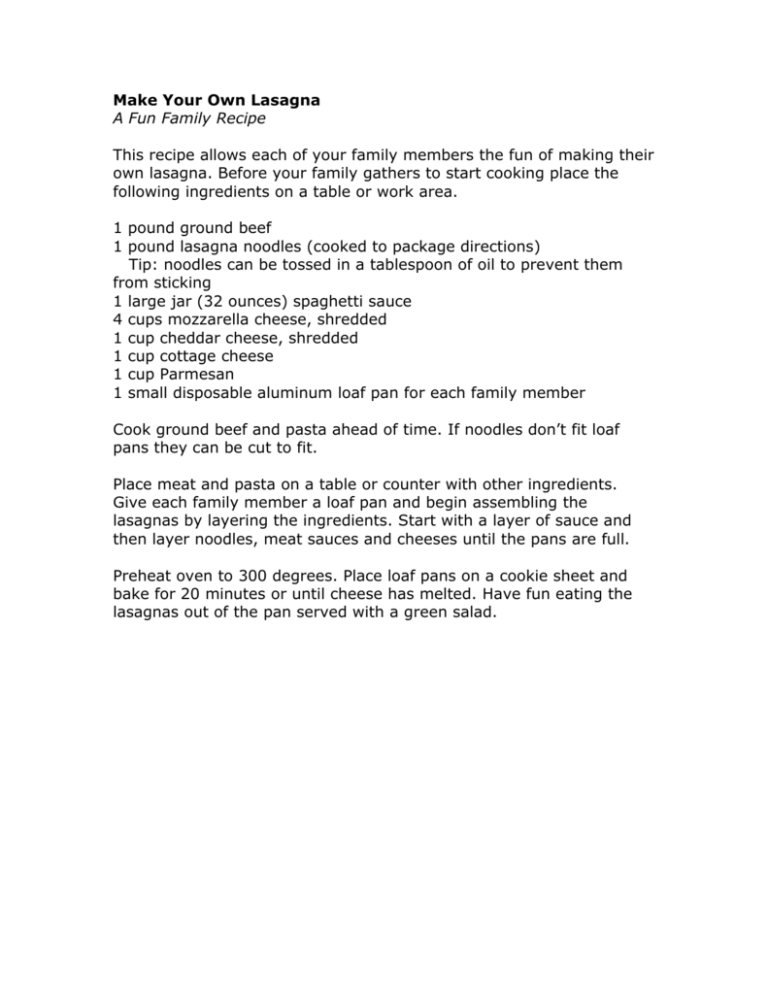 Make Your Own Lasagna
A Fun Family Recipe
This recipe allows each of your family members the fun of making their
own lasagna. Before your family gathers to start cooking place the
following ingredients on a table or work area.
1 pound ground beef
1 pound lasagna noodles (cooked to package directions)
Tip: noodles can be tossed in a tablespoon of oil to prevent them
from sticking
1 large jar (32 ounces) spaghetti sauce
4 cups mozzarella cheese, shredded
1 cup cheddar cheese, shredded
1 cup cottage cheese
1 cup Parmesan
1 small disposable aluminum loaf pan for each family member
Cook ground beef and pasta ahead of time. If noodles don't fit loaf
pans they can be cut to fit.
Place meat and pasta on a table or counter with other ingredients.
Give each family member a loaf pan and begin assembling the
lasagnas by layering the ingredients. Start with a layer of sauce and
then layer noodles, meat sauces and cheeses until the pans are full.
Preheat oven to 300 degrees. Place loaf pans on a cookie sheet and
bake for 20 minutes or until cheese has melted. Have fun eating the
lasagnas out of the pan served with a green salad.