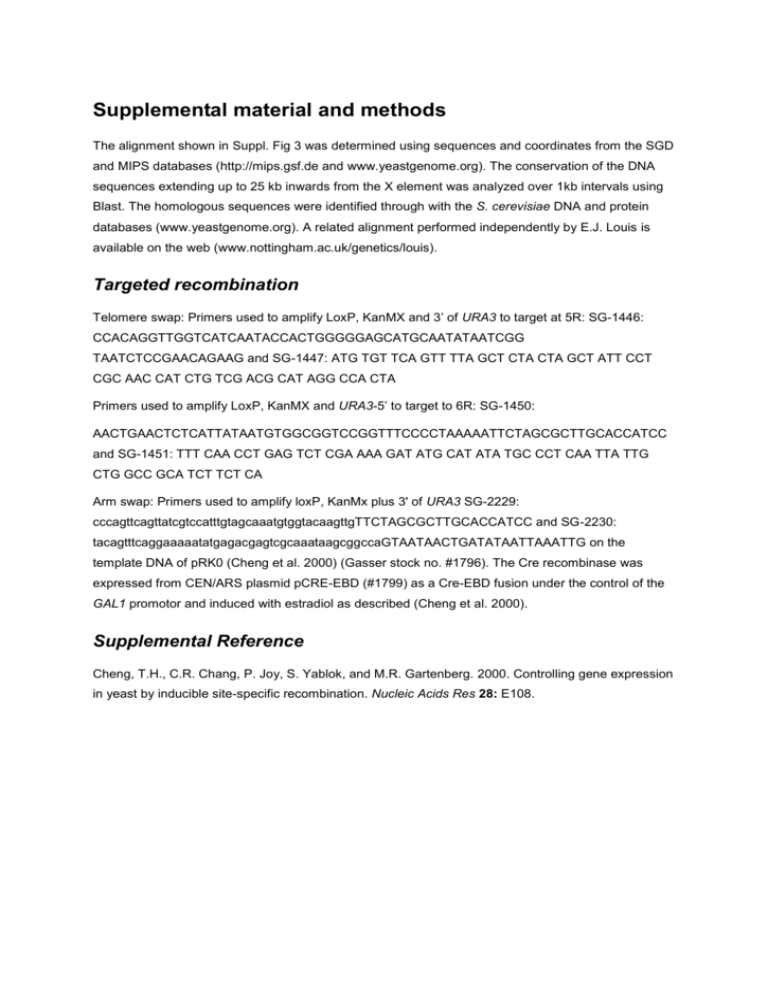 Supplemental material and methods
The alignment shown in Suppl. Fig 3 was determined using sequences and coordinates from the SGD
and MIPS databases (http://mips.gsf.de and www.yeastgenome.org). The conservation of the DNA
sequences extending up to 25 kb inwards from the X element was analyzed over 1kb intervals using
Blast. The homologous sequences were identified through with the S. cerevisiae DNA and protein
databases (www.yeastgenome.org). A related alignment performed independently by E.J. Louis is
available on the web (www.nottingham.ac.uk/genetics/louis).
Targeted recombination
Telomere swap: Primers used to amplify LoxP, KanMX and 3' of URA3 to target at 5R: SG-1446:
CCACAGGTTGGTCATCAATACCACTGGGGGAGCATGCAATATAATCGG
TAATCTCCGAACAGAAG and SG-1447: ATG TGT TCA GTT TTA GCT CTA CTA GCT ATT CCT
CGC AAC CAT CTG TCG ACG CAT AGG CCA CTA
Primers used to amplify LoxP, KanMX and URA3-5' to target to 6R: SG-1450:
AACTGAACTCTCATTATAATGTGGCGGTCCGGTTTCCCCTAAAAATTCTAGCGCTTGCACCATCC
and SG-1451: TTT CAA CCT GAG TCT CGA AAA GAT ATG CAT ATA TGC CCT CAA TTA TTG
CTG GCC GCA TCT TCT CA
Arm swap: Primers used to amplify loxP, KanMx plus 3' of URA3 SG-2229:
cccagttcagttatcgtccatttgtagcaaatgtggtacaagttgTTCTAGCGCTTGCACCATCC and SG-2230:
tacagtttcaggaaaaatatgagacgagtcgcaaataagcggccaGTAATAACTGATATAATTAAATTG on the
template DNA of pRK0 (Cheng et al. 2000) (Gasser stock no. #1796). The Cre recombinase was
expressed from CEN/ARS plasmid pCRE-EBD (#1799) as a Cre-EBD fusion under the control of the
GAL1 promotor and induced with estradiol as described (Cheng et al. 2000).
Supplemental Reference
Cheng, T.H., C.R. Chang, P. Joy, S. Yablok, and M.R. Gartenberg. 2000. Controlling gene expression
in yeast by inducible site-specific recombination. Nucleic Acids Res 28: E108.