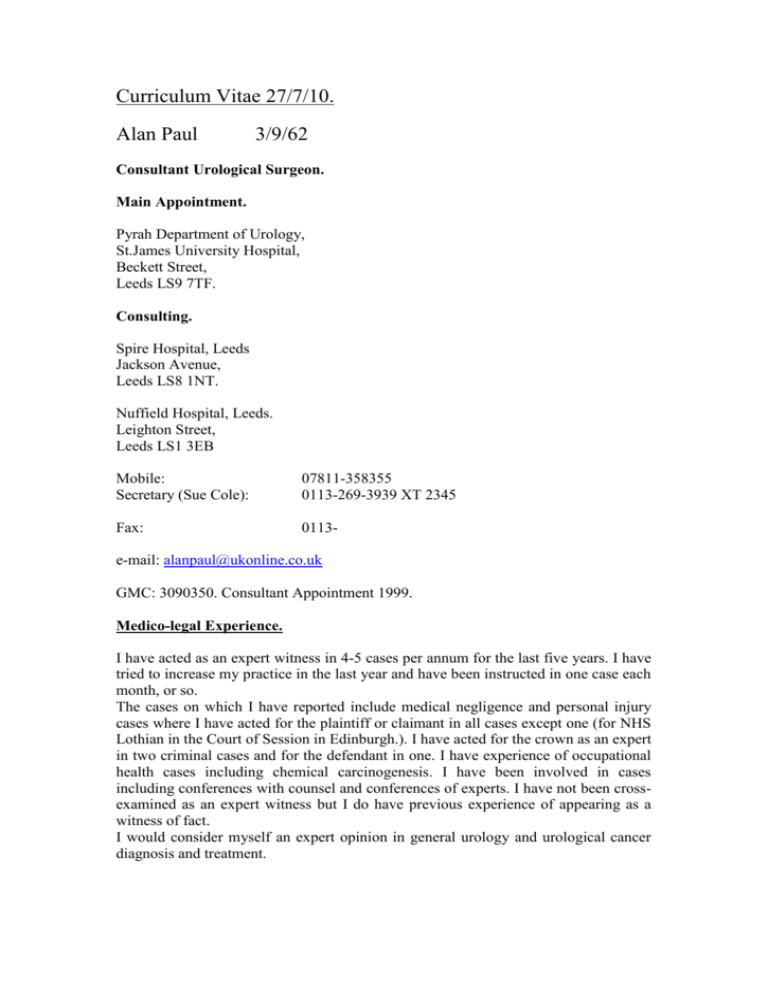 Curriculum Vitae 27/7/10.
Alan Paul
3/9/62
Consultant Urological Surgeon.
Main Appointment.
Pyrah Department of Urology,
St.James University Hospital,
Beckett Street,
Leeds LS9 7TF.
Consulting.
Spire Hospital, Leeds
Jackson Avenue,
Leeds LS8 1NT.
Nuffield Hospital, Leeds.
Leighton Street,
Leeds LS1 3EB
Mobile:
Secretary (Sue Cole):
07811-358355
0113-269-3939 XT 2345
Fax:
0113-
e-mail: alanpaul@ukonline.co.uk
GMC: 3090350. Consultant Appointment 1999.
Medico-legal Experience.
I have acted as an expert witness in 4-5 cases per annum for the last five years. I have
tried to increase my practice in the last year and have been instructed in one case each
month, or so.
The cases on which I have reported include medical negligence and personal injury
cases where I have acted for the plaintiff or claimant in all cases except one (for NHS
Lothian in the Court of Session in Edinburgh.). I have acted for the crown as an expert
in two criminal cases and for the defendant in one. I have experience of occupational
health cases including chemical carcinogenesis. I have been involved in cases
including conferences with counsel and conferences of experts. I have not been crossexamined as an expert witness but I do have previous experience of appearing as a
witness of fact.
I would consider myself an expert opinion in general urology and urological cancer
diagnosis and treatment.
Terms.
Depending on the complexity of cases, and needs of the instructing lawyer, I would
turn around report work in one to four weeks. I charge £200 per hour and would
invoice £800 to £1200 for a report. My rate for court appearance is the same which is
to say £1200 to £1600 per day. In the event of cancellation I would seek a
cancellation charge at the full rate of the attendance fee if cancellation or rescheduling
of attendance occurred within seven days of the court date. I would levy a fee at 50%
of the full rate in the event of cancellation or rescheduling between seven and fourteen
days before the court date.
Education.
George Heriot's School Edinburgh.
University of Edinburgh
(MBChB 1985)
(MD 1998)
Royal College of Surgeons of Edinburgh
(FRCS 1991)
(FRCS(Urol) 1999)
I completed my basic surgical training in Scotland. My doctoral thesis was on the
biochemistry of prostate disease ("beta-NGF and the low-affinity NGF receptor in
BPH and prostate cancer,") and was completed in Edinburgh. My higher training in
Urology was in Manchester (1995-1999).
Clinical Practice
I work in a large teaching hospital and have a general urological practice there and in
the private sector. My clinical subspecialty interest is in pelvic resectional surgery for
urological cancers and I would perform 35 to 60 such operations per annum.
Publications and Research.
I have published papers on the clinical investigation, management and laboratory
investigation of urological cancers. These continue to be my research interests. A full
publication list is available on my general curriculum vitae.
Societies.
British Medical Association.
British Association of Urological Surgeons.
Section of Oncology of the British Association of Urological Surgeons.
European Urological Association.
Medical and Dental Defence Union of Scotland.
Other Appointments.
Royal College of Surgeons Tutor for St.James' University Hospital Leeds.
Peer-reviewer, Northern Zone Cancer Peer-review Network.
Chair of Genito-urinary Group, Yorkshire Cancer Network.
Programme Director, Higher Surgical Training Committee in Urology, Yorkshire
Deanery.