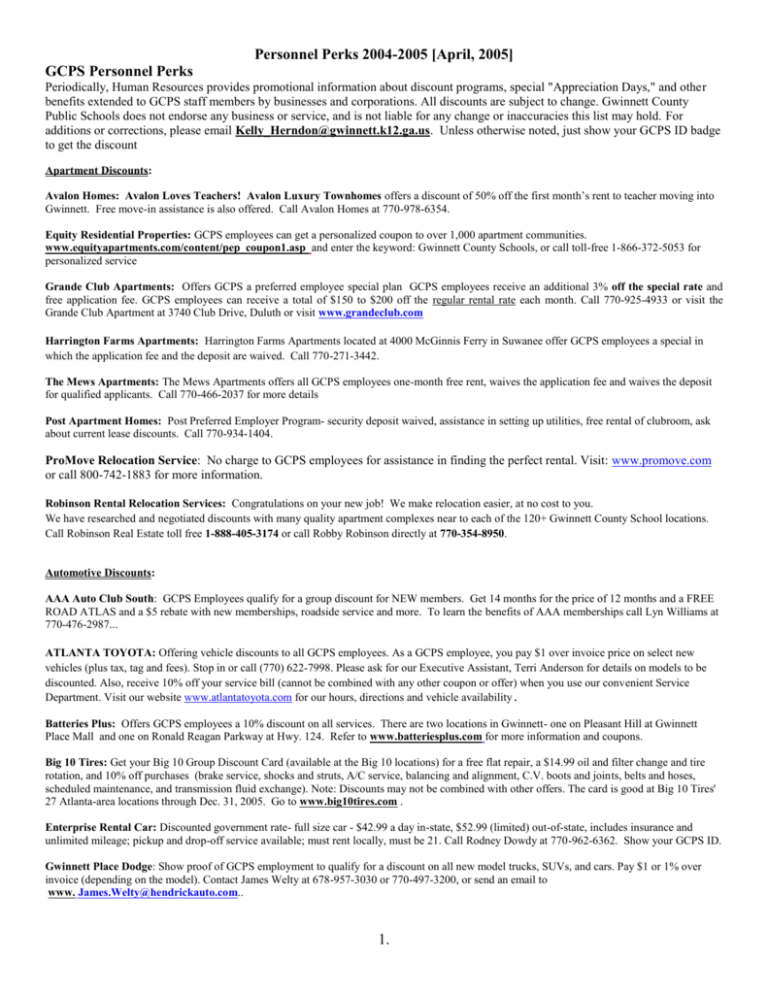 Personnel Perks 2004-2005 [April, 2005]
GCPS Personnel Perks
Periodically, Human Resources provides promotional information about discount programs, special "Appreciation Days," and other
benefits extended to GCPS staff members by businesses and corporations. All discounts are subject to change. Gwinnett County
Public Schools does not endorse any business or service, and is not liable for any change or inaccuracies this list may hold. For
additions or corrections, please email Kelly_Herndon@gwinnett.k12.ga.us. Unless otherwise noted, just show your GCPS ID badge
to get the discount
Apartment Discounts:
Avalon Homes: Avalon Loves Teachers! Avalon Luxury Townhomes offers a discount of 50% off the first month's rent to teacher moving into
Gwinnett. Free move-in assistance is also offered. Call Avalon Homes at 770-978-6354.
Equity Residential Properties: GCPS employees can get a personalized coupon to over 1,000 apartment communities.
www.equityapartments.com/content/pep_coupon1.asp and enter the keyword: Gwinnett County Schools, or call toll-free 1-866-372-5053 for
personalized service
Grande Club Apartments: Offers GCPS a preferred employee special plan GCPS employees receive an additional 3% off the special rate and
free application fee. GCPS employees can receive a total of $150 to $200 off the regular rental rate each month. Call 770-925-4933 or visit the
Grande Club Apartment at 3740 Club Drive, Duluth or visit www.grandeclub.com
Harrington Farms Apartments: Harrington Farms Apartments located at 4000 McGinnis Ferry in Suwanee offer GCPS employees a special in
which the application fee and the deposit are waived. Call 770-271-3442.
The Mews Apartments: The Mews Apartments offers all GCPS employees one-month free rent, waives the application fee and waives the deposit
for qualified applicants. Call 770-466-2037 for more details
Post Apartment Homes: Post Preferred Employer Program- security deposit waived, assistance in setting up utilities, free rental of clubroom, ask
about current lease discounts. Call 770-934-1404.
ProMove Relocation Service: No charge to GCPS employees for assistance in finding the perfect rental. Visit: www.promove.com
or call 800-742-1883 for more information.
Robinson Rental Relocation Services: Congratulations on your new job! We make relocation easier, at no cost to you.
We have researched and negotiated discounts with many quality apartment complexes near to each of the 120+ Gwinnett County School locations.
Call Robinson Real Estate toll free 1-888-405-3174 or call Robby Robinson directly at 770-354-8950.
Automotive Discounts:
AAA Auto Club South: GCPS Employees qualify for a group discount for NEW members. Get 14 months for the price of 12 months and a FREE
ROAD ATLAS and a $5 rebate with new memberships, roadside service and more. To learn the benefits of AAA memberships call Lyn Williams at
770-476-2987...
ATLANTA TOYOTA: Offering vehicle discounts to all GCPS employees. As a GCPS employee, you pay $1 over invoice price on select new
vehicles (plus tax, tag and fees). Stop in or call (770) 622-7998. Please ask for our Executive Assistant, Terri Anderson for details on models to be
discounted. Also, receive 10% off your service bill (cannot be combined with any other coupon or offer) when you use our convenient Service
Department. Visit our website www.atlantatoyota.com for our hours, directions and vehicle availability.
Batteries Plus: Offers GCPS employees a 10% discount on all services. There are two locations in Gwinnett- one on Pleasant Hill at Gwinnett
Place Mall and one on Ronald Reagan Parkway at Hwy. 124. Refer to www.batteriesplus.com for more information and coupons.
Big 10 Tires: Get your Big 10 Group Discount Card (available at the Big 10 locations) for a free flat repair, a $14.99 oil and filter change and tire
rotation, and 10% off purchases (brake service, shocks and struts, A/C service, balancing and alignment, C.V. boots and joints, belts and hoses,
scheduled maintenance, and transmission fluid exchange). Note: Discounts may not be combined with other offers. The card is good at Big 10 Tires'
27 Atlanta-area locations through Dec. 31, 2005. Go to www.big10tires.com .
Enterprise Rental Car: Discounted government rate- full size car - $42.99 a day in-state, $52.99 (limited) out-of-state, includes insurance and
unlimited mileage; pickup and drop-off service available; must rent locally, must be 21. Call Rodney Dowdy at 770-962-6362. Show your GCPS ID.
Gwinnett Place Dodge: Show proof of GCPS employment to qualify for a discount on all new model trucks, SUVs, and cars. Pay $1 or 1% over
invoice (depending on the model). Contact James Welty at 678-957-3030 or 770-497-3200, or send an email to
www. James.Welty@hendrickauto.com..
1.
Gwinnett Place Kia: Make an appointment and show your GCPS ID to pay just $200 over invoice on all new Kia vehicles. Gwinnett Place Kia is
located at 2493 Pleasant Hill Road. The invoice price does not include tax, tag, title, and fees. For more information and latest offer, contact Ted
Hentenaar at 770-715-9167 or 678-804-2100.
Hayes Chrysler Dodge Jeep in Lawrenceville/.Hwy 120: www.hayeschrysler.com
Service Department: Present your GCPS card and receive 10% off any vehicle services, parts purchases and accessories. Open Monday through
Saturday. Call 770-963-5251 for a reservation or online (Excludes tires, body shop repairs and deductibles. Cannot be combined with other
discounts). Rental Department: Just present your GCPS card to receive a 10% discount off posted rates. Good on daily or weekly rentals. We have a
complete fleet to choose from that includes Neon's, Sebring Convertibles, Dodge Trucks, P.T. Cruisers, SUV's, Minivan's and 15 passenger vans.
Call 770-963-5251 x 2036. New Car Department: Dealer Invoice less any factory rebates. (Excluded: Viper, Viper truck and limited supply vehicle)
Pre-Owned Department: Make your best deal and present this letter for an additional $300.00 off.
Hertz Car Sales: Hertz offers GCPS employees low fixed vehicle pricing on a large inventory of one and two year old cars, trucks, SUVs and
minivans. All maintenance records are available for review and most have the balance of the factory warranty remaining. Go to
www.hertzcarsales.com for more information or call (678) 417-5301. We are located at 3050 Satellite Blvd. in Duluth.
Limos By Design: GCPS employees qualify for specials— waiver of four-person minimum, waiver of travel fee, and reduced hourly rate when
booking all-adult parties (subject to availability). When booking youth trips, company strictly adheres to Minor's Agreement with adult signature
requiring all participants to refrain from tobacco/alcohol or trip cancelled and returned home promptly. Go to www.limosbydesign.com call Jerry at
404-459-6692
Mirror Finish Auto Wash: Located at 3767 Lawrenceville Highway (near Little Gardens and Quik Trip), owner Jeffrey Jones offers GPCS
employees a $2 discount on the "Mirror finish" touch- free, automatic, car wash. Just enter this special code 42770 (think GCPS + 0). Call 770-7172799 with feedback; call 678-773-6211 for immediate assistance.
Mr. Transmission: GCPS employees get 15% off repairs, a free performance check, and $29.95 transmission service and fluid change at two Mr.
Transmission locations (422 W. Pike St. in Lawrenceville and the Winder store). GCPS employees also can designate a local PTA to receive a
donation. Call 770-822-5800.
NASH CHEVROLET:. We are offering GCPS employees 3% over invoice on new vehicles (excludes the SSR and Corvettes) and special discounts
on all used vehicles. Call for details. Nash Chevrolet 630 Scenic Hwy Lawrenceville Phone: (770) 963-9266.
Saturn of Gwinnett: GCPS employees presenting proof of employment will receive the same discounted price on new cars normally reserved for
GM Supplier employees, in addition to regular factory rebates and finance offers. Or, take $500 off any pre-owned car. Contact Joyce Ethridge at
770-497-8770 or 678-313-5625, or by email, to jethridge@saturnofgwinnett.com
Sprayglo Auto Refinishing & Body Repair of Lilburn offers all Gwinnett County employees a 10% discount off the retail price of your chosen
paint service and body labor rate. To insure the integrity of the discount, you should not present your employee I.D. until after the estimate has been
written. Be assured we employ a state-of-the-art repair shop, experienced technicians and a full size paint booth. For more information please call
770-806-9950 or stop by our shop @ 4154 Arcadia Industrial Circle.
Stone Mountain Chrysler-Jeep: Offers no haggle pricing to all GCPS employees. Located one mile west of Snellville on Highway 78, Stone
Mountain Jeep offer extended Saturday service hours and GCPS employees never pay more than the invoice of a vehicle less $100. Visit the website
at www.smcjeep.com or call 770-972-7767.
"The Toyota Mall of Georgia Educators Club" is proud to present as a reward to the educators of Georgia the following: each participant will be
shown the actual new car invoice and have the privilege of purchasing their next vehicle at 1% over Dealer invoice price- prices on limited
production vehicles will be based on availability; and all consumer incentives and rebates applicable at the time of the sale shall be passed on to
members as money down or cash back. Contact: Patrick Jenkins at 678-777-8922 or jenkinsp@toyotamallofga.com
Banking Discounts:
Avalon Mortgage: Avalon Mortgage offers the Teacher Program- 97% to 100% financing, $500 Personal Contribution and only a one-month
reserve. Contact Steve Tuttle, Loan Officer at 770-622-6511 for additional information
Bank of America: Bank of America offers the Teacher Flex program to assist teachers and other school employees the opportunity of home
ownership. Highlights of the plan include: little or no down payment, flexible credit guidelines, no income restrictions and access to many free or
discounted banking services with a funded loan. For more information, contact Andy Burns at 770-491-4762 or Steven Velez at 770 552 3590..
Coats & Co., Inc. A Residential Mortgage Firm: Offers teachers and full-time GCPS employees up to 100% financing with as little as a $500.00
investment. We have partnered with GE to offer an exclusive Homebuyer Privileges program that offers discounts to purchase new appliances, to
offset moving expenses, and to home improvement stores, such as Home Depot. We have a no fee extended lock program that allows you to lock in
your rate for up to 360 days. Please call or visit our website, www.coatsandco.com, featuring online applications and approvals. Mention that you
are a GCPS employee and receive $100 off your appraisal for purchases or refinances. Contact Brian Martin at (770) 255-5600
2.
1st Commitment Mortgages Services, Inc. is making an EXCLUSIVE offer for Gwinnett county school employees. Let us make your dream of
owning a Home or Investment Property a Reality. Best of all, for every closed loan, we will DONATE (in your Name) up to $500.00 Five Hundred
Dollars to your designated charitable organization or to your schools club(s) or band This EXCLUSIVE offer is valid for any mortgage transaction:
Purchase or Refinance of a primary Residence or Investment Property. Call today for details and ask about a FREE! Mortgage Consultation. Rendell
Hawkins, Mortgage Banker,. O-(678)205-0506 ,C-(678)913-5577 www.1stcommitmentmortgage.com
Georgia Dream First Mortgage Loan Program visit our web site : http://www.hud.gov
http://espanol.hud.gov
First time homebuyers in the Atlanta MSA*, who meet the flexible approval guidelines for Conventional, FHA or VA loan products, may qualify for
a below market, 30 year fixed rate Georgia Dream First Mortgage Loan.
Maximum Total Household Income to qualify: $69,000 (Family of one or two) $79,350 (Family of three or more)
Maximum Sales Price: $200,000 (Detached single family homes, townhouses, or condominiums)
Georgia Dream Second Mortgage
Eligible borrowers, first time homebuyers, single parent families, and displaced homemakers, may qualify for a Georgia Dream Second Mortgage
Loan (see specific loan amounts below) to be used in conjunction with the Georgia Dream First Mortgage Loan to meet the closing costs, down
payment and prepaid cost associated with your home purchase. Eligible borrowers will be required to contribute a minimum of 1% of the sales price
to the purchase transaction.
Georgia Dream Second All eligible homebuyers $5,000
PEN Employees of Schools, Police, Fire, Sheriffs Departments and Health Care Providers $7,500
EV Energy efficient and/or visitable homes that are certified to meet the program requirements. $7,500
CHOICE Households consisting of individuals with disabilities $7,500 - $20,000
Maximum Total Household Income to qualify for the Georgia Dream Second Mortgage Loan:
A
B
C
D
(1 person) $39,850 $28,900 $33,100 $31,100 (2 person) $45,550 $33,000 $37,800 $35,500
(3 person) $51,250 $37,150 $42,550 $39,950 (4 person) $56,950 $41,300 $47,300 $44,400
(5 person) $61,500 $44,600 $51,050 $47,950
(Column A represents the maximum household income for Barrow, Bartow, Carroll, Cherokee, Clayton, Cobb, Coweta, Dekalb, Douglas, Fayette, Forsyth, Fulton,
Gwinnett, Henry, Newton, Paulding, Pickens, Rockdale, Spalding and Walton counties. Column B represents the maximum household income for Butts, Haralson,
Heard, Jasper, Lamar, and Meriwether counties. Column C represents the maximum household income for Dawson county. Column D represents the maximum
household income for Pike county)
The Georgia Dream Second Mortgage loans are 0% interest, deferred loans with no monthly payments and are repaid only when the home is sold refinanced or no
longer used as the borrower's principal residence. Rates and terms subject to change. For additional information and current rates, contact: Georgia Department of
Community Affairs, 1-800-359-HOME (4663) or visit our website, www.dca.state.ga.us. To locate a Georgia Dream Homeownership Program Participating Lender in
your community contact us at 1-800-359-HOME (4663).
Gwinnett Federal Credit Union (No Fee Checking + Free eStatements = Free Bill Pay or Bill Pay Plus): It all adds up to one of the best
benefits for GFCU members. If you have a GFCU checking account and are signed up for free eStatements (instead of paper statements), there's no
charge for Bill Pay or Bill Pay Plus. See details at www.gwinnettfcu.org or call (770) 963-5679 for more information.
Gwinnett Federal Credit Union (Home Loans): Rates have begun to inch back up, but if you act now, you still have time to benefit from a great
rate. No money for a down payment? Qualified members can receive a 30-year fixed rate for 97% of the sale price. The 3% down can be financed
with a low-interest unsecured loan from GFCU, in effect providing you with 100% financing...call our mortgage company Credit Union Financial
Services at 770- 506-7476.
Gwinnett Federal Credit Union – If you are looking for a new or pre-owned vehicle, call GFCU for a low rate plus the MEMBERS AutoChoice™
service to guide you through the purchase process. Sean Bennett with MEMBERS AutoChoice will locate the vehicle for you, negotiate the price,
provide you with information on payments, rebates, optional equipment, and arrange for delivery at any GFCU location. Also available: trade-in
service, service contracts, and gap insurance. Contact Sean at 770.963.5860 or sean.bennett@membersautochoice.com
HomeBanc: HomeBanc offers Gwinnett County Educational Professionals 100% financing with low fixed rates for qualified buyers. Contact Kim
Chapman at 404-303-4260 or www.homebanc.com/chapman
IronStone Bank: GCPS employees can use the "My Community Solutions" program to own the home of their dreams. The program features $500
or 1% down, a .5% origination fee, and reduced closing costs (a $500 credit toward closing, plus waived $350 application fee). For more information,
call Surinder Bedi at 678-442-0020 or send an email to Surinder.bedi@ironstonebank.com.
NBC Group Banking offers GCPS employees a package of the most popular services with waived or reduced fees-free checking with no minimum
balance, no monthly service charges and unlimited check writing, Free traveler's checks, reduced rates on mortgages and no annual fee credit cards.
Until May 31, a special offer the Group Banking Members only- save 50% the origination fee on installment loans. Call Chakla Lindsey at 404-7285750 or go to www.nbcbank.com
3.
Old Atlanta Mortgage: GCPS employees may qualify for the Teachers A+ Home Loan Program, which features borrower-contribution of 1% of the
home's value or $500, whichever is less, non-traditional credit histories, financing for single-family homes and condos, and fixed rates. Contact
Rhonda Mattison at 770-277-4078 for more information or click on http://www.oldatlantamortgage.com
Power Mortgage is offering a closing cost discount in the amount of $350.00 to all GCPS employees. This discount applies to the purchase of a
home or refinance of an existing mortgage. We have a variety of loan programs to choose from: 100 % financing, FHA/VA, cash out investment,
lock and shop program and no application fees. For more details please call Kathy Wood at 770-926-0600, e-mail - kwood5@bellsouth.net or visit
our web-site to apply www.powermortgageonline.com
SouthTrust Bank: With Direct Deposit Checking you do not have a monthly maintenance fee as long as at least one direct deposit is posted to your
account each month. You will have the advantage of unlimited check writing and no minimum balance requirement. SouthTrust Online Banking is
available at no charge and SouthTrust Online Bill Payment is available at no charge for the first six months- after six months a $5.95 monthly fee
will be imposed
Southeastern Home Mortgage: Call Us Today For A Better Tomorrow! Currently offering Special GCPS Loan Programs to "All" GCPS
Employees for up to 100% mortgage financing. $AVE MONEY on new purchase loans with little or No Down payment. GET CA$H and
Lower Rates with refinance loans. Free Pre-Qualification and Approval by telephone. Free credit report and credit history evaluation. Free
Appraisal with a closed loan. Free application. Free consultation appointments. Available days, evenings, and weekends. Inquire online at:
www.sehomemortgage.com or contact our professional Loan Officers in Duluth, GA at (770) 623-0555. Ask about the "Ed Loan!" All you need
is your GCPS ID to access special funding!
SunTrust Bank: Free checking with a direct deposit of $100 per statement cycle. Free SunTrust Check Card. Free use of SunTrust ATMs. Free
Internet Banking. Visit any SunTrust branch or call 1-800-SUNTRUST.
United International Mortgage Corporation We would like to help Gwinnett County Public School Employees and applaud them for the awesome
work they do. United International Mortgage provides educators with a reduced origination fee and waives $550 of closing fees. Please give me a call
if you have any questions or need further details. Christopher Brown 678.714.4949
Wachovia: Wachovia at Work provides free checking and your first order of check is free with the direct deposit of the GCPS paycheck. There is
no minimum balance requirement, no monthly maintenance fee, a free Check Card and free Online Banking. Call 1-888-353-7375 or visit any
Wachovia Financial Center to take advantage of this offer. Visit www.wachovia.com/wachoviaatwork Teacher A+ is a mortgage program for
Teachers that allows for up to 100% financing with as little as $500 cash needed at closing. Loans are available up to $322,700/no minimum loan
amount. Eligible properties include- one family detached, manufactured, townhomes, and condos- as approved by Wachovia Mortgage. Call Benita
Primus at 770-806-4109 for more information.
Book Store Discounts:
Waldenbooks: GCPS employees show your county ID and complete an Educator's Discount Form to receive your Educator's Discount Card to
receive 20% off of your classroom use purchases.
Cellular/Dish/Satellite Discounts
Academic Planet: Personal Internet Access for students, parents and teachers for only $6.99 per month. Offer includes a free webpage for all
teachers. Call 1-877-584-9330 or go to www.academicplanet.com
DishNetwork: offers GCPS employees A FREE ACTIVATION, PLUS A $49.99 CREDIT ON YOUR FIRST BILL - NO CONTRACT - NO
COMMITMENT - NO EQUIPMENT TO BUY FREE PROFESSIONAL INSTALLATION UP TO 4 TVs . Ask How To Upgrade Your Standard
Receiver FREE! Contact Tim Weekley,your DISH Network Representative Today! (678) 576-8835 or (866) 980-2121 or
timweekley@mindspring.com
Valid for qualified, first-time DISH Network residential customers. Major credit card required for credit qualification purposes only.
Disclosure of Social Security Number (SSN) required for credit qualification purposes only. Offer expires 7/31/05.
Nextel: Offers GCPS employees a 10% discount on rate plans, a 13% discount on accessories and BIG discounts on phones. Call Amy Mitchell at
770-497-9330 (Gwinnett Place location) for more information. Two forms of ID are required to take advantage of this deal- your GCPS ID and one
other ID.
Next Star Communications wants to let you know that all State of Georgia employees receive discounts with Nextel. Every employee receives
reduced phone prices that require only a one year contract, 10% off your monthly rate plan, and 17% off every accessory purchase.. Please
be sure to bring the following 3 forms of ID with you: Driver's license, debit card or major credit card, and your employee ID. If you are already a
Nextel customer, you still qualify for these discounts To find out more about your Nextel and Next Star discounts, please contact Tiffany Smith by
e-mail at tiffanysmith@nxtstr.com or by phone at (678) 985-2830. !
T-Mobile: How would you like to save anywhere from $120 to $1500 on your cell phone expenses every year? T-Mobile offers savings of 25% to
60% when compared to similar plans offered by Cingular, Sprint or Verizon. GCPS employees can take advantage of special offers, including: Free
4.
phone; Free month of service; Free activation; and 15% off phone accessories. GCPS employee ID card required. To find out more, call Roberts
Scott at 770-241-2577, or send an email to RBSCOTTJR@comcast.net
Child Care Discounts:
Atlanta's Best Childcare Services: I offer Nanny, Babysitting, and Tutoring services. I will offer 50% off of my placement fees for
any GCPS employee! The website is www.AtlantasBestChildcare.com. Employees will need to just tell me what school they work
at-I'll email from my school to check validity.
Discovery Point: Discovery Point provides the following benefits to all Gwinnett County Public School Employees- no enrollment fees, no charge
spring break week and winter break week, guaranteed return placement each fall. Visit Discovery Point online at www.discoverypoint.com
Primrose Schools Professional Partners Program: GCPS staffers can "partner" with this childcare provider for exclusive discounts. Program
participants get a 50% discount on annual registration/equipment fee and qualify for the Primrose "refer a Friend" program. Employees who keep
their child home during Spring Break, Winter Break, or summer vacation are exempt from weekly tuition, and the child's "space" will be guaranteed.
Learn more about Primrose programs online at www.primroseschools.com
Computer Discounts:
CompUSA: Participate in the CompUSA Employee Purchase Program (EPP) for preferred pricing on accessories, books, computers, digital cameras,
electronics, monitors, networking, notebooks, PDAs, printers, scanners, software, and system upgrades. Make your purchases at the Corporate Pickup Desk. For the preferred pricing, mention Gregg Levin (store #147 and Sales ID #659). Use the following reference numbers— account #00162525
(credit card purchases), and account #00109263 (cash/check purchases).
Dell: Dell Education Personal Purchase Program offers GCPS employees specials discounts and offers. Visit www.dell.com/edubuy and use
Member ID: KS29259300 to enter the store. You can also order by phone: 877-377-0238. Before you go to a retail store, go online to check out
Dell's selection of thousands of products- all at highly competitive prices.
Dental and Eye Care Discounts
MelMar Dental. We are located at 3170 Peachtree Industrial Blvd. in Duluth (678) 584-5589. Our hours are Monday through Friday 8am – 5pm and
Saturday from 8am – 1pm. we are offering with every new exam and x-rays, a take home bleaching system, valued at $299.00. What a great way to
start the school year with a beautiful new smile. As an exclusive offer to Gwinnett Co. School employees and immediate family, you can take 10%
off the price of any dentistry performed in our office.
In addition to 10% off all services, we would like to offer exclusively to all of the employees $100 off Zoom 1 hour whitening. the preferred
whitening system on televisions "Extreme Makeovers". This will bring the cost down to $399. This is significant savings. Most 1 hour whitening is
around $550-$650. Not to be combined with secondary insurance or financing plans. Donna Stone DDS
CarlinVision is the oldest and largest eye care practice in Gwinnett County! Wondering what to do on your Spring Break? In our appreciation for
the teachers of Gwinnett County we are offering you $150 off per eye on Lasik and CK (Conductive Keratoplasty), 15% off Corneal Refractive
Therapy, 10% off eyelid rejuvenation and BOTOX® Cosmetic, 15% off contact lens fittings and 20% off in The Optical Boutique. Free Evaluations
on Lasik, eyelid rejuvenation and BOTOX® Cosmetic! We accept State Merit and VSP insurance and we will file that for you. Discounts are good
through April 30, 2005. For Advanced Eye Care with a Hometown Touch please give us a call at 770-979-2020 or visit us on the web at
www.carlinvision.com.
Forster Eye Care: FAMILY EYE CARE IN A FRIENDLY ENVIRONMENT. We extend a 15% discount to all GCPS employees on routine eye
exams and contact lens evaluation fees. GCPS employees are also entitled to a 20% discount on any complete pair of prescription glasses. Included in
this package is a FREE scratch-resistant coating on your lenses. This coating provides you with a full 1 YEAR WARRANTY on the lenses: We will
replace the lenses free of charge, one time within the first year, due to scratches. Call 770.513.3300 to make an appointment OR visit us on our
website at www.forstereyecare.com.
In View Vision (formerly Emory Vision) will extend to employees and their immediate family members a 25% discount off the cost of LASIK or
other refractive services performed at Emory Vision*. This is a savings of up to $1200 off the cost of refractive procedures that are typically not
covered by traditional insurance. We also offer a variety of educational options that we will provide to help them evaluate their options regarding
vision correction surgery. Go to www.inviewvision.com for more information
LensCrafters: Under the State Health Benefit Plan and Blue Choice, LensCrafters outlets in Georgia offer a low-cost vision care solution with $35
routine eye exams and 30% off on glasses. For contact wearers the cost of the eye exam is $60/$80 and discounts on contacts and other eyewear.
Go to www.lenscrafters.com to check out locations in the Atlanta area. Or call 1-800-283-5367 to locate the Lenscrafters nearest you.
Pearle Vision: Pearle Vision offers GCPS employees insured with BlueChoice 25% off on glasses and 10% off on contacts. Go to
www.pearlevision.com or call 1-800-YES-EYES for the location nearest you.
5.
Fitness Center Discounts:
BodyPlex Fitness Adventure™ was founded here in Gwinnett. The company's unique but simple philosophy focused on creating the ultimate,
hassle-free and rewarding fitness experience for its members. BodyPlex offers exceptional discounts to GCPS employees including a reduced fee of
only $30 per month, the waiver of the standard enrollment fee and a NO CONTRACT option. Current Gwinnett County locations include Buford
and Suwanee with another expected to open in Grayson by the end of 2005. For more information visit us at www.bodyplex.com
Contours Express is a ladies-only facility where women of all ages (13 to 70 plus) and fitness levels can benefit from a full cardiovascular and
weight training workout. All members are personally trained. Contours Express location in Snellville offers a special to GCPS employees. Normal
monthly fess are $29.00, with a $49.00 enrollment fee, this month $20.00. For GCPS employees there will never be an enrollment fee, it is waived
no matter when they join. Also, if 5 teachers, administrators or other staff enroll at one time, the cost will only be $25.00 per month. We also offer 1
week free to try us and see if Contours Express is right for you. 678-344-0040
CRUNCH Fitness :Offers GCPS employees discounted memberships. Membership provides access to all CRUNCH clubs and includes all services,
classes and amenities. CRUNCH offers more than 300 classes per week, specialized workouts, free weights and other equipment, pools and Jacuzzis,
massage therapy, steam and sauna. Go to www.onlineccs.com and enter "gwnt*03" to get the GCPS rates. Not Internet active? Then call Mindy
Novicoff at 404-262-1526
"Release the Pressure of Life" with Massage Therapy by Day Dreams: GCPS Employees receive the following special discounted rates- 1 Hour
Swedish - $40 (normally $50); ½ Hour Swedish - $25; (normally $35). All massages performed by Sam Grubb, Professional Massage Therapist.
Located at 304 Hamilton Mill Road in the Hamilton Ridge Shopping Center.
Phone: (678) 546-1832
Cell: (770) 881-1153
E-Mail: Ameliorator80@yahoo.com
Fitness for Women - It Figures for Women, a 30-minute strength & aerobic workout for all ages & fitness levels. Gwinnett employees receive
60% off Service Fee, 1 month Free and a Free gift with membership. Come by for a free workout with no obligation. 3300 Hamilton Mill Road
(Next to Kroger), Buford 770 945 9792 or 4850 Sugarloaf Parkway (In front of Swim Atlanta), Lawrenceville 770 277 2489
http://www.itfigures4women@bellsouth.net/, We are the future of fitness!
Fitness International, Inc.: 10% off membership plans. 2-day guest pass available for free trial of facilities. Call 770-682-8111 for more
information or go to www.fitnessinternational.com
Gold's Gym: GCPS staff pay no enrollment fees (a $50 savings), and $35 per month at the Lilburn (4805 Lawrenceville Hwy.) and Duluth (3545
Peachtree Industrial) locations. Includes free daycare and classes. Add family members for $30 each. For a free weeklong trial pass or for more
information, call Michelle Honeycutt at 770-931-2262 or 770-490-9110.
LA Weight Loss Centers: GCPS employees can stop by one of eight area locations to get a coupon for 25% off a personalized
nutrition and lifestyle program. To schedule a free consultation, call the Lawrenceville (770-237-9334) or Chamblee (770-451-5821)
locations. Other centers located in Alpharetta, Sandy Springs, East Cobb, Woodstock, Cumberland and Camp Creek.
http://www.laweightloss.com
Ladies Workout Express: A discounted fee of $24.99 per month for GCPS employees. ID required. Enjoy aerobics, yoga, and strength training in a
relaxed workout environment. Childcare available for $1 per visit. Four locations to serve you: Snellville (770-985-6070), Duluth (770-495-9495),
Suwanee (770-831-1889), and Lawrenceville (770-963-4277).
Go to www.ladiesworkoutexpress.com for more about Ladies Workout Express facilities or 770-495-9495
Goods and Services Discounts:
Apparel Mart: GCPS employees show your ID on any Friday and visit the wholesaler-only Apparel Mart. This offer is good only on non-show
Fridays- call 404-220-3000 to confirm that no shows are scheduled or check out the website at www.americasmart.com
The Arena at Gwinnett Center: GCPS employees get advance group ticket sales and special rates for selected shows and events. Questions? Call
Bethany Nash at 770-813-7551, or e-mail bnash@gwinnettcenter.com. Register to get the "insider e-mail" sent to your home e-mail address to learn
about upcoming shows and events. Sign up at info@gwinnettcenter.com The password for GCPS employees is notebook.
Atlanta Ice Forum: Free skate rental for you and three guests. GCPS employee ID required. Go to www.iceforum.com for more information.
Atlanta Journal Constitution: Educator's Discount (for teachers only)- Half off regular price, stipulations - must be a full year subscription, must be
7 day delivery, must call in order, 404-522-4141 (press 0), www.ajc.com.
Atlanta Marriott Gwinnett Place: GCPS employees get a discounted room rate, government rate, when making reservations at this facility, located
at 1775 Pleasant Hill Road, Duluth, GA 30096, near the Gwinnett Civic and Cultural Center and near Discover Mills Mall. Call 770-923-1775 and
ask for the special GCPS rate when making reservations. The code needed is "GCPS".
6.
Classy Nails & Tan offers GCPS employees a 15% savings on any service. Take advantage of this offer to treat yourself to a holiday manicure,
pedicure or waxing, and become acquainted with this family owned and operated, English-speaking staff of experienced nail technicians. Located
next to the Gwinnett Civic Center at 6603 Sugarloaf Parkway, Suite 105. Call for an appointment 770-622-1199 or visit the website for more
information.www.classynailstan.com
Extended hours convenient for everyone: Monday - Friday 10am - 8pm, Saturday 9am - 6pm, Sunday 12 noon - 6pm
Colter Sporting Goods, Lilburn: 10% off all regularly priced items, excluding letter jackets and awards jackets. Call 770-978-4239
Custom Graphics and Signs by Vas. Complete on site service. Race vehicles, watercraft, auto and fleet lettering, signs, magnetics, banners, pin
stripe. GCPS employees get a 10% discount. Call for information: 678-910-4407 Just show your GCPS ID.
Franklin Covey: The Franklin Covey Gwinnett Place location offers GCPS employees a 20% discount on many items. You may call ahead and
pick up your order, or have it shipped to you. Your GPCS ID is all that is needed for this discount. Technology accessories, clearance items and kits
are not included. Call 770-476-5800 for more information
Guard Your Dogs Safety Shoes: Gwinnett staffers who spend their days on their feet will appreciate discounted slip-resistant footwear from Guard
Your Dogs. Steel-toe footwear also is available. Guard Your Dogs has a showroom at 50 Old Peachtree Road in Suwanee. Ask about the $5 off
coupon. Questions? Call Lori Kajano at 770-904-6401 or send an email to nonslipandsteel@aol.com
The Hampton Inn: GCPS employees get a discounted room rate of $69 when making reservations at this facility, located at Highway 316 and
Riverside Parkway near the Gwinnett Civic and Cultural Center. Call Hampton Inn-Lawrenceville at 770-338-9600 and ask for the special GCPS rate
when making reservations.
Jason's Deli offers their Community Partners Box Lunch program to all GCPS employees and groups. This program offers Jason's Deli quality and
nutrition at special discount prices with charge account convenience and free delivery. For every order of $50 or more, Jason's will add a
complimentary gallon of sweet tea. Go to their website to find the locations nearest you: www.jasonsdeli.com
Kinko's offers GCPS employees a 20% discount with the Educator Savings Program and your GCPS ID.
Go to psg.kinkos.com/gwinnettk12 for more information.
Off Broadway Shoe Warehouse: Offers a 20% discount to all GCPS employees just by bringing in their GCPS ID.
Visit Off Broadway Shoe Warehouse at Discover Mills- 678-847-5797.
Richport Properties. GCPS employees take an additional $1,000 off the cost of new homes built by Richport Properties in seven communities in
Gwinnett, Forsyth, Newton and Jackson counties. Four new communities available this summer. That's on top of other current incentives. Visit the
Web site for details. http://www.richport.com
Rock Chapel Music: GCPS staff members can take 10% off the cost of instructional books, videos, and DVDs for guitar, fiddle, keyboards, flute,
mandolin, banjo, and harmonica from this online-only store. To receive the coupon code, send an e-mail to support@rockchapelmusic.com, and
provide your name and employer
Home Repairs and Services Discounts
Delta Discount Corporation: Delta Discount Corporation is a 40-year old home improvement company, would like to offer all Gwinnett County
employees and their family members an exclusive 16% discount off the regular installation price of vinyl siding, customized vinyl replacement
windows, innovative basement finishing, and distinct room renovations. Delta Discount uses only the highest quality materials and fully insured
employees on their job sites. Please contact Vernon Schroeder at (770) 587-0871 to set up an appointment time for a free estimate. Delta Discount
looks forward to servicing your home improvement needs.
Dodd Roofing Inc. has been in business since 1984. Specializing in Residential and Commercial shingle reroofs and repairs, Dodd Roofing will
offer discounts of $50.00 off a roof repair or $100.00 off a complete reroof to GCPS employees. They must let us know that they got our company
name from Ed Briefs to qualify for this discount. . Look us over at www.doddroofing.com.
Georgia Home Services: Home Inspection Discount: Georgia Home Services is offering GCPS employees and family members a 15%discount on
all home inspections (both new homes and resales). Owner Bill Wise is Residential Code Certified and has performed over 1000 inspections in
Metro Atlanta area. Call 678-773-8324 to schedule a date and time.
Harper HVAC, Inc. 2740 Hamilton Mill Rd. Buford 770/614-8123 Serving all of Gwinnett and offering its education community $15.00 off spring
A/C check up and inspection. Wanting to finish your basement?....Other discounts are available on installation of complete units, humidifiers, air
filtration and purification systems. Call our office to set up an appointment for a free estimate. Please indicate that you found this discount in the
Education Briefs.
7.
Indoor Air Quality Testing: Concerned about poor air quality or MOLD? Air Quality Investigations (AQI) is offering GCPS employees and family
members a 15% discount on their initial inspection and consultation. Bill Wise, President and founder of AQI, is a Certified Indoor Environmentalist
specializing in residential Mold. Call 678-773-8324 to schedule a date and time. "Don't let poor indoor air quality affect your health."
Kitchen Fronts of Georgia, Inc. . We have been in business for 27 years. We can modify the existing cabinets to fit new appliances, build new add
on cabinets, install rollouts, etc. The cabinets look new. Gwinnett County Employees will receive a 25% discount with proper identification. Call
our office M-F 7:30 - 4:00, 770-455-3139. The employee must identify they are a Gwinnett County Employee at the time of appointment. The
discount is only available on doors, drawer fronts, and laminate countertops - NOT granite, corian, or silestone Web address www.kitchenfrontsofga.com Email address - info@kitchenfrontsofga.com
Porter Paints: 10% off of wholesale paint and sundry items. Show your GCPS ID and ask for discount.
Precision Chem Dry: GCPS employees show ID to get 20% off any carpet or upholstery cleaning service. For more information, call
770-822-1999.
Rob's Carpets: Offers GCPS employees 10% off on carpet repairs including: restretching existing carpet, patching, fixing squeaky floors, water
damage, and pet damage. Rob Crumpton's job is to make your carpet last as long as possible; he has been installing and repairing carpet for seventeen
years, is IICRC Certified and guarantees his work. Call or email Rob Crumpton 770-641-1581, 770-397-4617 or robcrum@bellsouth.net for more
information
Sherwin Williams Paints: 20% off all regularly priced items; 10% off sale items; discount can be used on in-stock wall covering; special orders
excluded.
The Town Carpenter, offers GCPS employees a 15% discount all their hand crafted, cabinetry of distinction, for less. They work with many of the
top interior design groups around Atlanta and currently have our cabinetry featured in the Alliance Theatre Christmas House. You can find more
information at www.thetowncarpenter.com.
Real Estate Services Discounts:
KB Home: Mention this Perk to your KB Home sales representative at the time of purchase, and you'll receive 3% off the base price of a brand
new KB home, plus, you'll receive $500 toward design options at KB Home Studio. This offer ends June 30, 2005.
http://www.kbhome.com/Map.aspx?RegionID=1
Property Services of Atlanta: Contact us if you are in the market to rent or purchase a home. We have properties with special incentives. Visit our
website at www.psatlanta.com where you can view our listings. You can also call Geraldine Lee at 770-426-1150 ext. 306.
RE/MAX Classic of Atlanta: Employees of GCPS who list and sell their home or who purchase a home using David Moose as their realtor will
receive a $500 donation to their school and that employee will receive a $500 gift certificate to the store of their choice (payable at closing). This
offer is only available through David Moose or Kelly Jackson (the Moose Team).
Call David @ 678-697-6331 for more information..
Robinson Buyer Relocation Services: Nationwide services free to GCPS employees. We meet your every real estate need!
Home Buyers " Let us reduce the stress of your relocation experience. Our network professionals are ready to serve you today. Call 1-888-4053174 and leave your contact information in the relocation mailbox or call Robby Robinson directly at 770-354-8950
Tax Services Discounts:
George Dean, CPA: A new year has begun, and that means it's tax time again. Are you sometimes unsure you're getting the amount of money you
deserve from the IRS? Are you tired of doing your taxes yourself? Would you rather have an expert do your taxes? Now is the time to let George
Dean, CPA tackle your taxes! George Dean, CPA is offering Gwinnett County Employees a $20 discount toward preparation of their 2004 Individual
Income Tax Return. Call 770-923-5124 to schedule an appointment or email at george@georgedeancpa.com.
Liberty Tax Service Offers $20 off tax preparation to you and $20 back to Your School!
Located at 1977 Scenic Highway Suite C, in Snellville, the company specializes in computerized tax preparation, electronic filing, and refund
anticipation loans. Each office provides free advice, free electronic filing of return with paid tax preparation, and the option of refund anticipation
loans. Call Fred Mitchell 770-736-1400 or visit: www.libertytax.com
8.