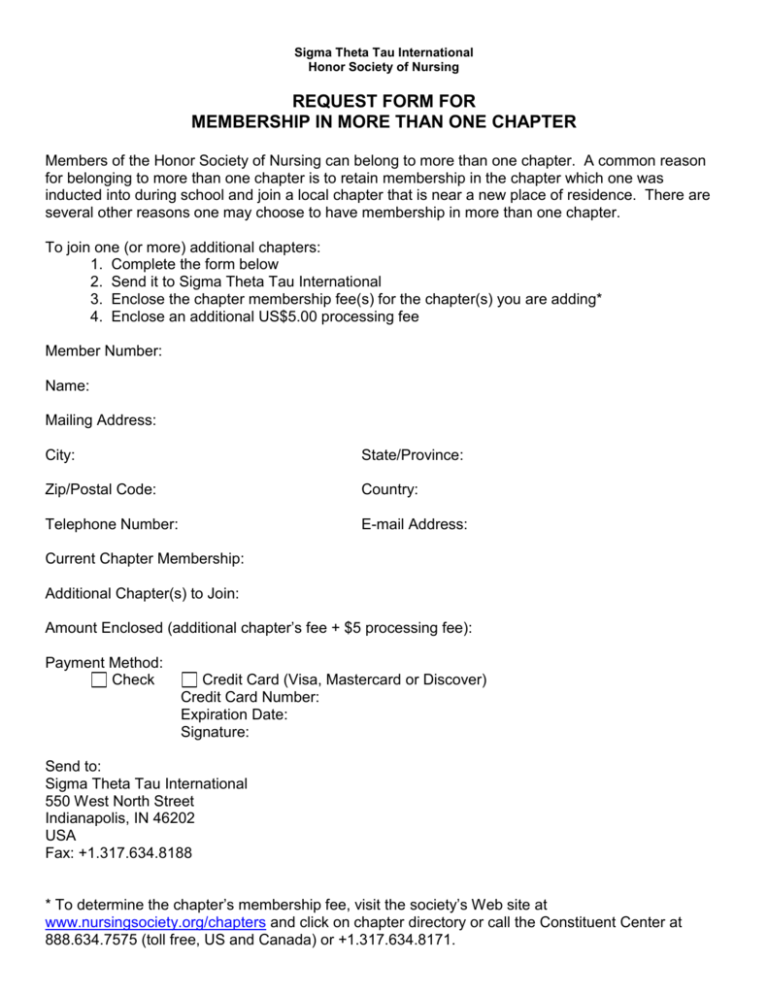 Sigma Theta Tau International
Honor Society of Nursing
REQUEST FORM FOR
MEMBERSHIP IN MORE THAN ONE CHAPTER
Members of the Honor Society of Nursing can belong to more than one chapter. A common reason
for belonging to more than one chapter is to retain membership in the chapter which one was
inducted into during school and join a local chapter that is near a new place of residence. There are
several other reasons one may choose to have membership in more than one chapter.
To join one (or more) additional chapters:
1. Complete the form below
2. Send it to Sigma Theta Tau International
3. Enclose the chapter membership fee(s) for the chapter(s) you are adding*
4. Enclose an additional US$5.00 processing fee
Member Number:
Name:
Mailing Address:
City:
State/Province:
Zip/Postal Code:
Country:
Telephone Number:
E-mail Address:
Current Chapter Membership:
Additional Chapter(s) to Join:
Amount Enclosed (additional chapter's fee + $5 processing fee):
Payment Method:
Check
Credit Card (Visa, Mastercard or Discover)
Credit Card Number:
Expiration Date:
Signature:
Send to:
Sigma Theta Tau International
550 West North Street
Indianapolis, IN 46202
USA
Fax: +1.317.634.8188
* To determine the chapter's membership fee, visit the society's Web site at
www.nursingsociety.org/chapters and click on chapter directory or call the Constituent Center at
888.634.7575 (toll free, US and Canada) or +1.317.634.8171.