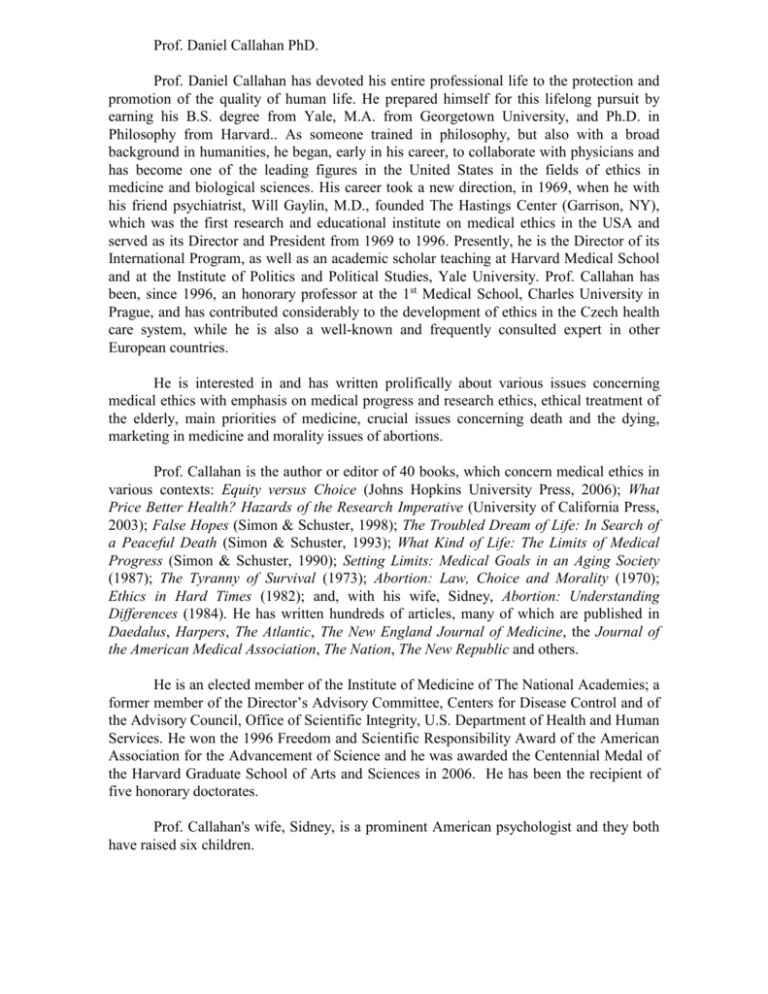 Prof. Daniel Callahan PhD.
Prof. Daniel Callahan has devoted his entire professional life to the protection and
promotion of the quality of human life. He prepared himself for this lifelong pursuit by
earning his B.S. degree from Yale, M.A. from Georgetown University, and Ph.D. in
Philosophy from Harvard.. As someone trained in philosophy, but also with a broad
background in humanities, he began, early in his career, to collaborate with physicians and
has become one of the leading figures in the United States in the fields of ethics in
medicine and biological sciences. His career took a new direction, in 1969, when he with
his friend psychiatrist, Will Gaylin, M.D., founded The Hastings Center (Garrison, NY),
which was the first research and educational institute on medical ethics in the USA and
served as its Director and President from 1969 to 1996. Presently, he is the Director of its
International Program, as well as an academic scholar teaching at Harvard Medical School
and at the Institute of Politics and Political Studies, Yale University. Prof. Callahan has
been, since 1996, an honorary professor at the 1st Medical School, Charles University in
Prague, and has contributed considerably to the development of ethics in the Czech health
care system, while he is also a well-known and frequently consulted expert in other
European countries.
He is interested in and has written prolifically about various issues concerning
medical ethics with emphasis on medical progress and research ethics, ethical treatment of
the elderly, main priorities of medicine, crucial issues concerning death and the dying,
marketing in medicine and morality issues of abortions.
Prof. Callahan is the author or editor of 40 books, which concern medical ethics in
various contexts: Equity versus Choice (Johns Hopkins University Press, 2006); What
Price Better Health? Hazards of the Research Imperative (University of California Press,
2003); False Hopes (Simon & Schuster, 1998); The Troubled Dream of Life: In Search of
a Peaceful Death (Simon & Schuster, 1993); What Kind of Life: The Limits of Medical
Progress (Simon & Schuster, 1990); Setting Limits: Medical Goals in an Aging Society
(1987); The Tyranny of Survival (1973); Abortion: Law, Choice and Morality (1970);
Ethics in Hard Times (1982); and, with his wife, Sidney, Abortion: Understanding
Differences (1984). He has written hundreds of articles, many of which are published in
Daedalus, Harpers, The Atlantic, The New England Journal of Medicine, the Journal of
the American Medical Association, The Nation, The New Republic and others.
He is an elected member of the Institute of Medicine of The National Academies; a
former member of the Director's Advisory Committee, Centers for Disease Control and of
the Advisory Council, Office of Scientific Integrity, U.S. Department of Health and Human
Services. He won the 1996 Freedom and Scientific Responsibility Award of the American
Association for the Advancement of Science and he was awarded the Centennial Medal of
the Harvard Graduate School of Arts and Sciences in 2006. He has been the recipient of
five honorary doctorates.
Prof. Callahan's wife, Sidney, is a prominent American psychologist and they both
have raised six children.