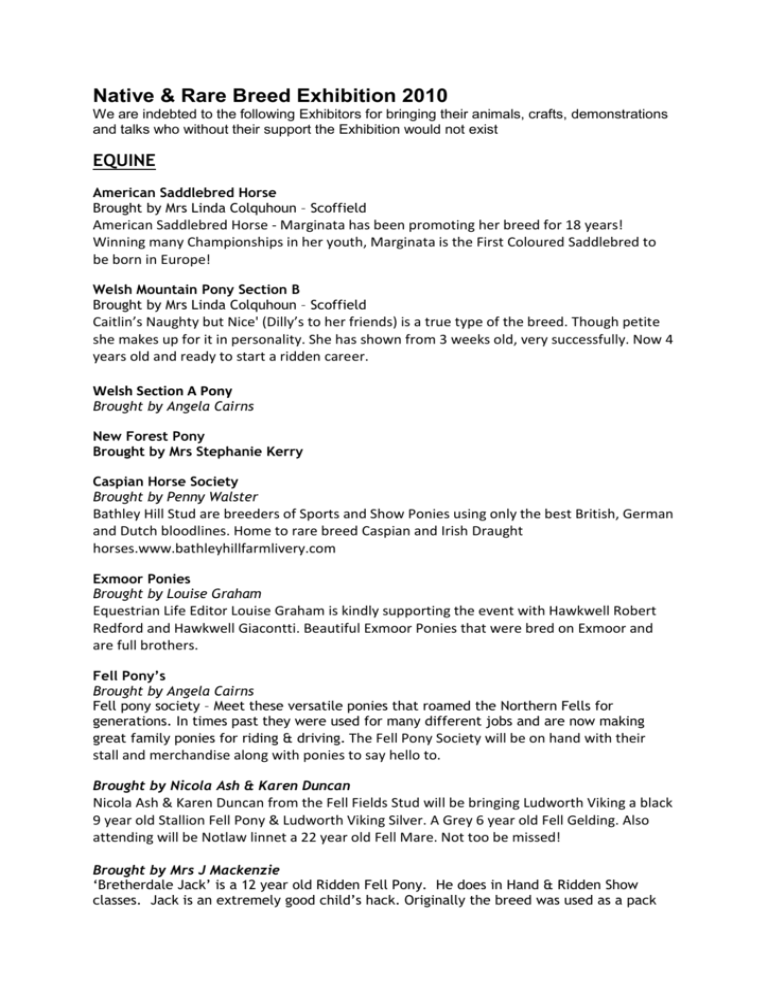 Native & Rare Breed Exhibition 2010
We are indebted to the following Exhibitors for bringing their animals, crafts, demonstrations
and talks who without their support the Exhibition would not exist
EQUINE
American Saddlebred Horse
Brought by Mrs Linda Colquhoun – Scoffield
American Saddlebred Horse - Marginata has been promoting her breed for 18 years!
Winning many Championships in her youth, Marginata is the First Coloured Saddlebred to
be born in Europe!
Welsh Mountain Pony Section B
Brought by Mrs Linda Colquhoun – Scoffield
Caitlin's Naughty but Nice' (Dilly's to her friends) is a true type of the breed. Though petite
she makes up for it in personality. She has shown from 3 weeks old, very successfully. Now 4
years old and ready to start a ridden career.
Welsh Section A Pony
Brought by Angela Cairns
New Forest Pony
Brought by Mrs Stephanie Kerry
Caspian Horse Society
Brought by Penny Walster
Bathley Hill Stud are breeders of Sports and Show Ponies using only the best British, German
and Dutch bloodlines. Home to rare breed Caspian and Irish Draught
horses.www.bathleyhillfarmlivery.com
Exmoor Ponies
Brought by Louise Graham
Equestrian Life Editor Louise Graham is kindly supporting the event with Hawkwell Robert
Redford and Hawkwell Giacontti. Beautiful Exmoor Ponies that were bred on Exmoor and
are full brothers.
Fell Pony's
Brought by Angela Cairns
Fell pony society – Meet these versatile ponies that roamed the Northern Fells for
generations. In times past they were used for many different jobs and are now making
great family ponies for riding & driving. The Fell Pony Society will be on hand with their
stall and merchandise along with ponies to say hello to.
Brought by Nicola Ash & Karen Duncan
Nicola Ash & Karen Duncan from the Fell Fields Stud will be bringing Ludworth Viking a black
9 year old Stallion Fell Pony & Ludworth Viking Silver. A Grey 6 year old Fell Gelding. Also
attending will be Notlaw linnet a 22 year old Fell Mare. Not too be missed!
Brought by Mrs J Mackenzie
'Bretherdale Jack' is a 12 year old Ridden Fell Pony. He does in Hand & Ridden Show
classes. Jack is an extremely good child's hack. Originally the breed was used as a pack
animal carrying lead. Jack this year is taking part in the Christmas Grotto and all children
are welcome to come and see him and all the surprises he has in store.
Highland Pony
Brought by Mrs Louise Bateman
Whattonvale Mistral pure Highland Filly that was born this year and her first 'official outing'.
So come and say hello to this outstanding pony.
Haflinger Horses
Brought by C Hill & Jo Gleadle
Haflinger Horses- The Golden Horse with the Golden Heart! They Haflinger Horse Society
will be on hand to answer all those important questions.
Mules
Brought by Mr Paul Kitchen & Miss Janice Prior
Three of the largest British Mules in the UK are coming to do a display and provide
entertainment to everyone. Come and see Ruby, Muriel & Major, the friendliest and
impressive animals ever. Talk to Jan & Paul and learn all about how great these animals are
and why they are so passionate and love them so much.
Connemara Ponies
Brought By Debbie Nickson
Connemara's originate from County Galway, Western Ireland, and are extremely hardy,
versatile with a superb jumping ability and balanced paces. This makes them ideal for
dressage. These fabulous ponies can turn their 'hooves' to anything including Driving,
Hunting, Long Distance Riding & Working Hunter Ponies.
Welsh Section B Pony
Brought by Mrs J Mackensie
'Misty of Kinnards' is 9 year old. Commenced indoor driving trials in 2009 and shows In
Hand, Long rein and Show Classes. She is being displayed as a shepherding pony.
White Donkey
Brought by Mrs J Mackensie
'John Barley Corn' is approximately a 14 year old donkey. He goes into church and
appeared in a pageant at York minster. He also does garden parties, carries Father
Christmas and appears in Nativity plays.
HEAVY HORSES
The National Brewery Centre Shire Horse
Brought by Andrew Whetton
Andrew used to deliver beer for Thwaites Brewery before coming to The Brewery Centre
and was National Champion Driver in 2004. He now judges both Shires and Clydesdales and
has been invited to judge at the National Shire Show in 2011.
Louis is a five year-old Shire gelding who stands 17.2hh (that's nearly 6 feet high!). He
regularly appears at The Brewery Centre for promotional work and, along with head
horseman Andrew Whetton, performed the first horse-drawn beer delivery in Burton-onTrent for 43 years in March this year. The plan is to make this a weekly delivery run with
the help of the centre's two young horses, Major and Trooper.
Clydesdale Horses
Brought by William & Dorothy Combe
Eminent breed of Clydesdale Horses based in South Lanarkshire, the original home of the
Clydesdale breed. Mr & Mrs Combe breed show in hand and drive their horses in an
assortment of carts. Not too be missed!
Brought by Mr Graham Roberts
Kenyon Working Heavy Horses, Wheelwright Horse Drawn Machine Renovation. A demonstration of
Horse Drawn Hay making, cultivation and seed sewing machines. Www.kenyonworking horses.co.uk
SHEEP
Norfolk Horns
Brought by Phil Pennington
The Norfolk Horn is one of the oldest Breeds of Sheep in the UK. The founder of the wool
industry in the East Anglia based around Worsted, Norfolk
Lincoln Long Wools
Brought by J Chantry
Flock of Lincoln Longwool Sheep in the traditional setting of a Shepherds Huts, with a
display of farming bygones and the shepherd's fire! James is a young lad who drives a
vintage tractor pulling the Shepherds hut and it takes him a few hours to get here so come
along and speak with him, as it makes it a worthwhile trip to let him share his knowledge
with you.
South Down Sheep
Brought by Mr Dylan Williams
As an Exhibitor to the Showing World, Dylan Williams is on hand to answer any questions
you want to give him about this endearing and loveable breed of sheep.
North Ronaldsey Sheep
Brought by M J & H Hodgins
The North Ronaldsey Sheep are the Famous Seaweed eating sheep that come from the
Island of the same name situated in the Orkney's. They are small & fine boned and are
classed as primitives! Come and learn how they manage to survive on such a specialised
diet.
Hebridean Sheep
Brought by M J Hodgins
Teeswater Sheep Breeders' Association
Brought by Mr T Barker
Scotch Bred Cross Sheep
Brought by Mr T Barker
Shetland Sheep
Brought by Mr Neville & Maureen Turner on behalf of the Rare Breed Survival Trust
Hampshire
Brought by Mr Neville & Maureen turner on behalf of the Rare Breed Survival Trust
Galway Sheep
Brought by Dominic Heneghan
Dominic Heneghan is a Senior Lecturer from the local Brackenhurst College and will be on
hand to talk about the Galway Sheep and other animals the Trent University Farm produce
down on the Nottingham Trent University farm.
PIGS
Berkshire
Brought by Sharon Barnfield
Berkshire Breeders Club, promoting the breeding of quality stock, helping breeders
through the website and workshops to get the best out of the breed for both meat
production and enjoyment.
Hampshire
Brought by Sue Hutson
Large Blacks
Brought by R & PM Horsley
Large White
Brought by R & PM Horsley
Oxford & Sandy Blacks
Brought by R & PM Horsley
Saddle Backs
Brought by J Wreakes
Middle White Pig Breeders Club Stand
Welsh
Brought by R & PM Horsley
Pig Breeder & Show Expert
County Show Commentator and all round pig expert Marlene Renshaw will be on hand to
answer those questions you need to know about pig husbandry.
CATTLE
Highland Cattle
Brought by Miss Fiona & Miss Emma Dale
Come and meet 'Izzie' the Highland calf born this year - a real beauty that's already been
to all the shows with her mother! Now going it alone!
Brought by Tracey Noy
Tracy is a first timer to the Exhibition – so come and break her in gently!
Lincoln Reds
Brought by Lincoln Red Cattle Society
The Lincoln Red cattle Society are delighted to be part of the 3rd Native & rare Breed
Exhibition and the 8th Vintage & Heritage Show. Lincoln Reds, a Native Breed are ideally
suited to low input farming policies and markets. They welcome visitors to their stand –
which will be something not too be missed! Www.lincolnredcattlesociety.co.u
Belted Galloways
Brought by B Burgess
The Belted Galloway is a rare breed of beef cattle originating from Galloway in South West
Scotland. It has adapted to living on the poor upland pastures and windswept moorlands of
that region. A definite winner in looks!
Dexter Cattle
Brought by L Moore
Learn about young Lewis Moore's Dexter cattle and his butter and cheese making kits.
Midlands & East Anglian Hereford Breeders Association
Brought by A Pittam
The Midlands & East Anglia Hereford Breed Association hopes to demonstrate how they
prepare their cattle for the show ring.
Jersey
Brought by Mrs Timbury
Jersey is a very Old breed of Dairy Cattle originating from the Channel Islands. Now they
have spread all over the world. Their milk is very good for cheese making and very creamy
and golden in colour.
Shetland cattle
Brought by Brought by Mr Neville & Maureen Turner on behalf of the Rare Breed Survival
Trust
CRAFT
Stick maker
Mr D Gater
Author
Mrs Lorna Laidler
Mrs Laidler writes Countryside books and will be on hand to talk about her books with book
signing taking place during the weekend.
Hand Spinning Exhibition
Mrs C Brown
Bring Your Pet Hair and have its hair spun as you watch, then take your yarn home. On going demonstration using various fibres, including pet hair, wool, cotton and silk.
WW1 Memoraibilia
Mr I Douglas
WW1 Memorabilia for Tank corps, radio controlled ¼ scale Foster MK1V Female Tank
Farm Tool Bygones
Mr D Wattam & Mr R Spendlow
On view will be the huge collection of Old Farm Tools, Bygones and over 100 Named
Hessian Sacks which has taken over 20 years to collect.
Lincolnshire Stick Makers
Mr D Blanch & Mr & Mrs Bell
Lincolnshire Stick Makers will be displaying a selection of Cooks, Market sticks & Cardigan
stick. Demonstrations also include the forming of Horn Handles by top stick makers.
Border Stick Dressers Association
Mr Wilf Laidler
Borders Stick Dressers Association will be on display to show you the art of Stick dressing the making of Shepherds, Crooks and Walking sticks from natural materials
Horse Brasses & Horse Harness Decorations
Brought by Mr A Hopkinson
Horse Brass & Harness Decoration collection - one of the biggest in the UK!
Hand Pushed & Horse Drawn Lifters & Toppers
Brought by Mr N Birkett
A selection of Farming Bygones used in the field before Steam and Tractors. Not to be
missed!
CHARITIES
Northcote Heavy Horse Centre
Terena Bolam
Registered Charity that supports the Exhibition year in year out with Samson the Shire Horse
quietly standing for Vaulting, Armoured Horse Mojo and this year a talk on the Friesian
Horses. Never a quiet moment at this stall!
Bransby Home of Rest For Horses
Bransby has been rescuing and caring for horses, ponies, donkeys and mules for over 40
years. In that time over 1000 animals have benefited from the service they provide, they
collect used stamps .
British Trust for Conservation Volunteers
The charity was set up in 1959, and has a successful history of environmental conservation
volunteering throughout the UK and around the world. Why don't you come and see if you
can make a difference in the area you live and learn new skills. So come and meet the
team.
Rushcliffe Barn Owl Project
The Rushcliffe Barn Owl Project is now 14 years old and has proven very successful. They have now
raised 500 Barn Owl fledglings in their boxes throughout the Rushcliffe Borough, so make sure you
come and support this very worthwhile cause.
Derek Tindalls Birds of Prey Display
Derek's first visit to the Exhibition and is bringing an array of Birds for us to enjoy. He also organises
hawking days , falconry courses and special occasions falconer & falcon in period dress when
requested.
Avon Valley Ferrets and Polecat Conservation
Tame polecats & working ferrets from the Avon Valley ferret - polecat Conservation will be on
display for you to learn about Paul and his crew will teach you the art of Net making and how to
work your ferrets .
OUTSIDE DISPLAYS
Static Engine
Brought by Mr P Barker
Wolsley Engine powering a Fullwood milking machine & milk cooler along with various
dairy items.
Threshing Machine & Traction Engine
Mr Paul Duxbury & Phil Clements
Display to traditional threshing run through a Marshalls Threshing drum and driven by a
1894 Marshall Agricultural Traction Engine.