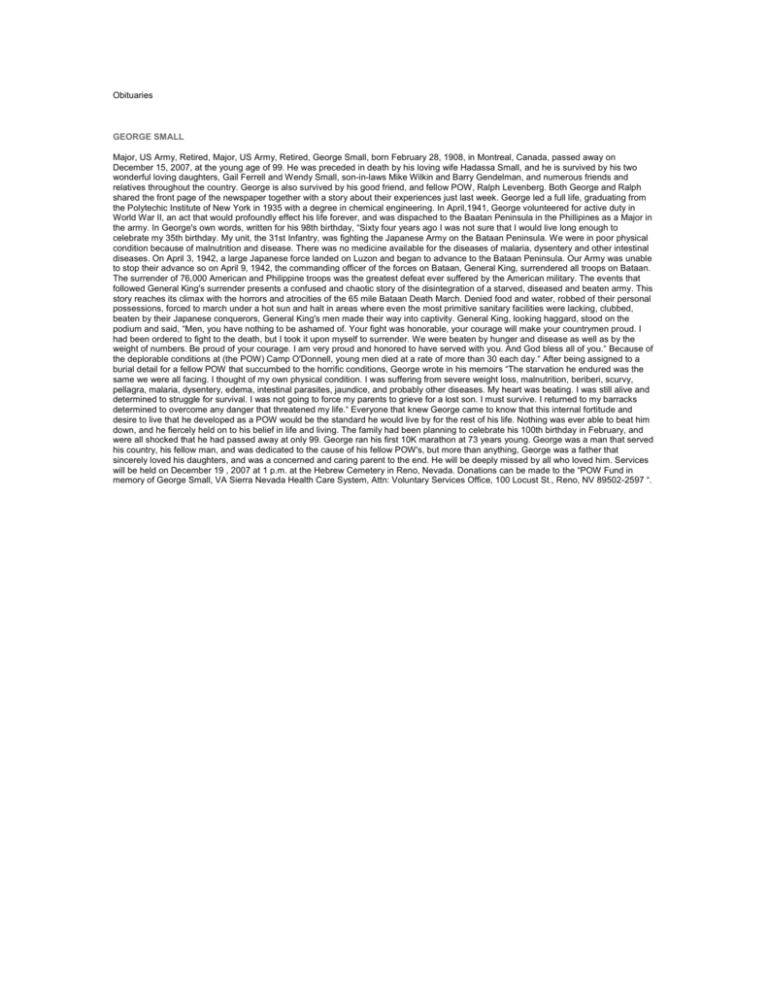 Obituaries
GEORGE SMALL
Major, US Army, Retired, Major, US Army, Retired, George Small, born February 28, 1908, in Montreal, Canada, passed away on
December 15, 2007, at the young age of 99. He was preceded in death by his loving wife Hadassa Small, and he is survived by his two
wonderful loving daughters, Gail Ferrell and Wendy Small, son-in-laws Mike Wilkin and Barry Gendelman, and numerous friends and
relatives throughout the country. George is also survived by his good friend, and fellow POW, Ralph Levenberg. Both George and Ralph
shared the front page of the newspaper together with a story about their experiences just last week. George led a full life, graduating from
the Polytechic Institute of New York in 1935 with a degree in chemical engineering. In April,1941, George volunteered for active duty in
World War II, an act that would profoundly effect his life forever, and was dispached to the Baatan Peninsula in the Phillipines as a Major in
the army. In George's own words, written for his 98th birthday, "Sixty four years ago I was not sure that I would live long enough to
celebrate my 35th birthday. My unit, the 31st Infantry, was fighting the Japanese Army on the Bataan Peninsula. We were in poor physical
condition because of malnutrition and disease. There was no medicine available for the diseases of malaria, dysentery and other intestinal
diseases. On April 3, 1942, a large Japanese force landed on Luzon and began to advance to the Bataan Peninsula. Our Army was unable
to stop their advance so on April 9, 1942, the commanding officer of the forces on Bataan, General King, surrendered all troops on Bataan.
The surrender of 76,000 American and Philippine troops was the greatest defeat ever suffered by the American military. The events that
followed General King's surrender presents a confused and chaotic story of the disintegration of a starved, diseased and beaten army. This
story reaches its climax with the horrors and atrocities of the 65 mile Bataan Death March. Denied food and water, robbed of their personal
possessions, forced to march under a hot sun and halt in areas where even the most primitive sanitary facilities were lacking, clubbed,
beaten by their Japanese conquerors, General King's men made their way into captivity. General King, looking haggard, stood on the
podium and said, "Men, you have nothing to be ashamed of. Your fight was honorable, your courage will make your countrymen proud. I
had been ordered to fight to the death, but I took it upon myself to surrender. We were beaten by hunger and disease as well as by the
weight of numbers. Be proud of your courage. I am very proud and honored to have served with you. And God bless all of you." Because of
the deplorable conditions at (the POW) Camp O'Donnell, young men died at a rate of more than 30 each day." After being assigned to a
burial detail for a fellow POW that succumbed to the horrific conditions, George wrote in his memoirs "The starvation he endured was the
same we were all facing. I thought of my own physical condition. I was suffering from severe weight loss, malnutrition, beriberi, scurvy,
pellagra, malaria, dysentery, edema, intestinal parasites, jaundice, and probably other diseases. My heart was beating. I was still alive and
determined to struggle for survival. I was not going to force my parents to grieve for a lost son. I must survive. I returned to my barracks
determined to overcome any danger that threatened my life." Everyone that knew George came to know that this internal fortitude and
desire to live that he developed as a POW would be the standard he would live by for the rest of his life. Nothing was ever able to beat him
down, and he fiercely held on to his belief in life and living. The family had been planning to celebrate his 100th birthday in February, and
were all shocked that he had passed away at only 99. George ran his first 10K marathon at 73 years young. George was a man that served
his country, his fellow man, and was dedicated to the cause of his fellow POW's, but more than anything, George was a father that
sincerely loved his daughters, and was a concerned and caring parent to the end. He will be deeply missed by all who loved him. Services
will be held on December 19 , 2007 at 1 p.m. at the Hebrew Cemetery in Reno, Nevada. Donations can be made to the "POW Fund in
memory of George Small, VA Sierra Nevada Health Care System, Attn: Voluntary Services Office, 100 Locust St., Reno, NV 89502-2597 ".