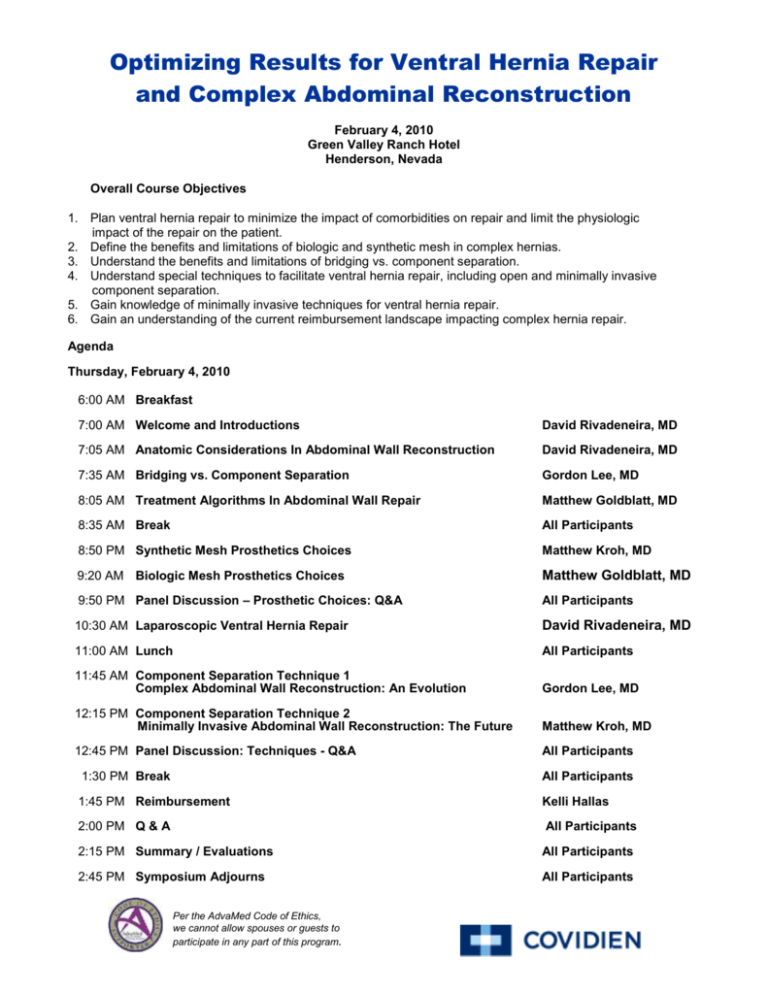 Optimizing Results for Ventral Hernia Repair
and Complex Abdominal Reconstruction
February 4, 2010
Green Valley Ranch Hotel
Henderson, Nevada
Overall Course Objectives
1. Plan ventral hernia repair to minimize the impact of comorbidities on repair and limit the physiologic
impact of the repair on the patient.
2. Define the benefits and limitations of biologic and synthetic mesh in complex hernias.
3. Understand the benefits and limitations of bridging vs. component separation.
4. Understand special techniques to facilitate ventral hernia repair, including open and minimally invasive
component separation.
5. Gain knowledge of minimally invasive techniques for ventral hernia repair.
6. Gain an understanding of the current reimbursement landscape impacting complex hernia repair.
Agenda
Thursday, February 4, 2010
6:00 AM Breakfast
7:00 AM Welcome and Introductions
David Rivadeneira, MD
7:05 AM Anatomic Considerations In Abdominal Wall Reconstruction
David Rivadeneira, MD
7:35 AM Bridging vs. Component Separation
Gordon Lee, MD
8:05 AM Treatment Algorithms In Abdominal Wall Repair
Matthew Goldblatt, MD
8:35 AM Break
All Participants
8:50 PM Synthetic Mesh Prosthetics Choices
Matthew Kroh, MD
9:20 AM Biologic Mesh Prosthetics Choices
Matthew Goldblatt, MD
9:50 PM Panel Discussion – Prosthetic Choices: Q&A
All Participants
10:30 AM Laparoscopic Ventral Hernia Repair
David Rivadeneira, MD
11:00 AM Lunch
All Participants
11:45 AM Component Separation Technique 1
Complex Abdominal Wall Reconstruction: An Evolution
Gordon Lee, MD
12:15 PM Component Separation Technique 2
Minimally Invasive Abdominal Wall Reconstruction: The Future
Matthew Kroh, MD
12:45 PM Panel Discussion: Techniques - Q&A
All Participants
1:30 PM Break
All Participants
1:45 PM Reimbursement
Kelli Hallas
2:00 PM Q & A
All Participants
2:15 PM Summary / Evaluations
All Participants
2:45 PM Symposium Adjourns
All Participants
Per the AdvaMed Code of Ethics,
we cannot allow spouses or guests to
participate in any part of this program.