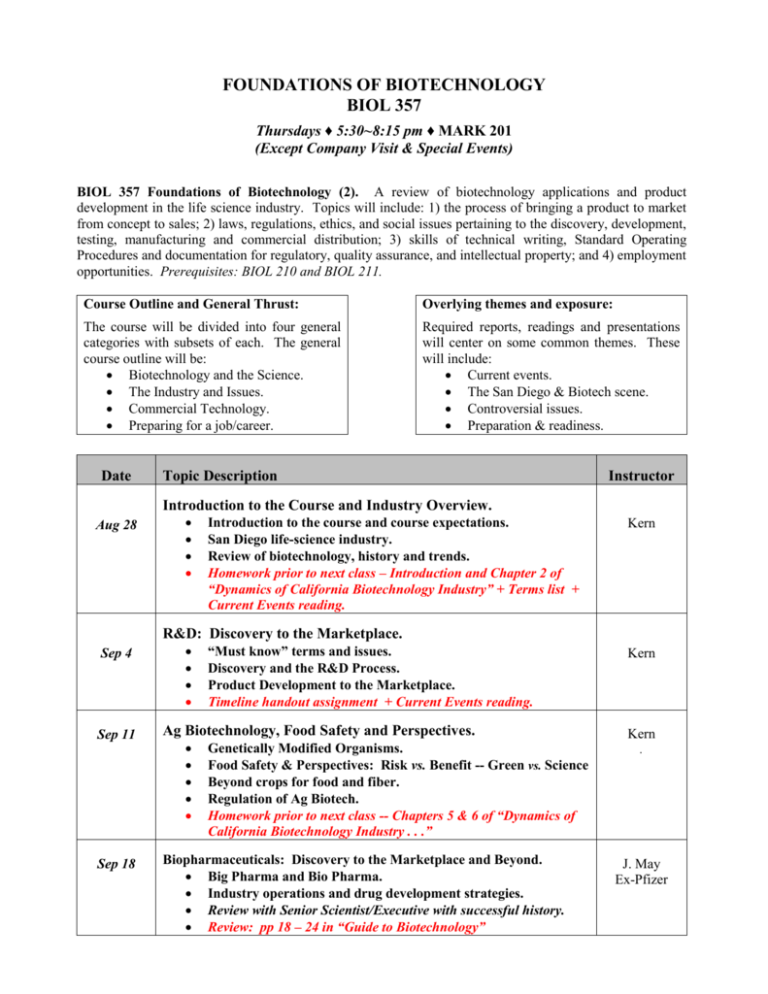 FOUNDATIONS OF BIOTECHNOLOGY
BIOL 357
Thursdays ♦ 5:30~8:15 pm ♦ MARK 201
(Except Company Visit & Special Events)
BIOL 357 Foundations of Biotechnology (2). A review of biotechnology applications and product
development in the life science industry. Topics will include: 1) the process of bringing a product to market
from concept to sales; 2) laws, regulations, ethics, and social issues pertaining to the discovery, development,
testing, manufacturing and commercial distribution; 3) skills of technical writing, Standard Operating
Procedures and documentation for regulatory, quality assurance, and intellectual property; and 4) employment
opportunities. Prerequisites: BIOL 210 and BIOL 211.
Course Outline and General Thrust:
Overlying themes and exposure:
The course will be divided into four general
categories with subsets of each. The general
course outline will be:
 Biotechnology and the Science.
 The Industry and Issues.
 Commercial Technology.
 Preparing for a job/career.
Required reports, readings and presentations
will center on some common themes. These
will include:
 Current events.
 The San Diego & Biotech scene.
 Controversial issues.
 Preparation & readiness.
Date
Topic Description
Instructor
Introduction to the Course and Industry Overview.
Aug 28




Introduction to the course and course expectations.
San Diego life-science industry.
Review of biotechnology, history and trends.
Homework prior to next class – Introduction and Chapter 2 of
"Dynamics of California Biotechnology Industry" + Terms list +
Current Events reading.
Kern
R&D: Discovery to the Marketplace.
Sep 4
Sep 11
Sep 18




"Must know" terms and issues.
Discovery and the R&D Process.
Product Development to the Marketplace.
Timeline handout assignment + Current Events reading.
Ag Biotechnology, Food Safety and Perspectives.





Genetically Modified Organisms.
Food Safety & Perspectives: Risk vs. Benefit -- Green vs. Science
Beyond crops for food and fiber.
Regulation of Ag Biotech.
Homework prior to next class -- Chapters 5 & 6 of "Dynamics of
California Biotechnology Industry . . ."
Biopharmaceuticals: Discovery to the Marketplace and Beyond.
 Big Pharma and Bio Pharma.
 Industry operations and drug development strategies.
 Review with Senior Scientist/Executive with successful history.
 Review: pp 18 – 24 in "Guide to Biotechnology"
Kern
Kern
.
J. May
Ex-Pfizer
Sep 25

Test 1
Government and Regulatory Affairs.
 The agencies and their role.
 Laws, regulations, process, and compliance.
 Website locations for regulations and guidance.
 Pharma and Medical Devices
 Reminder: organize to attend BIOCOM or In the Executive Chair.
Kern
Oct 2
Good Laboratory Practices & Principles for Lab Tech & Researchers.
 GXP, GLP, SOP, QSP.
 Good Laboratory Notebook Procedures.
 Methods, Procedures, Sampling, Handling.
 Storage and documentation.
 Out-of-Spec procedures & consequences.
 Homework on Regulatory/QC/GLP.
Kern
Oct 9
Laboratory Safety and Materials Handling in the Lab Workplace.
 Reagents, spills, disposal, radioactivity, hazardous materials.
 Safety precautions and actions.
 Emergency actions and rules.
 Home Quiz.
 Homework prior to next class – Chapters 3 & 4.
Oct 16
Oct 23
Oct 30
Intellectual Property – Patents, Trademarks, Trade Secrets,
Confidentiality, Materials Transfer agreements & Processes.
 What you should know about working in an intellectually
competitive world and why.
 Case examples.
 Home Quiz
 Homework prior to next class – pp 111-114 of BIO "Guide . . .)
Company Visit
 Industry perspectives & what companies want in employees.
 Science, instruments and workplace in action.
 Test Review

R. Frasca
Risk
Management
Broberg
Attorney
&
Kern
Genentech
@ 5:20
Test 2
Effective Communications, Written/Oral Reports: Science & General.
 Effective presentations.
 Effective written reports and communications
 Prepare presentation on career interests and why.
Kern
&
TBA
Nov 6
Job Searches, Resumes & Interviews.
 Internships, jobs and careers.
 Looking for jobs.
 Prepare resumes and cover letters for review. Hand-in next week.
S. Punch
Nov 13
Network or Gain Insight from the Industry and/or Industry Leaders.
 Attend one BIOCOM event or "In the Executive Chair" session
offered by the Business School.
 See instructor for alternative options. Approval needed.
 Purpose of BIOCOM event is to network and learn about the
industry. "In the Executive Chair provides insight from leaders."
Class
On your own
Date/event is
student's
discretion &
obligation.
Nov 20
Examining Annual Reports/Financial Statements of companies and
what they mean.
 Student Presentations -- Career interests.
 1st Paper due – 1,600-word report on current topic.
 Hand-in prepared resumes.
 Homework prior to next class—Chapters 2, 5 & 6 of above.
Thanksgiving Holiday – No Class. Happy Thanksgiving.
Nov 27
Dec 4





Dec 11
Second Paper due – 400-word Executive Summary from
attending BIOCOM or "In Executive Chair" due.
Kern
Class
Class
Kern
Practical Experiment Design/Controlling Experimental Error.
Goal setting and performance appraisals.
Semester review and highlights.
Final Exam
Final Exam
READINGS: (Readings will be made available/accessible over the internet free of charge.)

Dynamics of California's Biotechnology Industry. 2005. Junfu Zhang and Nikesh Patel.
Public Policy Institute of California. San Francisco, CA.

Guide to Biotechnology. 2007. Biotechnology Industry Association. Washington, D.C.

The Daily Transcript/San Diego Source. A daily business newspaper.

Fierce Biotech. National biotechnology industry news.