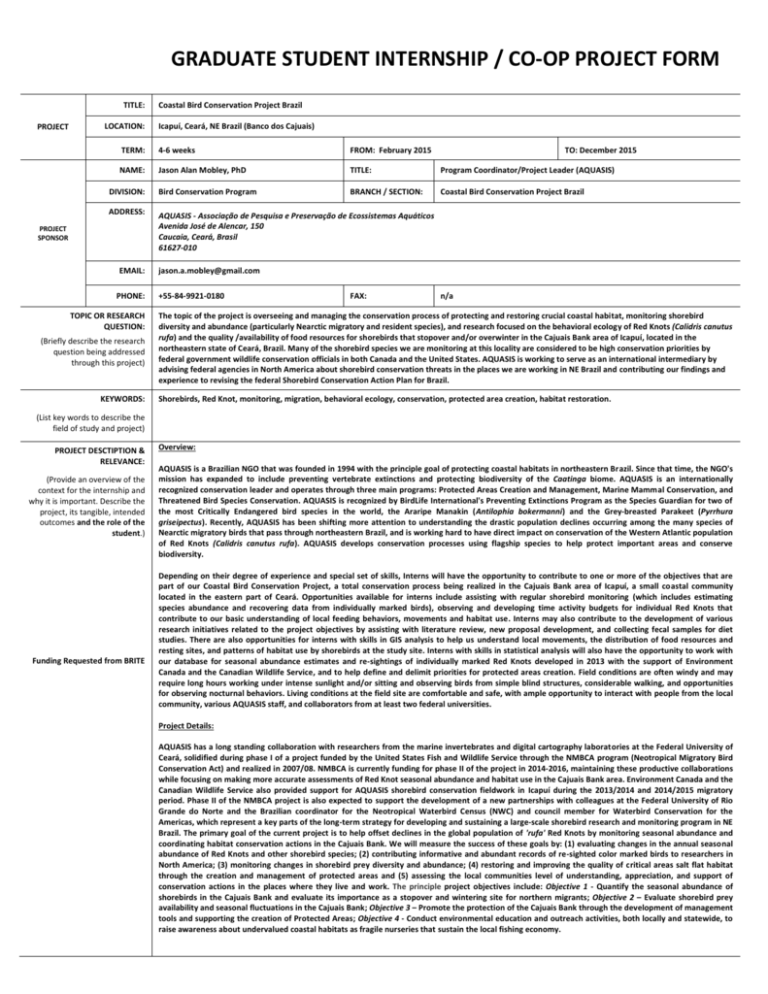 GRADUATE STUDENT INTERNSHIP / CO-OP PROJECT FORM
TITLE:
PROJECT
LOCATION:
Coastal Bird Conservation Project Brazil
Icapuí, Ceará, NE Brazil (Banco dos Cajuais)
TERM:
4-6 weeks
FROM: February 2015
NAME:
Jason Alan Mobley, PhD
TITLE:
Program Coordinator/Project Leader (AQUASIS)
DIVISION:
Bird Conservation Program
BRANCH / SECTION:
Coastal Bird Conservation Project Brazil
ADDRESS:
AQUASIS - Associação de Pesquisa e Preservação de Ecossistemas Aquáticos
Avenida José de Alencar, 150
Caucaia, Ceará, Brasil
61627-010
PROJECT
SPONSOR
EMAIL:
PHONE:
TOPIC OR RESEARCH
QUESTION:
(Briefly describe the research
question being addressed
through this project)
KEYWORDS:
TO: December 2015
jason.a.mobley@gmail.com
+55-84-9921-0180
FAX:
n/a
The topic of the project is overseeing and managing the conservation process of protecting and restoring crucial coastal habitat, monitoring shorebird
diversity and abundance (particularly Nearctic migratory and resident species), and research focused on the behavioral ecology of Red Knots (Calidris canutus
rufa) and the quality /availability of food resources for shorebirds that stopover and/or overwinter in the Cajuais Bank area of Icapuí, located in the
northeastern state of Ceará, Brazil. Many of the shorebird species we are monitoring at this locality are considered to be high conservation priorities by
federal government wildlife conservation officials in both Canada and the United States. AQUASIS is working to serve as an international intermediary by
advising federal agencies in North America about shorebird conservation threats in the places we are working in NE Brazil and contributing our findings and
experience to revising the federal Shorebird Conservation Action Plan for Brazil.
Shorebirds, Red Knot, monitoring, migration, behavioral ecology, conservation, protected area creation, habitat restoration.
(List key words to describe the
field of study and project)
PROJECT DESCTIPTION &
RELEVANCE:
(Provide an overview of the
context for the internship and
why it is important. Describe the
project, its tangible, intended
outcomes and the role of the
student.)
Funding Requested from BRITE
Overview:
AQUASIS is a Brazilian NGO that was founded in 1994 with the principle goal of protecting coastal habitats in northeastern Brazil. Since that time, the NGO's
mission has expanded to include preventing vertebrate extinctions and protecting biodiversity of the Caatinga biome. AQUASIS is an internationally
recognized conservation leader and operates through three main programs: Protected Areas Creation and Management, Marine Mammal Conservation, and
Threatened Bird Species Conservation. AQUASIS is recognized by BirdLife International's Preventing Extinctions Program as the Species Guardian for two of
the most Critically Endangered bird species in the world, the Araripe Manakin (Antilophia bokermanni) and the Grey-breasted Parakeet (Pyrrhura
griseipectus). Recently, AQUASIS has been shifting more attention to understanding the drastic population declines occurring among the many species of
Nearctic migratory birds that pass through northeastern Brazil, and is working hard to have direct impact on conservation of the Western Atlantic population
of Red Knots (Calidris canutus rufa). AQUASIS develops conservation processes using flagship species to help protect important areas and conserve
biodiversity.
Depending on their degree of experience and special set of skills, Interns will have the opportunity to contribute to one or more of the objectives that are
part of our Coastal Bird Conservation Project, a total conservation process being realized in the Cajuais Bank area of Icapuí, a small coastal community
located in the eastern part of Ceará. Opportunities available for interns include assisting with regular shorebird monitoring (which includes estimating
species abundance and recovering data from individually marked birds), observing and developing time activity budgets for individual Red Knots that
contribute to our basic understanding of local feeding behaviors, movements and habitat use. Interns may also contribute to the development of various
research initiatives related to the project objectives by assisting with literature review, new proposal development, and collecting fecal samples for diet
studies. There are also opportunities for interns with skills in GIS analysis to help us understand local movements, the distribution of food resources and
resting sites, and patterns of habitat use by shorebirds at the study site. Interns with skills in statistical analysis will also have the opportunity to work with
our database for seasonal abundance estimates and re-sightings of individually marked Red Knots developed in 2013 with the support of Environment
Canada and the Canadian Wildlife Service, and to help define and delimit priorities for protected areas creation. Field conditions are often windy and may
require long hours working under intense sunlight and/or sitting and observing birds from simple blind structures, considerable walking, and opportunities
for observing nocturnal behaviors. Living conditions at the field site are comfortable and safe, with ample opportunity to interact with people from the local
community, various AQUASIS staff, and collaborators from at least two federal universities.
Project Details:
AQUASIS has a long standing collaboration with researchers from the marine invertebrates and digital cartography laboratories at the Federal University of
Ceará, solidified during phase I of a project funded by the United States Fish and Wildlife Service through the NMBCA program (Neotropical Migratory Bird
Conservation Act) and realized in 2007/08. NMBCA is currently funding for phase II of the project in 2014-2016, maintaining these productive collaborations
while focusing on making more accurate assessments of Red Knot seasonal abundance and habitat use in the Cajuais Bank area. Environment Canada and the
Canadian Wildlife Service also provided support for AQUASIS shorebird conservation fieldwork in Icapuí during the 2013/2014 and 2014/2015 migratory
period. Phase II of the NMBCA project is also expected to support the development of a new partnerships with colleagues at the Federal University of Rio
Grande do Norte and the Brazilian coordinator for the Neotropical Waterbird Census (NWC) and council member for Waterbird Conservation for the
Americas, which represent a key parts of the long-term strategy for developing and sustaining a large-scale shorebird research and monitoring program in NE
Brazil. The primary goal of the current project is to help offset declines in the global population of 'rufa' Red Knots by monitoring seasonal abundance and
coordinating habitat conservation actions in the Cajuais Bank. We will measure the success of these goals by: (1) evaluating changes in the annual seasonal
abundance of Red Knots and other shorebird species; (2) contributing informative and abundant records of re-sighted color marked birds to researchers in
North America; (3) monitoring changes in shorebird prey diversity and abundance; (4) restoring and improving the quality of critical areas salt flat habitat
through the creation and management of protected areas and (5) assessing the local communities level of understanding, appreciation, and support of
conservation actions in the places where they live and work. The principle project objectives include: Objective 1 - Quantify the seasonal abundance of
shorebirds in the Cajuais Bank and evaluate its importance as a stopover and wintering site for northern migrants; Objective 2 – Evaluate shorebird prey
availability and seasonal fluctuations in the Cajuais Bank; Objective 3 – Promote the protection of the Cajuais Bank through the development of management
tools and supporting the creation of Protected Areas; Objective 4 - Conduct environmental education and outreach activities, both locally and statewide, to
raise awareness about undervalued coastal habitats as fragile nurseries that sustain the local fishing economy.
AMOUNT: Funding being requested from BRITE will support the travel and basic living expenses of the intern during their tenure in Brazil.
AQUASIS will provide housing and some food (to be confirmed)
AVAILABLE FUNDING:
NO
YES
IF YES, THEN LIST AMOUNT:
PROJECT TYPE (Check the relevant type(s) of work to be undertaken for this internship / co-op project)
FIELD WORK
GIS ANALYSIS (potentially if the student has the skills and interest)
RESEARCH PROPOSAL DEVELOPMENT
POLICY ANALYSIS
LITERATURE REVIEW
SURVEY DESIGN
SHORT STUDY / ASSESSMENT
MODEL DEVELOPMENT (research prioritization framework)
DATA COLLECTION
OTHER
please describe:
DATA / STATISTICAL ANALYSIS
EXPECTED DELIVERABLES:
(Summarize the intended
project deliverables, e.g.,
research report, data analyzed,
and presented in a spreadsheet
format, etc.)
Revised April 2009
Depending on the particular activities or specific line(s) of research in which the intern participates, the expected deliverables will include a
report summarizing the work completed and a presentation of the data collected in the form of a spreadsheet and/or tables and graphics that
facilitate the presentation and/or analysis of the data.