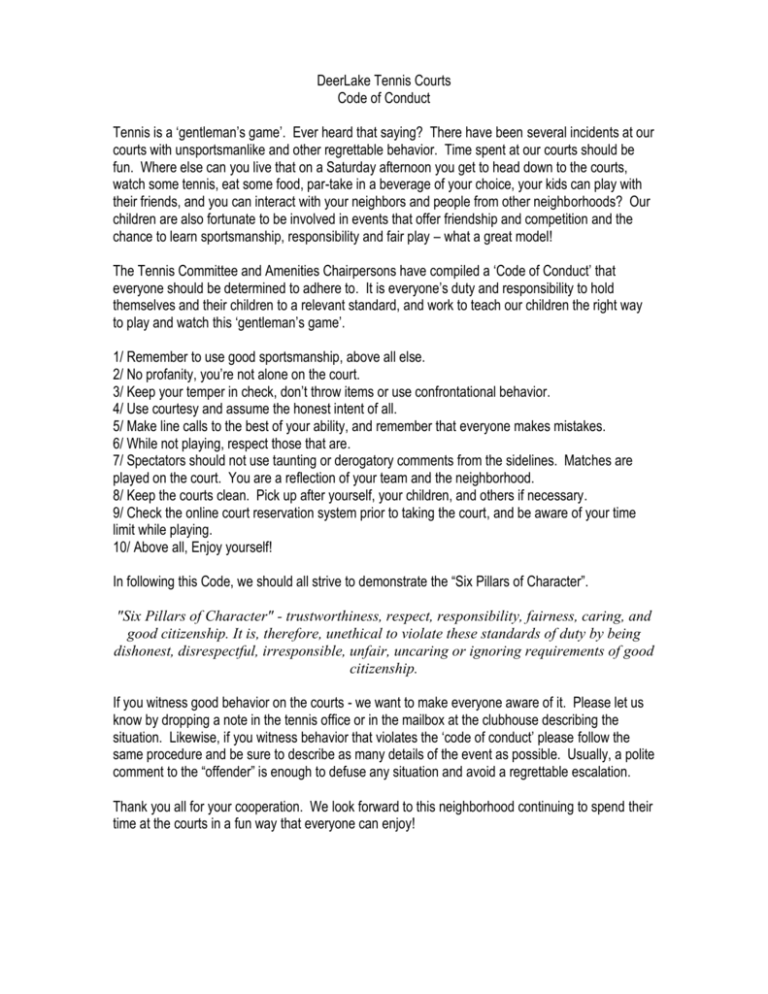 DeerLake Tennis Courts
Code of Conduct
Tennis is a 'gentleman's game'. Ever heard that saying? There have been several incidents at our
courts with unsportsmanlike and other regrettable behavior. Time spent at our courts should be
fun. Where else can you live that on a Saturday afternoon you get to head down to the courts,
watch some tennis, eat some food, par-take in a beverage of your choice, your kids can play with
their friends, and you can interact with your neighbors and people from other neighborhoods? Our
children are also fortunate to be involved in events that offer friendship and competition and the
chance to learn sportsmanship, responsibility and fair play – what a great model!
The Tennis Committee and Amenities Chairpersons have compiled a 'Code of Conduct' that
everyone should be determined to adhere to. It is everyone's duty and responsibility to hold
themselves and their children to a relevant standard, and work to teach our children the right way
to play and watch this 'gentleman's game'.
1/ Remember to use good sportsmanship, above all else.
2/ No profanity, you're not alone on the court.
3/ Keep your temper in check, don't throw items or use confrontational behavior.
4/ Use courtesy and assume the honest intent of all.
5/ Make line calls to the best of your ability, and remember that everyone makes mistakes.
6/ While not playing, respect those that are.
7/ Spectators should not use taunting or derogatory comments from the sidelines. Matches are
played on the court. You are a reflection of your team and the neighborhood.
8/ Keep the courts clean. Pick up after yourself, your children, and others if necessary.
9/ Check the online court reservation system prior to taking the court, and be aware of your time
limit while playing.
10/ Above all, Enjoy yourself!
In following this Code, we should all strive to demonstrate the "Six Pillars of Character".
"Six Pillars of Character" - trustworthiness, respect, responsibility, fairness, caring, and
good citizenship. It is, therefore, unethical to violate these standards of duty by being
dishonest, disrespectful, irresponsible, unfair, uncaring or ignoring requirements of good
citizenship.
If you witness good behavior on the courts - we want to make everyone aware of it. Please let us
know by dropping a note in the tennis office or in the mailbox at the clubhouse describing the
situation. Likewise, if you witness behavior that violates the 'code of conduct' please follow the
same procedure and be sure to describe as many details of the event as possible. Usually, a polite
comment to the "offender" is enough to defuse any situation and avoid a regrettable escalation.
Thank you all for your cooperation. We look forward to this neighborhood continuing to spend their
time at the courts in a fun way that everyone can enjoy!