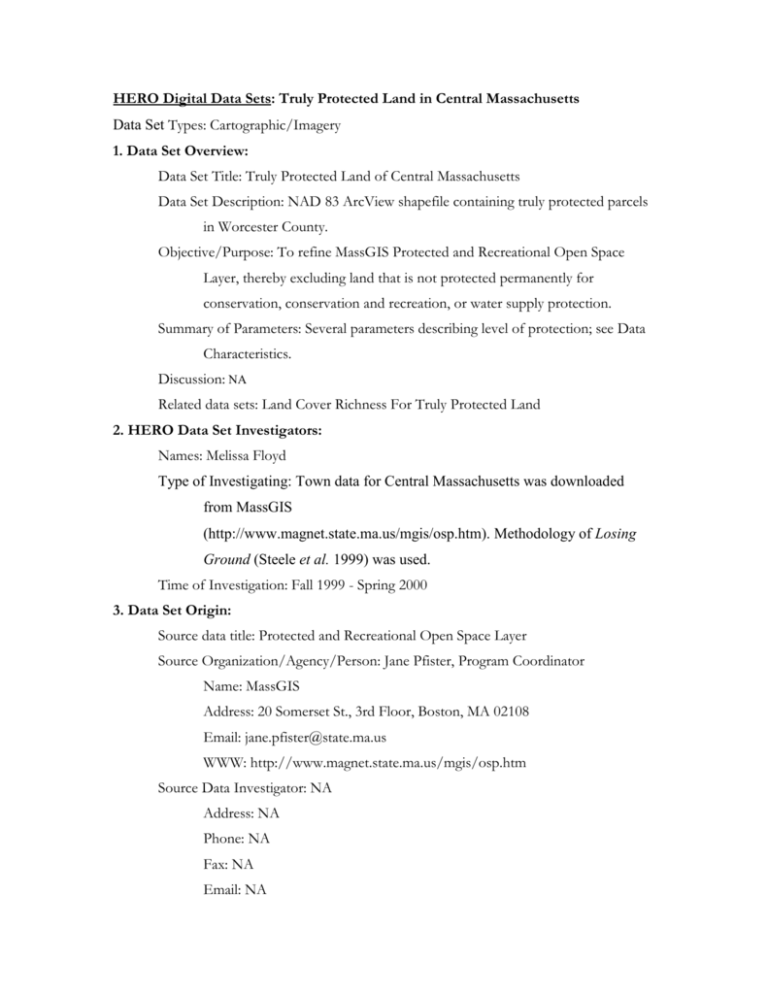 HERO Digital Data Sets: Truly Protected Land in Central Massachusetts
Data Set Types: Cartographic/Imagery
1. Data Set Overview:
Data Set Title: Truly Protected Land of Central Massachusetts
Data Set Description: NAD 83 ArcView shapefile containing truly protected parcels
in Worcester County.
Objective/Purpose: To refine MassGIS Protected and Recreational Open Space
Layer, thereby excluding land that is not protected permanently for
conservation, conservation and recreation, or water supply protection.
Summary of Parameters: Several parameters describing level of protection; see Data
Characteristics.
Discussion: NA
Related data sets: Land Cover Richness For Truly Protected Land
2. HERO Data Set Investigators:
Names: Melissa Floyd
Type of Investigating: Town data for Central Massachusetts was downloaded
from MassGIS
(http://www.magnet.state.ma.us/mgis/osp.htm). Methodology of Losing
Ground (Steele et al. 1999) was used.
Time of Investigation: Fall 1999 - Spring 2000
3. Data Set Origin:
Source data title: Protected and Recreational Open Space Layer
Source Organization/Agency/Person: Jane Pfister, Program Coordinator
Name: MassGIS
Address: 20 Somerset St., 3rd Floor, Boston, MA 02108
Email: jane.pfister@state.ma.us
WWW: http://www.magnet.state.ma.us/mgis/osp.htm
Source Data Investigator: NA
Address: NA
Phone: NA
Fax: NA
Email: NA
Data Acquisition Method: Downloaded from MassGIS website.
Original Data Acquisition Method:
ORIGINAL SOURCE MANUSCRIPTS and ORIGINAL PRODUCTION
State and federal lands were originally compiled in 1988 from
1:25,000 scale maps by the Department of Regional Planning and Landscape
Architecture at the University of Massachusetts at Amherst. The data were
verified and are maintained by each agency of the Executive Office of
Environmental Affairs (EOEA). Each agency maintains its own maps
according to its own standard operating procedures and the accuracy of these
maps varies. Some parcels were drafted onto USGS quadrangles from
detailed surveys, while in other cases the exact property boundary is not
known. The compilation process that produced a unified manuscript
faithfully reproduced the property boundaries as represented on the agencies'
maps. The DFWELE cartographer then compiled onto this manuscript the
land holdings of the National Park Service (NPS), US Fish & Wildlife Service
(USFWS), and The Trustees of Reservations (TTOR, incomplete). Updating
of this coverage began in the fall of 1989 and is ongoing.
Also included in the original open space datalayer were some
community and local lands within Berkshire and Essex Counties and the
Nashua River Basin. The production methodology varied subtly by region.
Compilation of open space holdings in Essex County had already been done
by the Essex County Greenbelt Association (ECGA), and these 1:25,000
scale maps were used as the manuscript for Essex County. Manuscripts for
Berkshire County were compiled by the Berkshire County Cooperative
Extension Service in cooperation with town assessors, conservation
commissions, and local land trusts. Manuscripts for the Nashua River Basin
were prepared jointly by DFWELE and the Department of Food and
Agriculture (DFA) from town assessors maps.
(http://www.magnet.state.ma.us/mgis/osp.htm)
CURRENT SOURCE MANUSCRIPTS and PRODUCTION
METHODOLOGY
The open space datalayer is divided into 351 town panels and is held
in the MassGIS TOWN library. Existing information (both geographic and
attribute) continues to be updated with the assistance of volunteers at the
local level and with the assistance of regional planning commissions. The
resulting data are variable in their accuracy and completeness. Geographic
data sources are predominantly town tax assessor's maps and existing open
space plans. We maintain a record of all source maps used. Often these maps
have been recompiled by the volunteers onto a standard 1:25,000 basemap
produced by MassGIS. The data are then digitized from these basemaps. In
other cases data may be digitized from a map supplied by our volunteer if
this map meets minimum digitizing requirements. Increasingly, data are also
pulled into the open space coverage from preexisting digital data layers
provided by a municipality, regional planning agency, or state agency. All
polygons bordering a road, stream, pond, town boundary, or coastline are
snapped to that feature and the coincident arcs are coded according to the
coincident feature. The production methodology used with each town
coverage and an evaluation of the quality of source
materials can be found in the OS_STATUS INFO file included in the data
export. (http://www.magnet.state.ma.us/mgis/osp.htm)
Original Data Format: ArcView Shapefiles
4.Data Description:
Data Format: ArcView shapefile
Data Structure: Data consists of shapefile with attribute table
Spatial Characteristics: Worcester County (town tiles merged)
Spatial Coverage:
min. X:132700
max. X:201800
min. Y:862000
max. Y:941000
Spatial Coverage Map: NA
Spatial Resolution/Scale: 30 m
Projection: spc83ma1
Grid Description: NA
Cols:
Rows:
Temporal Characteristics:
Temporal Coverage: 1988 - July 1999
Data Characteristics:
1. STATUS FIELDS
Fields
Code - Description
STATUS_OWNER (SFO)
STATUS_MANAGER
STATUS_1
STATUS_2
STATUS_3
F- Federal
S - State
C - County
M - Municipal
N - Private Non profit
P - Private for profit
B - Public Nonprofit
O - None of the above (e.g. joint ownership)
X - Unknown
I - Inholding (a piece of unprotected property
surrounded on all sides by a protected
property or a recreational facility)
W - Water body (entire polygon is water)
Unconfirmed:
1 - EOEA or EOEA (alternate state agencies)
2 - EOEA or non-profit
3 - EOEA or municipality
4 - EOEA or private land-owner
2. INTEREST FIELDS
Field
Code - Description
INT_1
CR - Conservation Restriction
INT_2
APR - Agricultural Preservation Restriction
INT_3
CAPR - Conservation/Agricultural Preservation Restriction
AQR - Aquifer Protection
AR - Air Rights
HPR - Historic Preservation
EASE - Easement (official restriction only)
WR - Watershed Restriction (local)
WR - Wetlands Restriction (Program)
OLI - Other Legal Restriction
3. GRANT PROGRAMS
Field
Code - Description
GRANTPROG1
State programs:
GRANTPROG2
ALA - Aquifer Lands Acquisition
SH - State Self-help
USH - Urban Self-help
Federal programs:
LWCF - Land and Water Conservation Fund
FF - Other federal funds
4. PUBLIC ACCESS TYPES
Field
Code - Description
PUB_ACCESS (PA) Y - Yes (open to public)
N - No (not open to public)
L - Limited (membership only)
X - Unknown
1 - Public
2 - Public (residents only)
3 - Public (seasonal)
4 - Private (public welcome)
5 - Private (members only)
6 - None
5. PRIMARY PURPOSE
Field
Code - Description
PRIMARY_PURP (PP)
R - Recreation (activities are facility based)
C - Conservation (activities are non-facility
based)
B - Recreation and Conservation
H - Historical/Cultural
A - Agriculture
W - Water Supply Protection
S - Scenic (official designation only)
O - Other (explain)
X - Unknown
6.LEVEL OF PROTECTION
Field
Code - Description
LEV_PROT (LP)
P - Inperpetuity
T - Temporary (Chapter 6161A61Bsome CRs)
L - Limited (by something other than time)
N - None
X - Unknown
7. CHAPTER 61 TYPE
Field
Code - Description
CH61_PROG (Forestry)
F- CH61 (Forestry)
A - CH61A (Agriculture)
B - CH61B (Recreation)
Y - In Chapter 61 program, but specific land
use unknown
8. OWNERSHIP ABBREVIATIONS
Field
Code/Description
FEE_OWNER (FO)
eg. M<town-id> SD= Town of <town-id>
School Department
MANAGER
eg. M004 = Town of Adams
OTHER_1
eg. M004SD = Town of Adams school
department
OTHER_2
MGLT = Mount Grace Land Trust
OTHER_3
(A file containing all abbreviations used in these fields, such as SD and
MGLT above is available upon request.)
9. ACQUISITION SUPPORTPROVIDED BY THE EXECUTIVE OFFICE
OF ENVIRONMENTAL AFFAIRS
Field
Code -Description
EOEAINVOLV
1 - a. Fee ownership or other legal interest held by an
EOEA agency or
b. DCS contributed or administered acquisition
monies
2 - Conservation restriction registered with DCS and
not held by an EOEA agency
(http://www.magnet.state.ma.us/mgis/osp.htm)
Data Set Completeness: Complete
Data Set Consistency: Consistent
5. Data Manipulation:
Formulae: NA
Derivation Techniques and Algorithms: NA
Processing Steps: Export polygons whose attributes consist of permanent protection
for primary purposes of conservation, conservation and recreation, or water
supply protection.
Processing Changes: NA
Calculations: NA
Special Corrections/Adjustments: NA
Calculated Variables: NA
Graphs and Plots: NA
6.
Errors:
Sources of Error: Incompleteness of source data caused some polygons to be
excluded.
Quality Assessment: Because it is an ongoing project, incompleteness for some
entries should be expected (http://www.magnet.state.ma.us/mgis/osp.htm).
Data Validation by Source:
Confidence Level/Accuracy Judgment: High
Measurement Error for Parameters: NA
Additional Quality Assessments: NA
Data Verification by HERO project: Checked some polygons with other maps to
confirm that they were at the least, not developed land or water.
7. Notes:
Limitations of the Data:
Known Problems with the Data: see Quality Assessment
Usage Guidance: MassGIS recommends this to be used for town planning purposes.
Any Other Relevant Information about the Study: NA
8. Application of the data set:
These data are very useful for most statewide and regional planning purposes.
However, they are not a legal record of ownership, and the user should understand
that parcel representations are generally not based on property surveys.
The data are also useful in projects examining attributes of truly protected land – a
growing concern is the disappearance of open, healthy land due to urban sprawl.
9. Future Modifications and Plans: None
10. Software: ArcView
11.
Data Access:
Contact Information:
Address:
Phone:
Fax:
Email:
Procedures for Obtaining Data:Download from HERO website.
12. References:
The published references for the source data are:
MassGIS website. (http://www.magnet.state.ma.us/mgis/osp.htm)
Other references used in metadata preparation:
Steele, J. et al. 1999.Losing Ground: An Analysis of Recent Rates and
Patterns of Development and Their Effects on Open Space in
Massachusetts. Full Technical Report. Massachusetts Audubon Society:
Lincoln, MA.
13. Glossary of terms:
Truly protected land – land deemed by attributes (determined by Mass Audubon)
to be ecologically healthy and protected from development permanently.