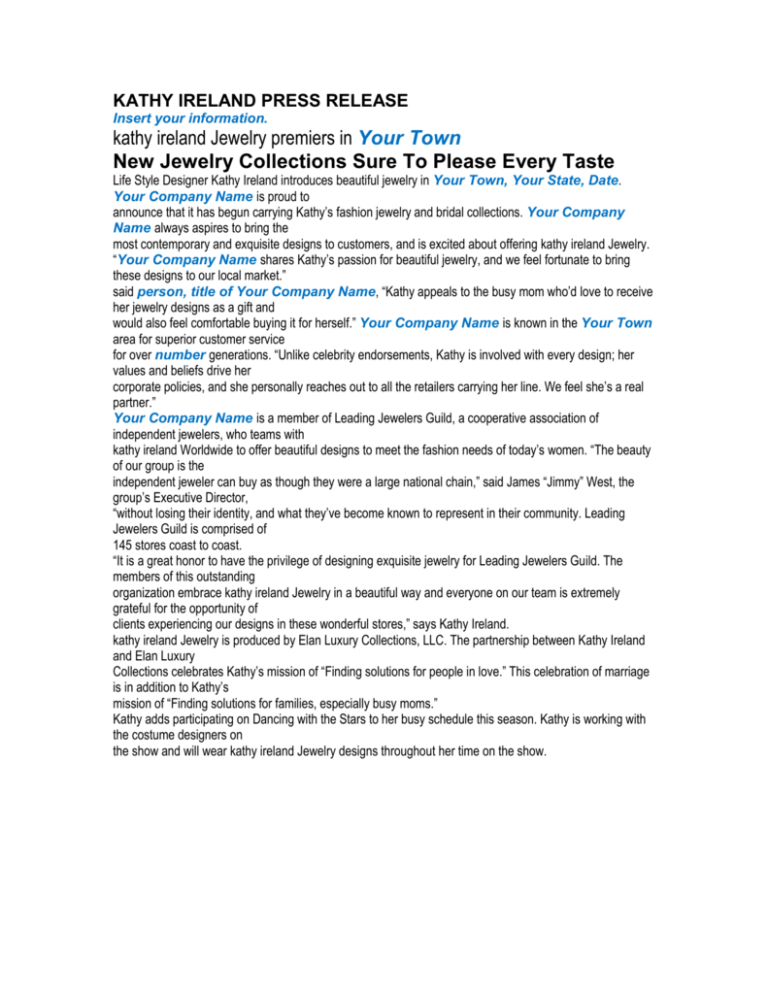 KATHY IRELAND PRESS RELEASE
Insert your information.
kathy ireland Jewelry premiers in Your Town
New Jewelry Collections Sure To Please Every Taste
Life Style Designer Kathy Ireland introduces beautiful jewelry in Your Town, Your State, Date.
Your Company Name is proud to
announce that it has begun carrying Kathy's fashion jewelry and bridal collections. Your Company
Name always aspires to bring the
most contemporary and exquisite designs to customers, and is excited about offering kathy ireland Jewelry.
"Your Company Name shares Kathy's passion for beautiful jewelry, and we feel fortunate to bring
these designs to our local market."
said person, title of Your Company Name, "Kathy appeals to the busy mom who'd love to receive
her jewelry designs as a gift and
would also feel comfortable buying it for herself." Your Company Name is known in the Your Town
area for superior customer service
for over number generations. "Unlike celebrity endorsements, Kathy is involved with every design; her
values and beliefs drive her
corporate policies, and she personally reaches out to all the retailers carrying her line. We feel she's a real
partner."
Your Company Name is a member of Leading Jewelers Guild, a cooperative association of
independent jewelers, who teams with
kathy ireland Worldwide to offer beautiful designs to meet the fashion needs of today's women. "The beauty
of our group is the
independent jeweler can buy as though they were a large national chain," said James "Jimmy" West, the
group's Executive Director,
"without losing their identity, and what they've become known to represent in their community. Leading
Jewelers Guild is comprised of
145 stores coast to coast.
"It is a great honor to have the privilege of designing exquisite jewelry for Leading Jewelers Guild. The
members of this outstanding
organization embrace kathy ireland Jewelry in a beautiful way and everyone on our team is extremely
grateful for the opportunity of
clients experiencing our designs in these wonderful stores," says Kathy Ireland.
kathy ireland Jewelry is produced by Elan Luxury Collections, LLC. The partnership between Kathy Ireland
and Elan Luxury
Collections celebrates Kathy's mission of "Finding solutions for people in love." This celebration of marriage
is in addition to Kathy's
mission of "Finding solutions for families, especially busy moms."
Kathy adds participating on Dancing with the Stars to her busy schedule this season. Kathy is working with
the costume designers on
the show and will wear kathy ireland Jewelry designs throughout her time on the show.