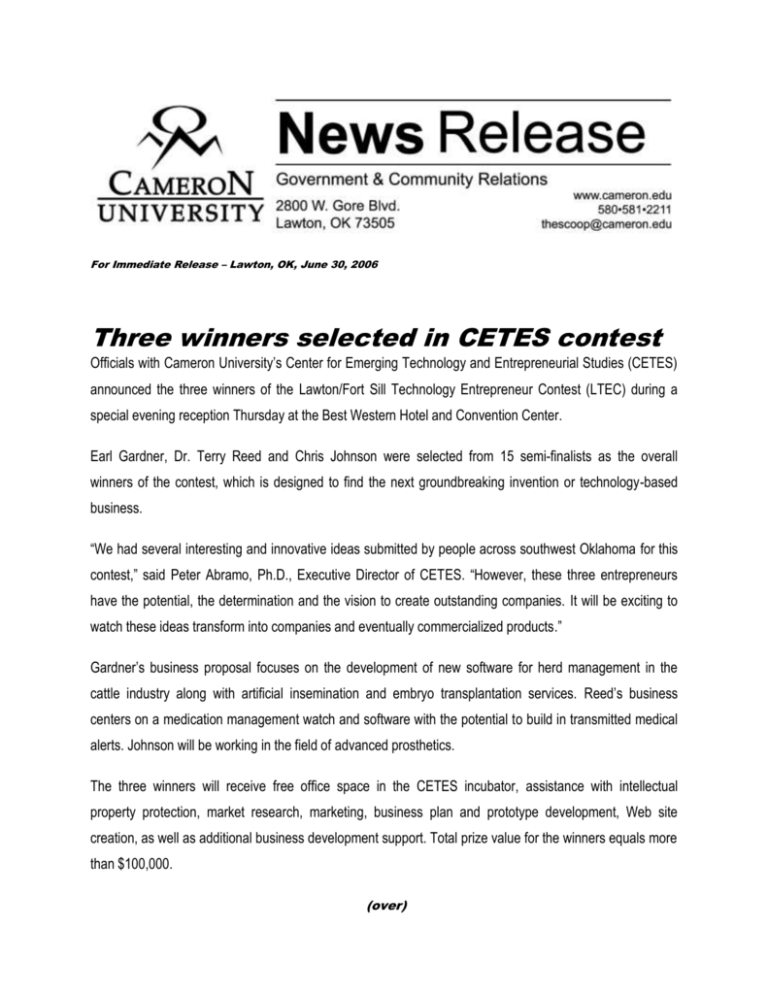 For Immediate Release – Lawton, OK, June 30, 2006
Three winners selected in CETES contest
Officials with Cameron University's Center for Emerging Technology and Entrepreneurial Studies (CETES)
announced the three winners of the Lawton/Fort Sill Technology Entrepreneur Contest (LTEC) during a
special evening reception Thursday at the Best Western Hotel and Convention Center.
Earl Gardner, Dr. Terry Reed and Chris Johnson were selected from 15 semi-finalists as the overall
winners of the contest, which is designed to find the next groundbreaking invention or technology-based
business.
"We had several interesting and innovative ideas submitted by people across southwest Oklahoma for this
contest," said Peter Abramo, Ph.D., Executive Director of CETES. "However, these three entrepreneurs
have the potential, the determination and the vision to create outstanding companies. It will be exciting to
watch these ideas transform into companies and eventually commercialized products."
Gardner's business proposal focuses on the development of new software for herd management in the
cattle industry along with artificial insemination and embryo transplantation services. Reed's business
centers on a medication management watch and software with the potential to build in transmitted medical
alerts. Johnson will be working in the field of advanced prosthetics.
The three winners will receive free office space in the CETES incubator, assistance with intellectual
property protection, market research, marketing, business plan and prototype development, Web site
creation, as well as additional business development support. Total prize value for the winners equals more
than $100,000.
(over)
LTEC winners, ADD ONE
The LTEC application process began in early April. Participants were required to develop a technologybased idea and/or product complete with a business plan and entrepreneurial support team. The
applications were then reviewed by the CETES staff and semi-finalists were selected.
The three winners were selected by a panel of judges based on a variety of criteria including the likelihood
of the product being developed in a reasonable period of time, the ability of the inventor to dedicate time to
building a company around the idea, and a match between the needs of the entrepreneur with the services
offered by CETES, Abramo said.
CETES received the $130,000 Economic Development Enrichment Fund grant for the LTEC during the
spring 2006 semester from the Oklahoma State Regents for Higher Education. The grant, which is one of
only five awarded in Oklahoma, was part of a special initiative to support activities of economic, workforce
and community development initiatives that are within an institution's strategic plan.
– 30 –
PR# 06-107
Editors and Broadcasters: For more information, contact CU Government & Community Relations at
580.581.2211.