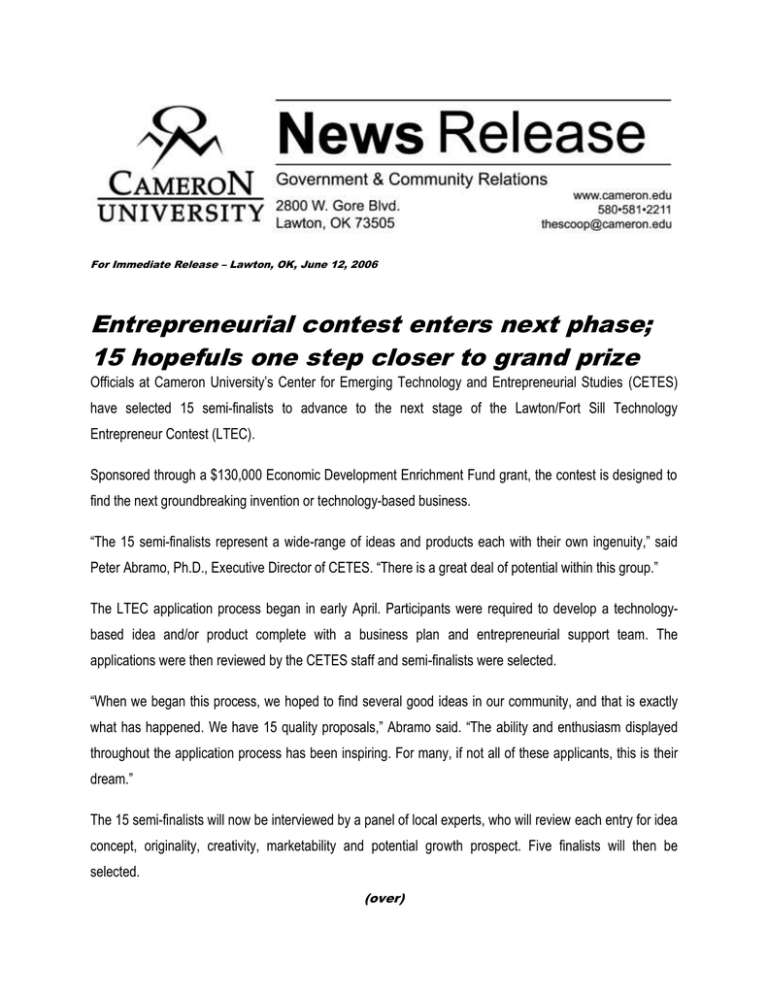 For Immediate Release – Lawton, OK, June 12, 2006
Entrepreneurial contest enters next phase;
15 hopefuls one step closer to grand prize
Officials at Cameron University's Center for Emerging Technology and Entrepreneurial Studies (CETES)
have selected 15 semi-finalists to advance to the next stage of the Lawton/Fort Sill Technology
Entrepreneur Contest (LTEC).
Sponsored through a $130,000 Economic Development Enrichment Fund grant, the contest is designed to
find the next groundbreaking invention or technology-based business.
"The 15 semi-finalists represent a wide-range of ideas and products each with their own ingenuity," said
Peter Abramo, Ph.D., Executive Director of CETES. "There is a great deal of potential within this group."
The LTEC application process began in early April. Participants were required to develop a technologybased idea and/or product complete with a business plan and entrepreneurial support team. The
applications were then reviewed by the CETES staff and semi-finalists were selected.
"When we began this process, we hoped to find several good ideas in our community, and that is exactly
what has happened. We have 15 quality proposals," Abramo said. "The ability and enthusiasm displayed
throughout the application process has been inspiring. For many, if not all of these applicants, this is their
dream."
The 15 semi-finalists will now be interviewed by a panel of local experts, who will review each entry for idea
concept, originality, creativity, marketability and potential growth prospect. Five finalists will then be
selected.
(over)
LTEC, ADD ONE
The grand prize entrepreneur will be announced at a banquet Thursday, June 29. To make reservations for
the awards banquet, call 580.581.5420.
Winners are eligible to receive free office space in the CETES incubator, intellectual property protection,
market research, marketing, business plan and prototype development, Web site creation, as well as
additional business development support. Total prize value for the winners equals more than $100,000.
"Selecting a winner will be difficult because of the level of excellence the entries exhibit," Abramo said. "In
the end, though, Southwest Oklahoma will be the winner, because each of these proposals has the
potential to spur economic development within the community."
CETES received the $130,000 Economic Development Enrichment Fund grant for the LTEC during the
spring 2006 semester from the Oklahoma State Regents for Higher Education. The grant, which is one of
only five awarded in Oklahoma, was part of a special initiative to support activities of economic, workforce
and community development initiatives that are within an institution's strategic plan.
– 30 –
PR# 06-098
Editors and Broadcasters: For more information, contact CU Government & Community Relations at
580.581.2211.