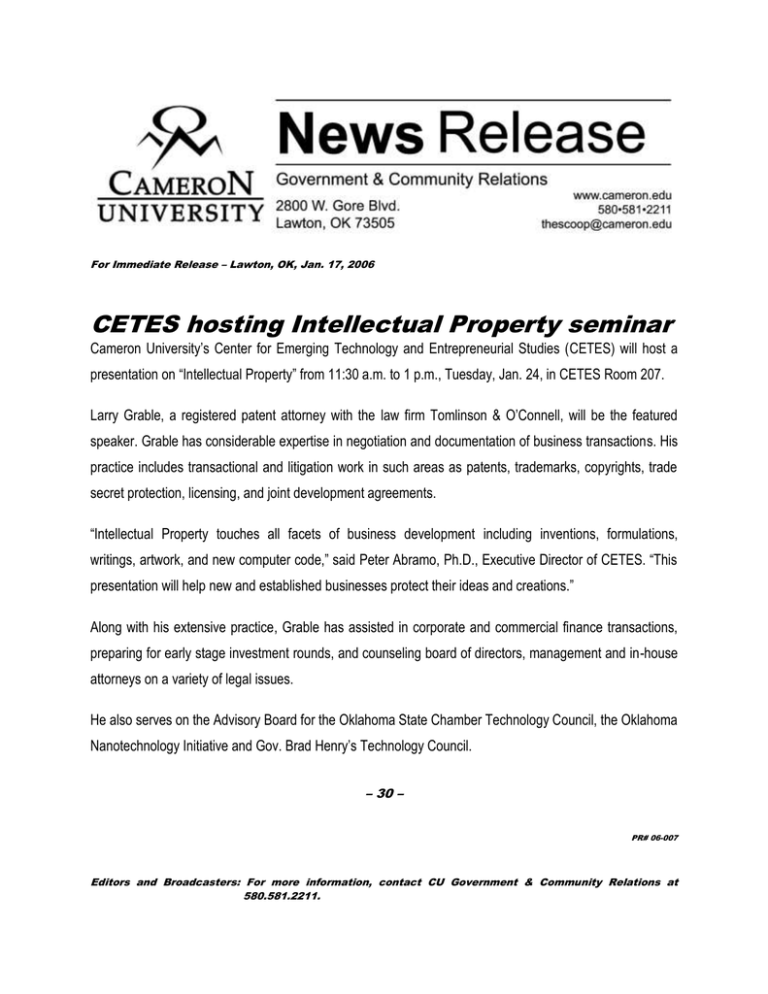 For Immediate Release – Lawton, OK, Jan. 17, 2006
CETES hosting Intellectual Property seminar
Cameron University's Center for Emerging Technology and Entrepreneurial Studies (CETES) will host a
presentation on "Intellectual Property" from 11:30 a.m. to 1 p.m., Tuesday, Jan. 24, in CETES Room 207.
Larry Grable, a registered patent attorney with the law firm Tomlinson & O'Connell, will be the featured
speaker. Grable has considerable expertise in negotiation and documentation of business transactions. His
practice includes transactional and litigation work in such areas as patents, trademarks, copyrights, trade
secret protection, licensing, and joint development agreements.
"Intellectual Property touches all facets of business development including inventions, formulations,
writings, artwork, and new computer code," said Peter Abramo, Ph.D., Executive Director of CETES. "This
presentation will help new and established businesses protect their ideas and creations."
Along with his extensive practice, Grable has assisted in corporate and commercial finance transactions,
preparing for early stage investment rounds, and counseling board of directors, management and in-house
attorneys on a variety of legal issues.
He also serves on the Advisory Board for the Oklahoma State Chamber Technology Council, the Oklahoma
Nanotechnology Initiative and Gov. Brad Henry's Technology Council.
– 30 –
PR# 06-007
Editors and Broadcasters: For more information, contact CU Government & Community Relations at
580.581.2211.