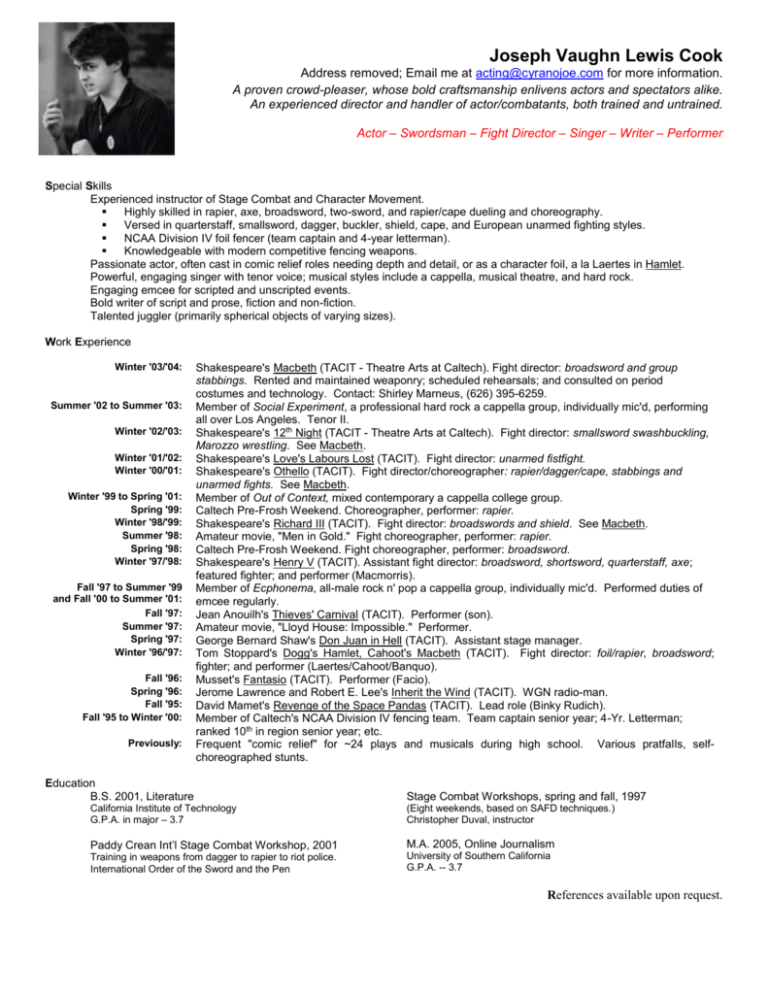 Joseph Vaughn Lewis Cook
Address removed; Email me at acting@cyranojoe.com for more information.
A proven crowd-pleaser, whose bold craftsmanship enlivens actors and spectators alike.
An experienced director and handler of actor/combatants, both trained and untrained.
Actor – Swordsman – Fight Director – Singer – Writer – Performer
Special Skills
Experienced instructor of Stage Combat and Character Movement.

Highly skilled in rapier, axe, broadsword, two-sword, and rapier/cape dueling and choreography.

Versed in quarterstaff, smallsword, dagger, buckler, shield, cape, and European unarmed fighting styles.

NCAA Division IV foil fencer (team captain and 4-year letterman).

Knowledgeable with modern competitive fencing weapons.
Passionate actor, often cast in comic relief roles needing depth and detail, or as a character foil, a la Laertes in Hamlet.
Powerful, engaging singer with tenor voice; musical styles include a cappella, musical theatre, and hard rock.
Engaging emcee for scripted and unscripted events.
Bold writer of script and prose, fiction and non-fiction.
Talented juggler (primarily spherical objects of varying sizes).
Work Experience
Winter '03/'04:
Summer '02 to Summer '03:
Winter '02/'03:
Winter '01/'02:
Winter '00/'01:
Winter '99 to Spring '01:
Spring '99:
Winter '98/'99:
Summer '98:
Spring '98:
Winter '97/'98:
Fall '97 to Summer '99
and Fall '00 to Summer '01:
Fall '97:
Summer '97:
Spring '97:
Winter '96/'97:
Fall '96:
Spring '96:
Fall '95:
Fall '95 to Winter '00:
Previously:
Shakespeare's Macbeth (TACIT - Theatre Arts at Caltech). Fight director: broadsword and group
stabbings. Rented and maintained weaponry; scheduled rehearsals; and consulted on period
costumes and technology. Contact: Shirley Marneus, (626) 395-6259.
Member of Social Experiment, a professional hard rock a cappella group, individually mic'd, performing
all over Los Angeles. Tenor II.
Shakespeare's 12th Night (TACIT - Theatre Arts at Caltech). Fight director: smallsword swashbuckling,
Marozzo wrestling. See Macbeth.
Shakespeare's Love's Labours Lost (TACIT). Fight director: unarmed fistfight.
Shakespeare's Othello (TACIT). Fight director/choreographer: rapier/dagger/cape, stabbings and
unarmed fights. See Macbeth.
Member of Out of Context, mixed contemporary a cappella college group.
Caltech Pre-Frosh Weekend. Choreographer, performer: rapier.
Shakespeare's Richard III (TACIT). Fight director: broadswords and shield. See Macbeth.
Amateur movie, "Men in Gold." Fight choreographer, performer: rapier.
Caltech Pre-Frosh Weekend. Fight choreographer, performer: broadsword.
Shakespeare's Henry V (TACIT). Assistant fight director: broadsword, shortsword, quarterstaff, axe;
featured fighter; and performer (Macmorris).
Member of Ecphonema, all-male rock n' pop a cappella group, individually mic'd. Performed duties of
emcee regularly.
Jean Anouilh's Thieves' Carnival (TACIT). Performer (son).
Amateur movie, "Lloyd House: Impossible." Performer.
George Bernard Shaw's Don Juan in Hell (TACIT). Assistant stage manager.
Tom Stoppard's Dogg's Hamlet, Cahoot's Macbeth (TACIT). Fight director: foil/rapier, broadsword;
fighter; and performer (Laertes/Cahoot/Banquo).
Musset's Fantasio (TACIT). Performer (Facio).
Jerome Lawrence and Robert E. Lee's Inherit the Wind (TACIT). WGN radio-man.
David Mamet's Revenge of the Space Pandas (TACIT). Lead role (Binky Rudich).
Member of Caltech's NCAA Division IV fencing team. Team captain senior year; 4-Yr. Letterman;
ranked 10th in region senior year; etc.
Frequent "comic relief" for ~24 plays and musicals during high school. Various pratfalls, selfchoreographed stunts.
Education
B.S. 2001, Literature
Stage Combat Workshops, spring and fall, 1997
California Institute of Technology
G.P.A. in major – 3.7
(Eight weekends, based on SAFD techniques.)
Christopher Duval, instructor
Paddy Crean Int'l Stage Combat Workshop, 2001
M.A. 2005, Online Journalism
Training in weapons from dagger to rapier to riot police.
International Order of the Sword and the Pen
University of Southern California
G.P.A. -- 3.7
References available upon request.