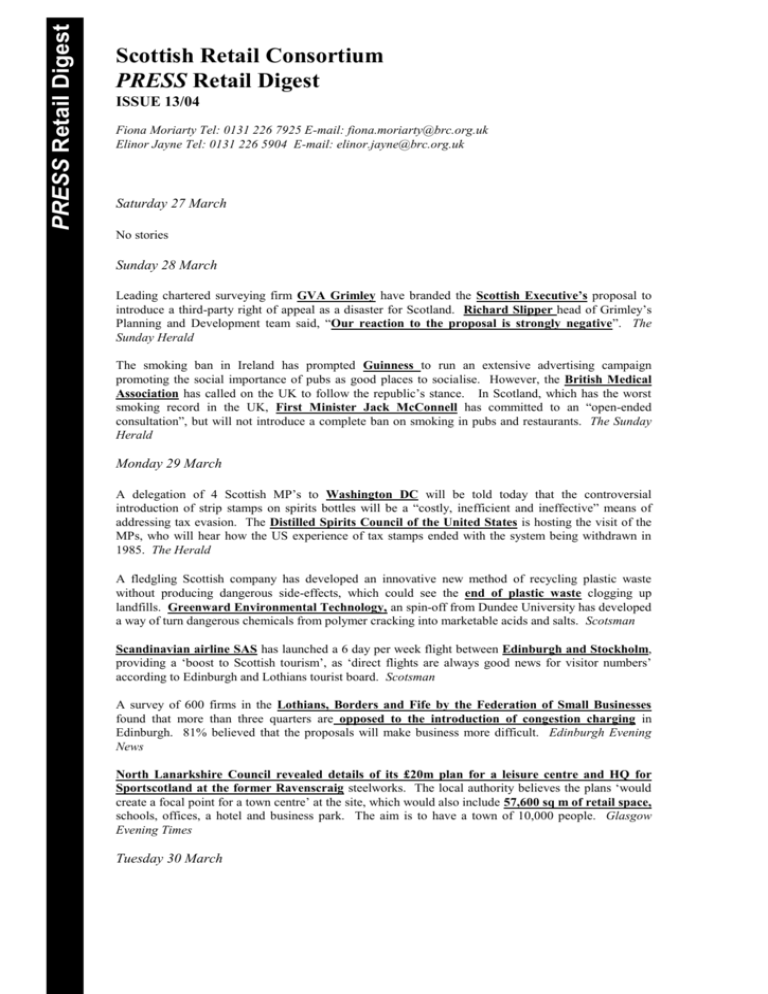 PRESS Retail Digest
Scottish Retail Consortium
PRESS Retail Digest
ISSUE 13/04
Fiona Moriarty Tel: 0131 226 7925 E-mail: fiona.moriarty@brc.org.uk
Elinor Jayne Tel: 0131 226 5904 E-mail: elinor.jayne@brc.org.uk
Saturday 27 March
No stories
Sunday 28 March
Leading chartered surveying firm GVA Grimley have branded the Scottish Executive's proposal to
introduce a third-party right of appeal as a disaster for Scotland. Richard Slipper head of Grimley's
Planning and Development team said, "Our reaction to the proposal is strongly negative". The
Sunday Herald
The smoking ban in Ireland has prompted Guinness to run an extensive advertising campaign
promoting the social importance of pubs as good places to socialise. However, the British Medical
Association has called on the UK to follow the republic's stance. In Scotland, which has the worst
smoking record in the UK, First Minister Jack McConnell has committed to an "open-ended
consultation", but will not introduce a complete ban on smoking in pubs and restaurants. The Sunday
Herald
Monday 29 March
A delegation of 4 Scottish MP's to Washington DC will be told today that the controversial
introduction of strip stamps on spirits bottles will be a "costly, inefficient and ineffective" means of
addressing tax evasion. The Distilled Spirits Council of the United States is hosting the visit of the
MPs, who will hear how the US experience of tax stamps ended with the system being withdrawn in
1985. The Herald
A fledgling Scottish company has developed an innovative new method of recycling plastic waste
without producing dangerous side-effects, which could see the end of plastic waste clogging up
landfills. Greenward Environmental Technology, an spin-off from Dundee University has developed
a way of turn dangerous chemicals from polymer cracking into marketable acids and salts. Scotsman
Scandinavian airline SAS has launched a 6 day per week flight between Edinburgh and Stockholm,
providing a 'boost to Scottish tourism', as 'direct flights are always good news for visitor numbers'
according to Edinburgh and Lothians tourist board. Scotsman
A survey of 600 firms in the Lothians, Borders and Fife by the Federation of Small Businesses
found that more than three quarters are opposed to the introduction of congestion charging in
Edinburgh. 81% believed that the proposals will make business more difficult. Edinburgh Evening
News
North Lanarkshire Council revealed details of its £20m plan for a leisure centre and HQ for
Sportscotland at the former Ravenscraig steelworks. The local authority believes the plans 'would
create a focal point for a town centre' at the site, which would also include 57,600 sq m of retail space,
schools, offices, a hotel and business park. The aim is to have a town of 10,000 people. Glasgow
Evening Times
Tuesday 30 March
PRESS Retail Digest
Scottish Retail Consortium
PRESS Retail Digest
ISSUE 13/04
Fiona Moriarty Tel: 0131 226 7925 E-mail: fiona.moriarty@brc.org.uk
Elinor Jayne Tel: 0131 226 5904 E-mail: elinor.jayne@brc.org.uk
Ireland became the first country in Western Europe to ban smoking 'in all but a handful of
workplaces' at midnight on Sunday. Ireland's Health Minister Michael Martin said he has 'no doubt
the same level of support for the ban in Ireland exists in Scotland'. Herald
The Deputy Environment and Rural Development Minister Allan Wilson MSP opened
Arbroath's first smokie processing plant, after centuries as a cottage industry. The EU has granted
Protected Geographical Status for Arbroath Smokies, meaning that nowhere more than 5 miles from the
town can use the name. Herald
Irn Bru manufacturer AG Barr revealed profit growth of 13% last year to the city, the first time
the company has openly announced its results. Profits were driven by increasing margins as a result of
cost controls. Herald
Glasgow and Edinburgh are joining forces to attract tourists from New York during Tartan Week
from 6 April. 'Scotland Starts Here' materials on Glasgow's new marketing campaign and the
Edinburgh festivals will be handed out to passers by in Central Park. Edinburgh Evening News
Wednesday 31 March
Consultants advising Borders Council are recommending a site in the St Boswells area for a new
town of 1300 houses. This and another proposed site near Abbotsford are being included in a draft
development plan for public debate. Scotsman
Scots are spending 80% more on fast food than 10 years ago, but spending on fitness in the same
period has grown by 179%. Analysts fear we are becoming more like Americans who over-eat and the
work off the calories in the gym the following day. Herald
East Kilbride milk producer Robert Wiseman Dairies has secured a deal with Tesco in south east
England, giving the dairy a £15m - £20m annual sales increase. Herald
David Martin, the senior Labour Scottish MEP has been reported to the secretary general of the
European Parliament by the General Secretary of the Labour Party, after receiving paperwork
regarding 'improper use of resources within his European parliamentary office'. Herald
A decision on whether a new supermarket will be built in Huntly has been deferred until May by
Aberdeenshire Council. Planners recommended the proposal by Cairnwood for a new store but
councillors want to make site visits before deciding. Aberdeen Press & Journal
A 'Don't Rubbish Renfrewshire' campaign has been launched with £1m of funding from the
Scottish Executive, to try and prevent people from dropping litter. Streets are also going to be cleaned
up in Paisley and open spaces, tenement closes and gardens are also going to be 'spring-cleaned'.
Glasgow Evening Times
Stores in Edinburgh's Corstorphine area which have lost sales to the Gyle shopping centre are
banding together to promote a heritage trail of important local sites, and shops will receive the
Corstorphine Heritage Trail logo in an effort to 'revive the fortunes of St John's Road'. Marks &
Spencer has donated £53,000 to the project after opening a store in the Gyle. Edinburgh Evening News
Thursday 1 April
PRESS Retail Digest
Scottish Retail Consortium
PRESS Retail Digest
ISSUE 13/04
Fiona Moriarty Tel: 0131 226 7925 E-mail: fiona.moriarty@brc.org.uk
Elinor Jayne Tel: 0131 226 5904 E-mail: elinor.jayne@brc.org.uk
Deputy Enterprise Minister Lewis Macdonald MSP said the Chancellor's decision on whisky duty
strips was 'disappointing' and said that the Treasury was aware of the Scottish Executive's views on
the matter. Scotsman
Dr Jon Hargreaves, the chief exec of Scottish Water said that there will be no reason for water
rates bills to increase more than the rate of the inflation in the future. The organisation is now on in
line to meet tough targets of modernisation set by the Scottish Executive, and Hargreaves said it is his
mission to make the public sector model as efficient as any other in the water industry. Scotsman
Financial and business advisers Grant Thornton have warned that consumer credit is 'leading to
more Scots going bust than ever before', with an increase of individuals in Scotland being declared
bankrupt of 10% from 2002 to 2003. They also warned the debts are getting larger and the individuals
are getting younger. Herald
The owner of Mackenzie and Cruickshank garden centre in Forres has been told that his
application to devote 20% of his floorspace to non-garden items has been rejected. This is despite
Peter Wilson carrying out his own retail impact assessment, but officials think it would 'create a
precedent for out of centre retailing'. The business was bought last year and one of the conditions was
to limit the stock to 'garden-related items'. Aberdeen Press & Journal
Friday 2 April
CBI condemned a Scottish Executive consultation on third party rights to appeal in the planning
system as an 'April Fools Joke' whilst the Scottish Retail Consortium said it 'would slow down the
planning system even further and therefore damage Scotland's economy'. Herald
Communities Minister Margaret Curran said the consultation on third party rights to appeal
'would be genuinely neutral' but SRC Director Fiona Moriarty said there are other issues facing the
planning system. She said: 'Too often planning officials are left to deal with neighbour disputes, when
they should be consulting the community'. Daily Record
A traditional brush shop in Edinburgh's old town is on the market after 130 years of business,
citing 'competition from supermarkets and parking difficulties'. Herald
A new discount retail store owned by the garden centre chain Dobbies is to be opened by Angus
Provost Bill Middleton on Sunday. The store located at an old small Dobbies garden centre in
Ethiebeaton Park, Monifieth, has created 30 jobs and will stock a mix of food, kitchen, clothing and
other produce from many Scottish suppliers. Aberdeen Press & Journal
Safeway in Partick are removing facilities for the recycling of glass, paper and plastic following
complaints from neighbours about mess and noise. Customers will still be able to recycle aluminium
cans and plastic bags. Glasgow Evening Times
The information contained in this publication is for general guidance only. You should
neither act, nor refrain from action, on the basis of any such information. Whilst the SRC
endeavours to ensure that the information in this publication is accurate the SRC shall not
be liable for any damages (including without limitation, damages for loss of business or
loss of profits) arising in contract, tort or otherwise from this publication or any
information contained in it, or from any action or decision taken as a result of reading this
publication or any such information.