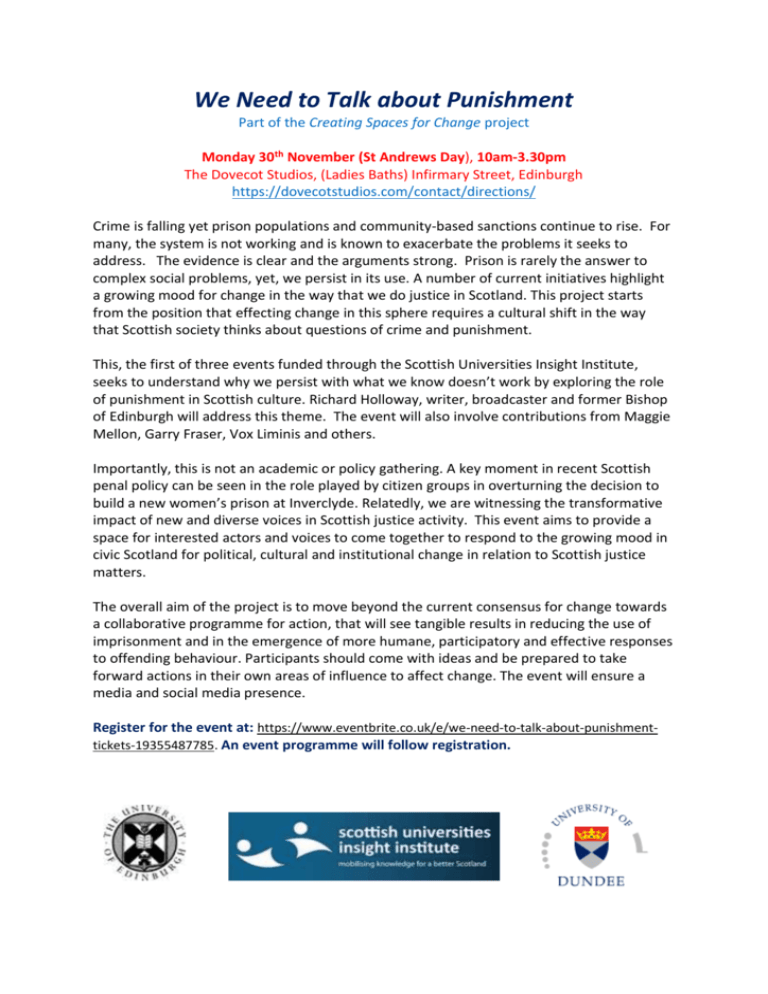 We Need to Talk about Punishment
Part of the Creating Spaces for Change project
Monday 30th November (St Andrews Day), 10am-3.30pm
The Dovecot Studios, (Ladies Baths) Infirmary Street, Edinburgh
https://dovecotstudios.com/contact/directions/
Crime is falling yet prison populations and community-based sanctions continue to rise. For
many, the system is not working and is known to exacerbate the problems it seeks to
address. The evidence is clear and the arguments strong. Prison is rarely the answer to
complex social problems, yet, we persist in its use. A number of current initiatives highlight
a growing mood for change in the way that we do justice in Scotland. This project starts
from the position that effecting change in this sphere requires a cultural shift in the way
that Scottish society thinks about questions of crime and punishment.
This, the first of three events funded through the Scottish Universities Insight Institute,
seeks to understand why we persist with what we know doesn't work by exploring the role
of punishment in Scottish culture. Richard Holloway, writer, broadcaster and former Bishop
of Edinburgh will address this theme. The event will also involve contributions from Maggie
Mellon, Garry Fraser, Vox Liminis and others.
Importantly, this is not an academic or policy gathering. A key moment in recent Scottish
penal policy can be seen in the role played by citizen groups in overturning the decision to
build a new women's prison at Inverclyde. Relatedly, we are witnessing the transformative
impact of new and diverse voices in Scottish justice activity. This event aims to provide a
space for interested actors and voices to come together to respond to the growing mood in
civic Scotland for political, cultural and institutional change in relation to Scottish justice
matters.
The overall aim of the project is to move beyond the current consensus for change towards
a collaborative programme for action, that will see tangible results in reducing the use of
imprisonment and in the emergence of more humane, participatory and effective responses
to offending behaviour. Participants should come with ideas and be prepared to take
forward actions in their own areas of influence to affect change. The event will ensure a
media and social media presence.
Register for the event at: https://www.eventbrite.co.uk/e/we-need-to-talk-about-punishmenttickets-19355487785. An event programme will follow registration.