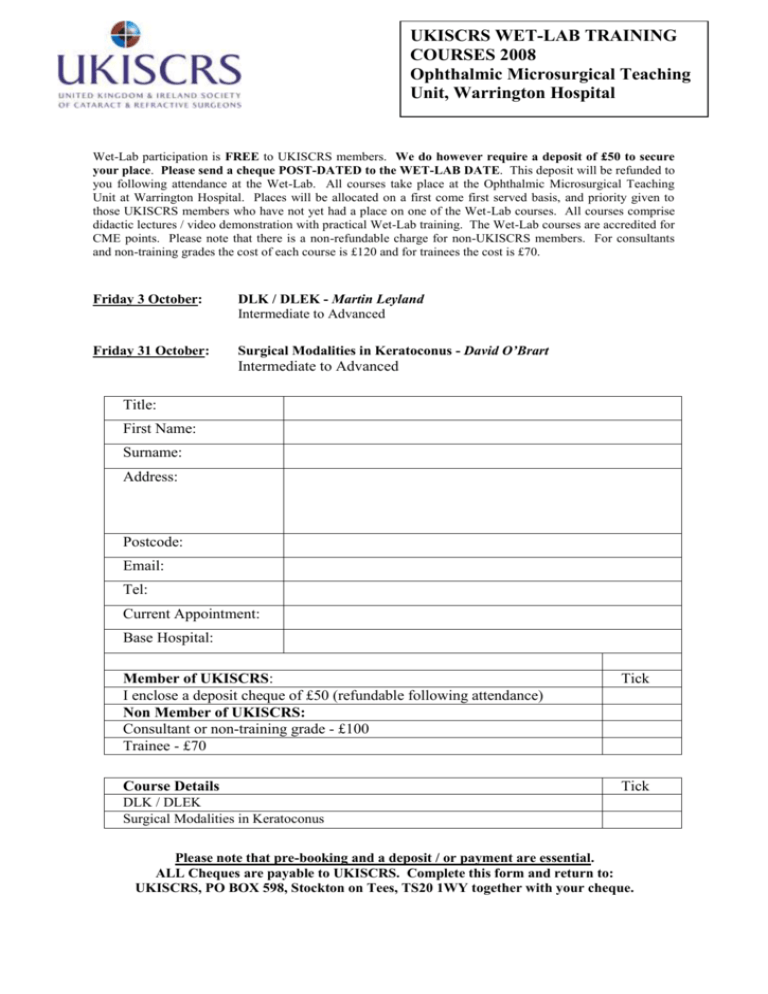 UKISCRS WET-LAB TRAINING
COURSES 2008
Ophthalmic Microsurgical Teaching
Unit, Warrington Hospital
Wet-Lab participation is FREE to UKISCRS members. We do however require a deposit of £50 to secure
your place. Please send a cheque POST-DATED to the WET-LAB DATE. This deposit will be refunded to
you following attendance at the Wet-Lab. All courses take place at the Ophthalmic Microsurgical Teaching
Unit at Warrington Hospital. Places will be allocated on a first come first served basis, and priority given to
those UKISCRS members who have not yet had a place on one of the Wet-Lab courses. All courses comprise
didactic lectures / video demonstration with practical Wet-Lab training. The Wet-Lab courses are accredited for
CME points. Please note that there is a non-refundable charge for non-UKISCRS members. For consultants
and non-training grades the cost of each course is £120 and for trainees the cost is £70.
Friday 3 October:
DLK / DLEK - Martin Leyland
Intermediate to Advanced
Friday 31 October:
Surgical Modalities in Keratoconus - David O'Brart
Intermediate to Advanced
Title:
First Name:
Surname:
Address:
Postcode:
Email:
Tel:
Current Appointment:
Base Hospital:
Member of UKISCRS:
I enclose a deposit cheque of £50 (refundable following attendance)
Non Member of UKISCRS:
Consultant or non-training grade - £100
Trainee - £70
Tick
Course Details
Tick
DLK / DLEK
Surgical Modalities in Keratoconus
Please note that pre-booking and a deposit / or payment are essential.
ALL Cheques are payable to UKISCRS. Complete this form and return to:
UKISCRS, PO BOX 598, Stockton on Tees, TS20 1WY together with your cheque.