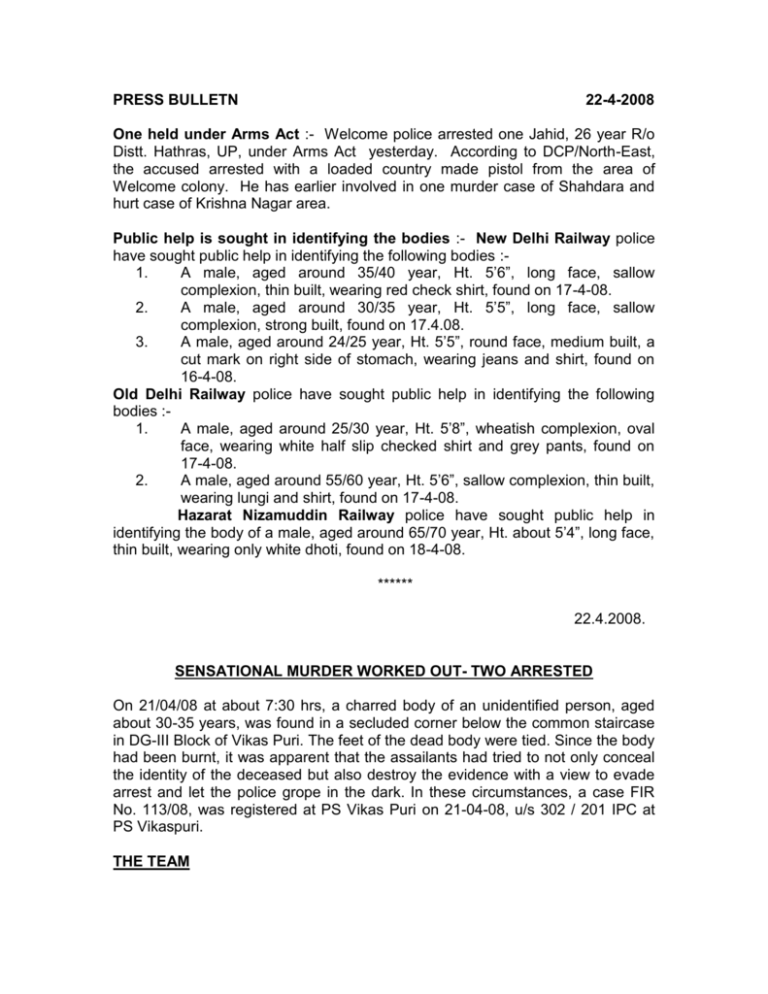 PRESS BULLETN
22-4-2008
One held under Arms Act :- Welcome police arrested one Jahid, 26 year R/o
Distt. Hathras, UP, under Arms Act yesterday. According to DCP/North-East,
the accused arrested with a loaded country made pistol from the area of
Welcome colony. He has earlier involved in one murder case of Shahdara and
hurt case of Krishna Nagar area.
Public help is sought in identifying the bodies :- New Delhi Railway police
have sought public help in identifying the following bodies :1.
A male, aged around 35/40 year, Ht. 5'6", long face, sallow
complexion, thin built, wearing red check shirt, found on 17-4-08.
2.
A male, aged around 30/35 year, Ht. 5'5", long face, sallow
complexion, strong built, found on 17.4.08.
3.
A male, aged around 24/25 year, Ht. 5'5", round face, medium built, a
cut mark on right side of stomach, wearing jeans and shirt, found on
16-4-08.
Old Delhi Railway police have sought public help in identifying the following
bodies :1.
A male, aged around 25/30 year, Ht. 5'8", wheatish complexion, oval
face, wearing white half slip checked shirt and grey pants, found on
17-4-08.
2.
A male, aged around 55/60 year, Ht. 5'6", sallow complexion, thin built,
wearing lungi and shirt, found on 17-4-08.
Hazarat Nizamuddin Railway police have sought public help in
identifying the body of a male, aged around 65/70 year, Ht. about 5'4", long face,
thin built, wearing only white dhoti, found on 18-4-08.
******
22.4.2008.
SENSATIONAL MURDER WORKED OUT- TWO ARRESTED
On 21/04/08 at about 7:30 hrs, a charred body of an unidentified person, aged
about 30-35 years, was found in a secluded corner below the common staircase
in DG-III Block of Vikas Puri. The feet of the dead body were tied. Since the body
had been burnt, it was apparent that the assailants had tried to not only conceal
the identity of the deceased but also destroy the evidence with a view to evade
arrest and let the police grope in the dark. In these circumstances, a case FIR
No. 113/08, was registered at PS Vikas Puri on 21-04-08, u/s 302 / 201 IPC at
PS Vikaspuri.
THE TEAM
A Team headed by Sh. A. K. Lall, ACP Punjabi Bagh, SHO Vikas Puri and others
was formed to solve this gruesome murder which had sent panic waves among
the local residents. The first and foremost task of the team was to establish the
identity of the deceased so that further clues about identity of the criminals could
be gathered. The location of the crime spot was such that no outsider could dare
to commit such an offence at this spot which led the police to conclude that this
crime must have been committed by someone who is either a resident of this
locality or has access to any of the house in the locality. Thorough enquiry was
conducted in the DG-III Block of Vikaspuri and every household was questioned.
During the course of enquiry, it was revealed that a young boy of ill repute used
to visit house No. DG-III/98, Vikaspuri i.e. the house just above the crime spot.
Sh. R. K. Verma, a resident of the same block revealed that H.No. DG-III/98 was
lying locked for the last 5/6 years. This aroused the suspicion of the police. The
police managed to open H. No. DG-III/98 and was surprised to find therein blood
spots and signs of scuffle. Some fresh foot prints were also noticed. The next
task of the police now was to find out whereabouts of the owner of the flat No.
DG-III/98 so that it could be known who was having access to this flat. The hard
work of the police team paid dividends and it was learnt that one Ramrati @
Rama widow of Late Jai Parkash r/o Nehru Vihar, Timarpur and Gajender Singh
s/o Khetal Singh r/o Nehru Vihar, Timarpur had access to this flat. Teams were
dispatched to several parts of Delhi. And the police team was finally able to nab
above named Ramrati @ Rama and Gajender Singh from Timarpur area of North
Delhi. On sustained interrogation, both of them confessed having committed this
crime and further disclosed that the deceased was Prem Raj, brother-inlaw(Devar) of Ramrati @ Rama who not only objected to illicit relations between
Ramrati and Gajender Singh but also threatened to expose them among all
relatives.
THE MOTIVE
The deceased Prem Raj, who was working with Car Showroom in Peeragarhi
area, had objections to the illicit relations between accused Gajender Singh and
Ramrati @ Rama. He was eliminated by the duo so that there illicit affair could
continue smoothly without any chance of getting exposed.
THE PLAN AND IT'S EXECUTION
On sustained interrogation, the accused revealed that on 20/04/08, when Prem
Raj contacted Ramrati, as per plan of Gajender and Ramrati, she called Prem
Raj in DG-III/98 and once inside the house, Ramrati give him sleeping pills mixed
in lassi, which she had brought with her as per their plan. When Prem Raj went
dozing off under the influence of sleeping pills, Gajender Singh entered the
house and killed him with a knife. After committing murder, the duo left the dead
body in the flat and came back home but they decided to return to DG-III/98 as
they thought that if the dead body remained in DG-III/98, they could be caught
since foul smell would soon start emitting from the body and they were the only
ones having access to this flat. So, they came back to DG_III / 98 late in the
night, took the body out of the flat and placed it in one of the secluded corner
below the staircase. Subsequently, they burnt it by pouring petrol.
The identity of the deceased has been established with the help of his
relatives further investigations are on.
( SHARAD AGARWAL)
Dy. Commissioner of Police
West District, Delhi
PRESS RELEASE
NORTH DISTRICT
22nd April 2008
DUPLICATE CLUTCH AND PRESSURE PLATES OF TATA MOTORS
COMPANY WORTH LACS OF RUPEES RECOVERED : ONE ARRESTED
With the arrest of Sonu, aged 25 years s/o Fateh Shree r/o 107, Gali No. 7, A
Block, Shastri Park, Delhi, North District police has busted a racket involved in
manufacturing and sale of duplicate clutch and pressure plates of TATA Motors
and recovered 210 clutch plates and pressure plates worth lacs of rupees of Tata
Motors from their possession.
TEAM AND THE INCIDENT
A team consisting of SI Suneel Kumar, DIU/North, HC Hansraj, HC Nempal,
and Ct Hawa Singh was constituted under the close supervision of Sh. S. S.
Malik, ACP/Operations/North District, Delhi.
A specific information was received that one Zakir s/o Akhtar is involved in the
manufacturing / dealing and selling of spurious/counterfeit automotive parts
purportedly manufactured by M/s Tata Motors Ltd in Chabi Ganj, Kashmere Gate
area of North District.
The information was further developed and at about 4.15 PM on 21-04-2008
the police team of DIU/North District conducted a raid at shop No. 766, Chabi
Ganj, Kashmere Gate, Delhi and apprehended one person namely Sonu who
was fixing duplicate stamp of TATA on the plates. The search of the premises
was conducted and 210 duplicate clutch plates and pressure plates of Tata
Motors were recovered from the shop. A case under Copy Right Act was
registered at PS Kashmere Gate and the investigation was taken up.
INVESTIGATION AND THE INTERROGATION
During sustained interrogation, accused Sonu disclosed that the premises
belongs to one Zakir and he is employed with him for last six months and is
indulging in the illegal manufacturing of TATA Motors products. These products
are thereafter sold in the retail market in Kashmere Gate itself.
Further investigation / interrogation is in progress and efforts are on to arrest
the main accused.
RECOVERY
1. 210 clutch plates and pressure plates of TATA Motors
(DEVESH CHANDRA SRIVASTVA)
DY. COMMISSIONER OF POLCE,
NORTH DISTRICT, DELHI
PRESS RELEASE
ECONOMIC OFFENCES WING
CRIME BRANCH
22th
APRIL 2008
Total 9241 NCERT duplicate books of classes 6th, 7th, 8th, 9th, 10th, 11th and
12th of various subjects were recovered. The raid was conducted on a specific
information / complaint of sale of duplicate NCERT BOOKS. The officials of
NCERT accompanied the raiding party. The recovery was made from shop cum
godown of Naresh Kumar & Anand Kumar in the locality of Ansari Road, Darya
Ganj, Delhi. In this case Naresh Kumar of Hiteshi Publishers was arrested under
Copy Right Act and Anand Kumar of Anand Book Depot is absconding.
The raid was conducted by IPR Section of Economic Offences Wing, Crime
Branch, New Delhi.
[ S.B.K. SINGH ]
ADDL. COMMISSIONER OF POLICE
ECONOMIC OFFENCES WING,
CRIME BRANCH, NEW DELHI.