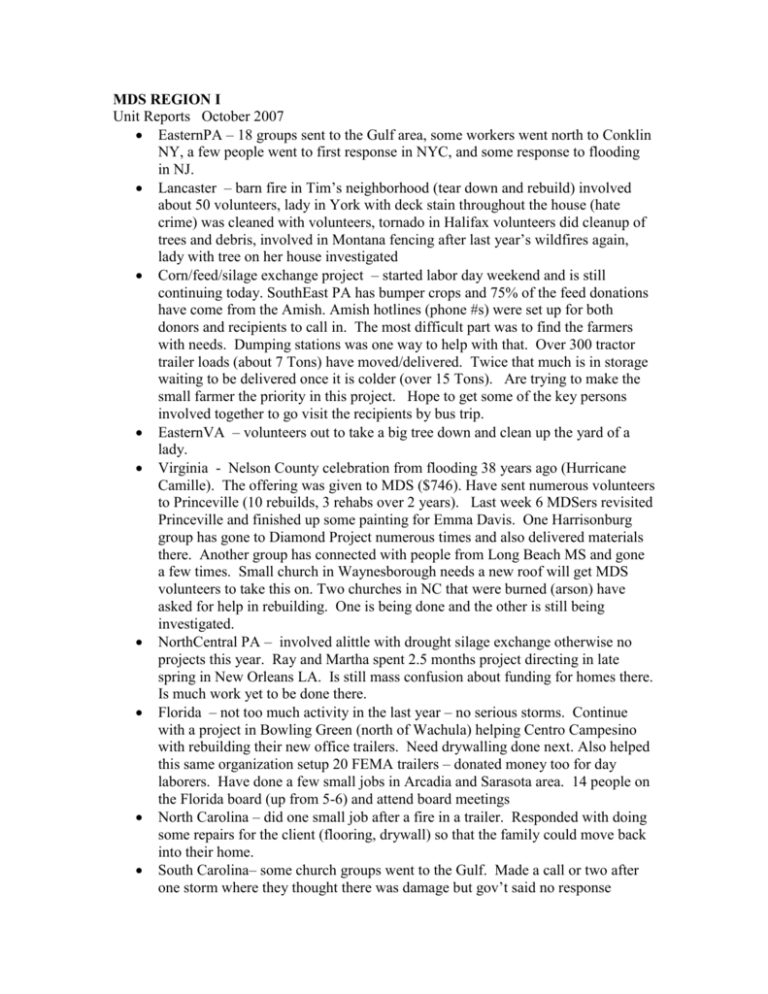 MDS REGION I
Unit Reports October 2007
 EasternPA – 18 groups sent to the Gulf area, some workers went north to Conklin
NY, a few people went to first response in NYC, and some response to flooding
in NJ.
 Lancaster – barn fire in Tim's neighborhood (tear down and rebuild) involved
about 50 volunteers, lady in York with deck stain throughout the house (hate
crime) was cleaned with volunteers, tornado in Halifax volunteers did cleanup of
trees and debris, involved in Montana fencing after last year's wildfires again,
lady with tree on her house investigated
 Corn/feed/silage exchange project – started labor day weekend and is still
continuing today. SouthEast PA has bumper crops and 75% of the feed donations
have come from the Amish. Amish hotlines (phone #s) were set up for both
donors and recipients to call in. The most difficult part was to find the farmers
with needs. Dumping stations was one way to help with that. Over 300 tractor
trailer loads (about 7 Tons) have moved/delivered. Twice that much is in storage
waiting to be delivered once it is colder (over 15 Tons). Are trying to make the
small farmer the priority in this project. Hope to get some of the key persons
involved together to go visit the recipients by bus trip.
 EasternVA – volunteers out to take a big tree down and clean up the yard of a
lady.
 Virginia - Nelson County celebration from flooding 38 years ago (Hurricane
Camille). The offering was given to MDS ($746). Have sent numerous volunteers
to Princeville (10 rebuilds, 3 rehabs over 2 years). Last week 6 MDSers revisited
Princeville and finished up some painting for Emma Davis. One Harrisonburg
group has gone to Diamond Project numerous times and also delivered materials
there. Another group has connected with people from Long Beach MS and gone
a few times. Small church in Waynesborough needs a new roof will get MDS
volunteers to take this on. Two churches in NC that were burned (arson) have
asked for help in rebuilding. One is being done and the other is still being
investigated.
 NorthCentral PA – involved alittle with drought silage exchange otherwise no
projects this year. Ray and Martha spent 2.5 months project directing in late
spring in New Orleans LA. Is still mass confusion about funding for homes there.
Is much work yet to be done there.
 Florida – not too much activity in the last year – no serious storms. Continue
with a project in Bowling Green (north of Wachula) helping Centro Campesino
with rebuilding their new office trailers. Need drywalling done next. Also helped
this same organization setup 20 FEMA trailers – donated money too for day
laborers. Have done a few small jobs in Arcadia and Sarasota area. 14 people on
the Florida board (up from 5-6) and attend board meetings
 North Carolina – did one small job after a fire in a trailer. Responded with doing
some repairs for the client (flooring, drywall) so that the family could move back
into their home.
 South Carolina– some church groups went to the Gulf. Made a call or two after
one storm where they thought there was damage but gov't said no response



needed. Built a garage for a lady through his church. Have no Unit chair right
now. A goal is to meet with all SC CCPs and another goal is get a first response
trailer ready for the area.
New York – work in Ft Plains first after June 2006 flooding and then Jan 2007
started in Conklin NY. Over 700 volunteers and worked for 30 clients. Work
continues on in Conklin for day workers under Council of Churches. Lodging has
to be found on your own. In Feb 2007 it snowed excessive amounts and the
Weaverland group shoveled snow for over a week (off roofs etc). One house got
a new roof.
Delmarva – no report by representative.
New England, Washington, Georgia, Cumberland Valley, Western PA not
represented.