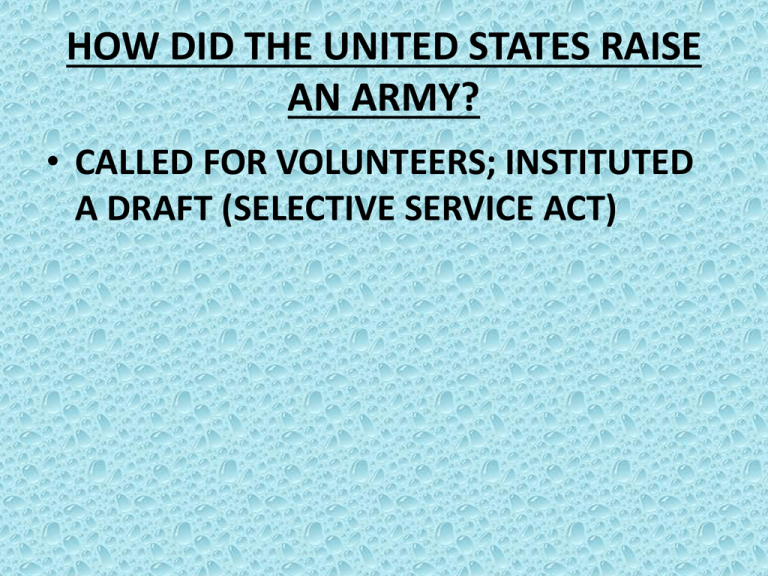 HOW DID THE UNITED STATES RAISE
AN ARMY?
• CALLED FOR VOLUNTEERS; INSTITUTED
A DRAFT (SELECTIVE SERVICE ACT)
HOW DID U.S. SOLDIERS HELP WIN
THE WAR?
• BROUGHT FRESHNESS AND
ENTHUSAISM; HELPED STOP GERMAN
ADVANCES ON PARIS AND SEVERAL
OTHER FRENCH CITIES; HELPED WIN THE
SECOND BATTLE OF THE MARNE;
MOUNTED OFFENSE AT ST. MIHIEL AND
MEUSE-ARGONE
HOW DID THE UNITED SATTES BUILD
ITS NAVAL FORCE?
• CALLED FOR VOLUNTEERS; INSTITUDED A DRAFT;
ACCEPTED WOMEN VOLUNTEERS; EXEMPTED
SHIPYARD WORKERS FROM THE DRAFT; RAN A
PUBLIC RELATIONS CAMPAIGN TO EMPHASIZE THE
IMPORTANCE OF SHIPYARD WORK; BEGAN USING
PREFABRICATION TO CONSTRUCT SHIPS; TOOK
OVER COMMERICAL AND PRIVATE SHIPS AND
CONVERTED THEM FOR WAR USE
HOW DID THE U.S. NAVY HELP WIN
THE WAR?
• BROKE THE GERMAN BLOCKADE BY
SUGGESTING THE CONVOY SYSTEM TO
THE BRITISH THEN PUTTING IT INTO
PRACTICE; HELPED LAY DOWN A
BARRIER OF MINES ACROSS THE NORTH
SEA
WHAT NEW WEAPONS OF
MECHANIZED WARFARE THREATENED
THOSE IN COMBAT?
• ZEPPLINS (GAS-FILLED AIRSHIPS); MACHINE
GUN; TUBES THAT SPEWED POSION GAS;
TANKS; AIRPLANES
WHAT DID THE WAR COST IN TERMS
OF THE NUMBER OF …
• CIVILIAN DEATHS
– MORE THAN 11 MILLION
• MILITARY DEATHS
– AROUND 11 MILLION
• INJURIES
– 20 MILLION
• REFUGEES
– 10 MILLION
WHAT WERE THE ESTIMATED
ECONOMIC COSTS?
• ABOUT $338 BILLION
ALVIN YORK
• DURING THE FIGHTING IN THE MEUSEARGONE AREA, YORK ARMED WITH ONLY A
RIFFLE AND A REVOLVER KILLED 25 GERMANS
AND CAPTURED 132 PRISONERS. HE WAS
VIEWED AS AN AMERICAN HERO OF WORLD
WAR I.