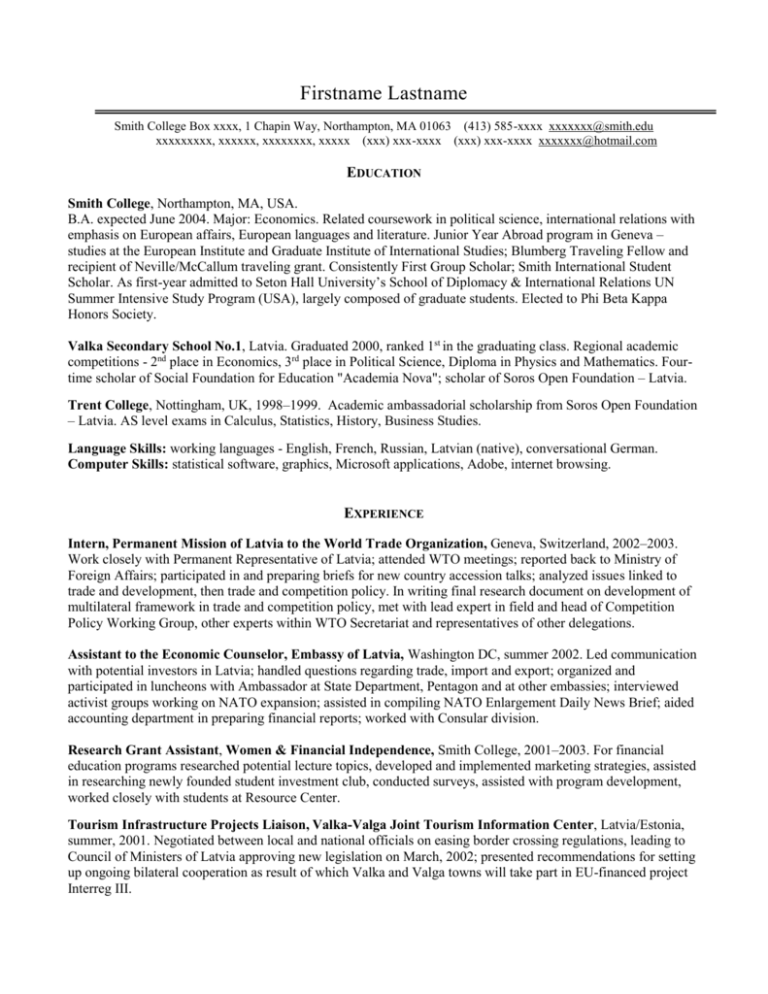 Firstname Lastname
Smith College Box xxxx, 1 Chapin Way, Northampton, MA 01063 (413) 585-xxxx [email protected]
xxxxxxxxx, xxxxxx, xxxxxxxx, xxxxx (xxx) xxx-xxxx (xxx) xxx-xxxx [email protected]
EDUCATION
Smith College, Northampton, MA, USA.
B.A. expected June 2004. Major: Economics. Related coursework in political science, international relations with
emphasis on European affairs, European languages and literature. Junior Year Abroad program in Geneva –
studies at the European Institute and Graduate Institute of International Studies; Blumberg Traveling Fellow and
recipient of Neville/McCallum traveling grant. Consistently First Group Scholar; Smith International Student
Scholar. As first-year admitted to Seton Hall University's School of Diplomacy & International Relations UN
Summer Intensive Study Program (USA), largely composed of graduate students. Elected to Phi Beta Kappa
Honors Society.
Valka Secondary School No.1, Latvia. Graduated 2000, ranked 1st in the graduating class. Regional academic
competitions - 2nd place in Economics, 3rd place in Political Science, Diploma in Physics and Mathematics. Fourtime scholar of Social Foundation for Education "Academia Nova"; scholar of Soros Open Foundation – Latvia.
Trent College, Nottingham, UK, 1998–1999. Academic ambassadorial scholarship from Soros Open Foundation
– Latvia. AS level exams in Calculus, Statistics, History, Business Studies.
Language Skills: working languages - English, French, Russian, Latvian (native), conversational German.
Computer Skills: statistical software, graphics, Microsoft applications, Adobe, internet browsing.
EXPERIENCE
Intern, Permanent Mission of Latvia to the World Trade Organization, Geneva, Switzerland, 2002–2003.
Work closely with Permanent Representative of Latvia; attended WTO meetings; reported back to Ministry of
Foreign Affairs; participated in and preparing briefs for new country accession talks; analyzed issues linked to
trade and development, then trade and competition policy. In writing final research document on development of
multilateral framework in trade and competition policy, met with lead expert in field and head of Competition
Policy Working Group, other experts within WTO Secretariat and representatives of other delegations.
Assistant to the Economic Counselor, Embassy of Latvia, Washington DC, summer 2002. Led communication
with potential investors in Latvia; handled questions regarding trade, import and export; organized and
participated in luncheons with Ambassador at State Department, Pentagon and at other embassies; interviewed
activist groups working on NATO expansion; assisted in compiling NATO Enlargement Daily News Brief; aided
accounting department in preparing financial reports; worked with Consular division.
Research Grant Assistant, Women & Financial Independence, Smith College, 2001–2003. For financial
education programs researched potential lecture topics, developed and implemented marketing strategies, assisted
in researching newly founded student investment club, conducted surveys, assisted with program development,
worked closely with students at Resource Center.
Tourism Infrastructure Projects Liaison, Valka-Valga Joint Tourism Information Center, Latvia/Estonia,
summer, 2001. Negotiated between local and national officials on easing border crossing regulations, leading to
Council of Ministers of Latvia approving new legislation on March, 2002; presented recommendations for setting
up ongoing bilateral cooperation as result of which Valka and Valga towns will take part in EU-financed project
Interreg III.
LEADERSHIP
Staff Member, International Students Pre-Orientation, Smith College, August, 2003 and 2001. Assisted in
preparing and leading week-long orientation program aiding around 80 incoming international students to adjust
to the US culture, become familiar with the US immigration, tax and other relevant legislation. Introduced them to
US college life, academic requirements, social and cultural environment.
Peer Advisor, Career Development Office, Smith College, 2001–2002. Assisted students with doing career
research, focusing and defining goals. Coordinated events as office liaison to 35 campus houses.
Youth Leader Lecturer, People's Party of Latvia Youth Organization, Latvia, summer 2003. Advocated
student involvement in community projects, giving lectures about youth leadership and educational opportunities
in Latvia and abroad. Encouraged discussion about educational opportunities upon entry to European Union;
lecturer at preparatory seminar "New Politics through Youth Politics".
Conference "Democratic Partners: US-Russia Student Leadership Summit", Stanford University, April 5–
12, 2002. Member of group of 16 American and Russian students discussing issues pertinent to US-Russia foreign
relations and democracy implications in Russia. Drafted follow-up project on minority integration in democratic
regimes working to improve the existing situation in Latvia.
Student Committee Member, Economics Department Decennial Review, Smith College, 2001–2002. Worked
to improve Economics academic curriculum; led student forums, conducted student surveys on student views of
the Economics major, analyzed data and made suggestions for department; assisted department chair in drafting
and compiling final report.
Board Member, Smith College Debate Society, 2000–2002. Actively participated in decision-making, worked
to improve communication from Board to novice members. On rotating basis led meetings and workshops,
prepared team for weekly tournaments.
Board Member, NGO "Youth for United Europe", Latvia, 1997–2001.Organized seminars, camps, publicity
campaigns for youth aged 15 – 25 and community about European Union issues and integration of society and
community building. Wrote project proposals and applied for funding from European Commission office,
European Integration Bureau, various embassies and consulates based in Latvia. Organized awareness days,
encouraging tolerance and understanding among national and ethnic groups in Latvia and neighboring countries.
Vice-President, Student Government Association, Valka Secondary School No.1., Latvia, 1999–2000, member
1997–2000. Organized meetings of SGA and students, teachers and parents and working groups relating to
current issues. In close cooperation with school Principle made suggestions and assisted in curriculum
improvements.
Assistant English Debate Coach, Valka Secondary School No.1, Latvia, 1997–2000. Prepared team for
tournaments; led workshops on public speaking, vocal ability, analytical skills and case construction; gave
feedback on tournament rounds and reported to high school Council; published articles in local press and raised
funds; selected to represent Latvia in the European debating championships, summer 2000.
Marketing Manager, Student Investment Fund "The Paragon Trust", UK, 1998–1999. Popularized fund
among student body and staff members; analyzed stock market daily; evaluated performance of current and
prospective assets; developed new unit price plan that increased number of student investors, oversaw
correspondence with shareholders.
OTHER INTERESTS AND ACTIVITIES
Encourage local community involvement by lecturing at my high-school, national-level youth organizations in
Latvia, the Social Foundation for Education "Adacemia Nova".
Head delegate for Smith delegation at collegiate Model UN conferences (Best Delegate award – Chicago
University Model UN, March, 2002, Honorable mention – University of Pennsylvania Model UN, October,
2003).
College JV tennis team, 125-mile canoeing marathon "Devizes to Westminster", UK, the violin player in college
orchestra.
Passion for theater and choral singing.