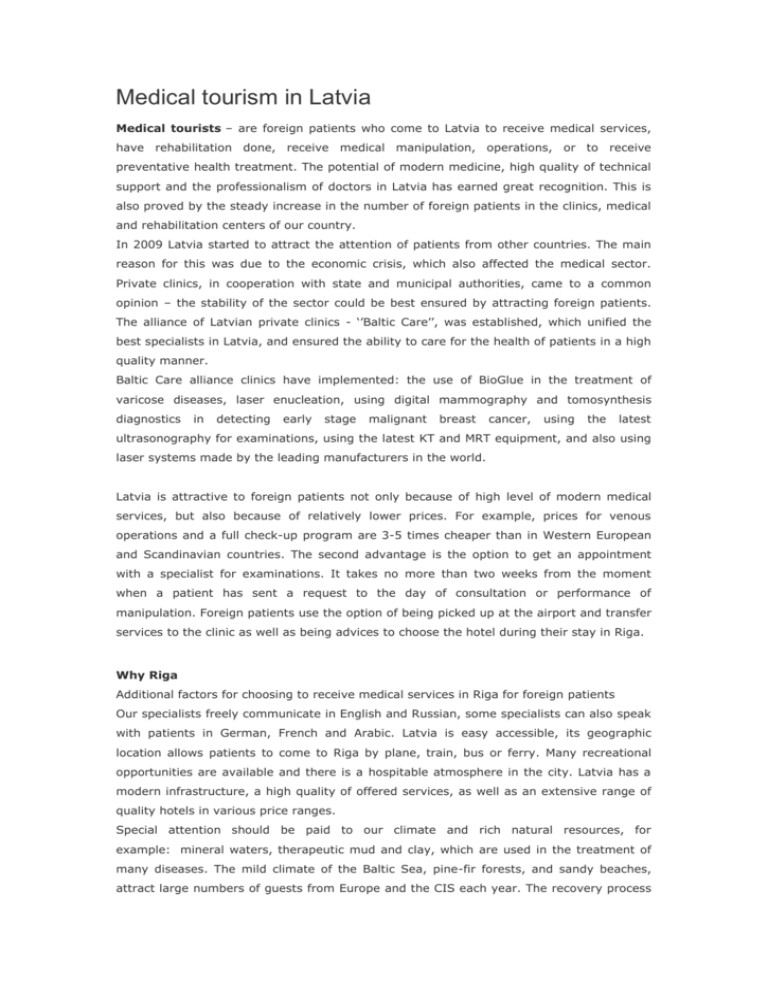 Medical tourism in Latvia
Medical tourists – are foreign patients who come to Latvia to receive medical services,
have rehabilitation done, receive medical manipulation, operations, or to receive
preventative health treatment. The potential of modern medicine, high quality of technical
support and the professionalism of doctors in Latvia has earned great recognition. This is
also proved by the steady increase in the number of foreign patients in the clinics, medical
and rehabilitation centers of our country.
In 2009 Latvia started to attract the attention of patients from other countries. The main
reason for this was due to the economic crisis, which also affected the medical sector.
Private clinics, in cooperation with state and municipal authorities, came to a common
opinion – the stability of the sector could be best ensured by attracting foreign patients.
The alliance of Latvian private clinics - ''Baltic Care'', was established, which unified the
best specialists in Latvia, and ensured the ability to care for the health of patients in a high
quality manner.
Baltic Care alliance clinics have implemented: the use of BioGlue in the treatment of
varicose diseases, laser enucleation, using digital mammography and tomosynthesis
diagnostics
in
detecting
early
stage
malignant
breast
cancer,
using
the
latest
ultrasonography for examinations, using the latest KT and MRT equipment, and also using
laser systems made by the leading manufacturers in the world.
Latvia is attractive to foreign patients not only because of high level of modern medical
services, but also because of relatively lower prices. For example, prices for venous
operations and a full check-up program are 3-5 times cheaper than in Western European
and Scandinavian countries. The second advantage is the option to get an appointment
with a specialist for examinations. It takes no more than two weeks from the moment
when a patient has sent a request to the day of consultation or performance of
manipulation. Foreign patients use the option of being picked up at the airport and transfer
services to the clinic as well as being advices to choose the hotel during their stay in Riga.
Why Riga
Additional factors for choosing to receive medical services in Riga for foreign patients
Our specialists freely communicate in English and Russian, some specialists can also speak
with patients in German, French and Arabic. Latvia is easy accessible, its geographic
location allows patients to come to Riga by plane, train, bus or ferry. Many recreational
opportunities are available and there is a hospitable atmosphere in the city. Latvia has a
modern infrastructure, a high quality of offered services, as well as an extensive range of
quality hotels in various price ranges.
Special attention should be paid to our climate and rich natural resources, for
example: mineral waters, therapeutic mud and clay, which are used in the treatment of
many diseases. The mild climate of the Baltic Sea, pine-fir forests, and sandy beaches,
attract large numbers of guests from Europe and the CIS each year. The recovery process
is positively accentuated by the therapeutic factors of nature and the ionized air produced
by our pine forests.
About Latvia
Latvia has been a EU member since 2004, as well as a member of the Schengen Zone.
The coastline of the Baltic Sea and the Gulf of Riga is 498 km long with clean and quiet
white sand beaches. The total territory of Latvia is approximately 65 000 km2, the
population is about 2 million, and since 2014 the national currency is the euro.
Retrieve costs for medical services
Everyone has a chance to be healthy! However, if you have a situation where you require
quality medical attention, rather than another dose of paracetamol, Medrefund LTD can
solve it! In addition, we will assist you in claiming back the cost of the treatment from the
NHS (UK).
Medrefund LTD is a small company whose future, growth and ability to offer more and
more new services depends on our customers' activities and success. Our best
endorsement is the work that we have already done.
Medrefund LTD – is a prospective company that has experience in cooperation with
medical institutions in Latvia, Russia, Poland and other EU Member States. Medrefund LTD
provides a new and unique service in the medical tourism business. We are able to react
quickly and find the right doctor for you and inform you of your right to seek
reimbursement of medical services that you accrue abroad.
A new European Union directive states that a patient living in the UK has the right to
choose a service provider in the EEA (European Economic Area) and can lawfully recover
the costs from the NHS. This means that any person living in the UK can seek healthcare
abroad and be reimbursed.
If you are planning to receive treatment abroad, or have already received treatment
abroad – you have the right to seek reimbursement for any of the following treatments:
Emergency or necessary medical care for acute problems.
Outpatient services such as doctor consultations, various types of diagnostics, dental care
and medical care received in outpatient departments of hospitals, arthroscopic surgery,
vein surgery, laser eye surgery, etc.
Inpatient health care services that require an overnight hospital stay. In this case prior
authorisation from the NHS will be required. We therefore recommend contacting us before
you travel to enable us to obtain the necessary authorisation.
IMPORTANT! Refund is possible only for medical services not for the aesthetic and beauty
care treatments.
Your country of origin is Great Britain?
Additional information about the refunding of money
http://medrefund.co.uk/en
+44 (0) 7999 090 728
arnis@medrefund.co.uk
FB: https://www.facebook.com/pages/Private-Treatment-Abroad/
Visa for treatment services in Latvia
At the clinics which provide services for foreign patients there is a team who will explain
what documents or examinations are necessary for each particular treatment. To receive a
Latvian visa you will receive a letter – an invitation, which you should take to the Consular
Department of the Embassy of the Republic of Latvia in your country. If the treatment will
require a longer period of time than has been initially planned there is an option to extend
the visa while being in Latvia.
In addition to acquiring a visa and treatment suggestions, staff members at each
respective clinic will help you to book a hotel, will meet you at Riga airport, railway station
or bus station, and will help you with the translation of documents, as well as explain how
to prepare for a procedure or operation.
It is advisable to buy travel insurance which is usually purchased by patients before
leaving their country, because it will be required for receiving a visa for the Republic of
Latvia.